With the Texas primary elections looming on March 1, Texans are nearly evenly split over the direction of the Lone Star State, according to a poll released on Feb. 21.
The state's political climate leans slightly more toward Republicans, the Dallas Morning News/University of Texas at Tyler poll shows. The poll, conducted Feb. 8 to 15, surveyed 1,188 adults who are registered voters and has a margin of error of plus or minus 3.1 percentage points.
Half of the respondents (50 percent), all registered voters, believe the state overall is going in the right direction, while 49 percent indicated the state is on the "wrong track." One percent said "neither."
Meanwhile, 70 percent of all respondents expressed they were "very confident" or "somewhat confident" that the Texas primaries, the nation's earliest, would be conducted "fairly or accurately."
The gubernatorial primary numbers show incumbent Republican Gov. Greg Abbott supported by 60 percent of Republicans and his nearest primary challengers at 7 and 6 percent. His current 50 percent approval rating in February rose from 45 percent in September.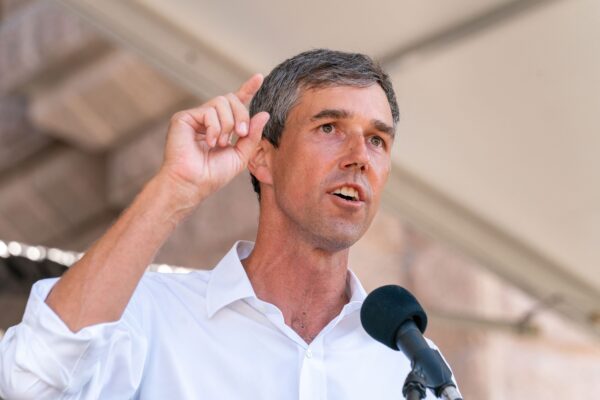 Poll results of the impressions that Democratic gubernatorial candidate Beto O'Rourke has made on voters showed 43 percent of Democrats think very favorably of him and 32 percent somewhat favorably, while 30 percent of independent voters hold a favorable opinion. His nearest primary challenger drew the support of 4 percent of respondents.
"Beto, for sure," said Democrat Elvia Rios, 73, of Hidalgo County, who voted early. "His policies are going to offer parity and opportunity to the children of poorer counties."
Analysis breakdowns of the poll feature percentages of Latino, black, and white respondents, while questions on abortion included responses by Catholic, evangelical, and married respondents.
Direction of Texas
When it comes to trust in government, however, more deeply divisive outcomes were revealed on questions of education, the pandemic, and abortion, with respondents' reactions mostly along party lines.
The question, "Focusing on Texas, do you think that things are headed in the right direction, or do you think that things are headed off on the wrong track?" split the parties.
Of 394 Democrats polled, 44 percent chose the "right direction" response, while 56 percent chose the "wrong track."
Of 480 Republican respondents, 62 percent said the state is going in the right direction, while 38 percent indicated the "wrong track."
Views on Education
Responses to "What party do you trust more on education in Texas?" indicate that, overall, 51 percent of respondents trust Republicans with Texas education, with 46 percent trusting Democrats.
Just 5 percent of Democrats polled indicated they trust Republicans while 93 percent trust other Democrats, with 2 percent choosing "other."
"School budgets are based on property taxes and poorer counties have lower expenditures per pupil," Rios said. "The kids should not be penalized for where they live."
Conversely, 90 percent of 477 Republican respondents said they trust the GOP, with 10 percent trusting Democrats.
"To lead education I would choose the Republicans. Generally speaking, Republicans believe in teaching children to speak clearly," said Republican Suzanne Levy, a former member of the Tyler Literary Council. "They believe words have meaning and I feel Democrats manipulate words and promote Marxist values, such as critical theory on race and sexual anarchy.
"Conservatives and Republicans would teach historical truth, good literacy, and prestige character."
Independent voter Suzanne Williams, 37, from Lindale, chose "other" when it comes to trust in education. The mother of two children under 5 years old, she is a former interpreter for the deaf in Smith County public schools and is a registered member of the Caddo Indian Nation.
Much of Texas is the original homeland of the Caddos, who were driven out to Oklahoma in the 1800s.
"I don't trust either party with the education system in Texas," she said.
"Until they admit that Texas history is not squeaky clean and there were faults and flaws in the past—and I just don't mean to the original peoples here, but to Hispanics, and blacks, as well—I'll remain skeptical."
Pandemic Safety
The responses regarding safety concerns during the pandemic were also lopsided, with 89 percent of Republicans trusting their own party, and 90 percent of Democrats having faith in their party.
Combined results of all respondents show that overall, 51 percent trust Republicans, 46 percent the Democrats, with 3 percent choosing "other."
"What party do you trust more to help keep your community safe during the coronavirus pandemic?" the poll asked.
Democrat Vicki Maxwell, a retired physician's assistant in Temple, doesn't think she has enough information to make an informed decision.
"This is not such a simple question. We live, pretty much, in a medical town and everyone very much knows the problems with COVID and we've had friends who died from it, so people voluntarily wear their masks," Maxwell said.
"But go 15 miles down the road, and there are Texans with a different view. They are very anti-mask.
"So, in the last year, the town [near Temple] that has not taken precautions has had many more [COVID] cases in the schools than we've had in our town. But it's impossible to say if Democrats can be trusted more than Republicans on issues because there are so few Democrats in power. We basically live in a one-party state."
Maxwell and her husband were just going over the primary ballots on Feb. 21, and hadn't made any final decisions, she said.
Republican Angela Wright, 56, has been a registered nurse for 30 years working in the Houston area, and says she has been in legal battles with drug companies in the past.
"To be honest, I don't trust either party," the resident of Lindale said. "In my years as a nurse, I've seen severe reactions to vaccines even in my own family in the past. I've known since the 1970s and 1980s that pharmaceutical companies are not telling the truth about everything, so I don't really trust either party if they are tied to big pharmaceutical companies.
"When you see nurses willing to be fired instead of taking a vaccine, there is an issue there that concerns me. I don't feel like I'm getting the complete truth from any place, but I lean towards trusting Republicans more."
Abortion Responses
Asked "Should the Supreme Court overturn its Roe v. Wade decision and allow states to decide abortion policy?" a combined total of 50 percent of respondents said, "No, it should not be overturned." Forty-seven percent chose "Yes, it should be overturned." Three percent indicated "Don't know."
In the poll, 34 percent of Democrats favored the overturn of Roe v. Wade, while 65 percent were not, with 1 percent undecided; while 63 percent of Republicans favored an overturn, with 34 percent against, and 4 percent undecided.
"I'm definitely in favor of that [overturning Roe v. Wade]," said Republican Shirley Alman, 91, from Garden Valley. "Abortion goes against everything I believe and stand for, the sanctity of life, the God-given gift that we have."
Altman spent 20 years with her husband as the international director of Hispanic ministries for the Youth With a Mission organization, living in Columbia, Chile, and Argentina. She and her husband, Wedge, visited and worked in 60 countries on six continents, and she still teaches in Spanish, via Zoom.
Asked by The Epoch Times if she would favor an abortion if the mother's life was in danger, she said, "That's a tough one, and I think it would have to be taken on a case-by-case basis, but I would lean toward saving the mother's life."
Meanwhile, Democrat Vicki Maxwell opposes the potential overturn of Roe v. Wade.
"I just believe women should have a choice, but there are many different things that enter into it, such as the health of the mother, whether a woman was raped or not," she said. "I think this is a very complex question and not so easily answered."
Republican Angela Wright said: "I've worked in labor and delivery for 15 years and delivered thousands of babies.
"In all that time, I've never seen the health of the mother in grave danger, and if there was a problem, it was usually cured by delivering the baby, not killing it. There is a human being in there."
A breakdown of the respondents on the abortion question indicated 44 percent of Latinos, 42 percent of women, 49 percent of Catholics, and 65 percent of white evangelicals, favored an overturn of Roe v. Wade. Black respondents weren't identified in the poll's analysis.
Of 600 married respondents, 51 percent were in favor of overturning Roe v. Wade, 45 percent were not, with 4 percent undecided.