UVALDE, Texas—Athena Pedraza dropped off a homemade meal at her friend's house before driving to a community vigil at the Uvalde, Texas, rodeo arena on May 25.
Her friend's son was one of the victims of the mass shooting at Robb Elementary School the day before. The friend found out at midnight after having to give a DNA sample to police so they could match the identification of her child.
"They had to give DNA because they couldn't recognize some of them. The damage he did was unspeakable," Pedraza said of the alleged killer, 18-year-old Salvador Ramos.
Nineteen children and two teachers were fatally shot in the massacre before a Border Patrol special agent fatally shot the attacker.
Pedraza said yesterday it felt like God had left Uvalde, although the community prayer evening was restorative.
"Yesterday just felt very distant," she said. "Just seeing that people have come together [tonight] in such an amazing way to pray, it just shows you that God's in our midst and He's going to help us in the days forward to get through this."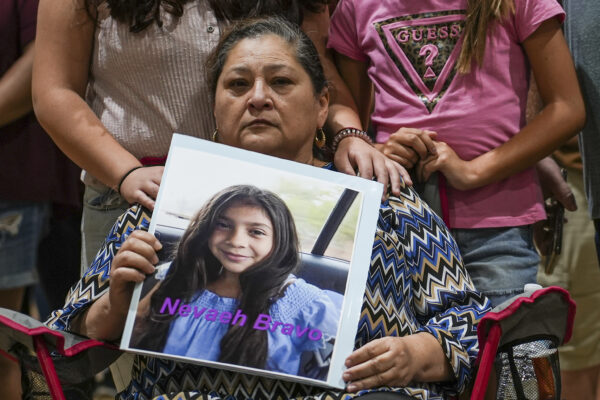 Uvalde has a population of about 16,000, and everyone knows someone who was affected by the shooting. It's in a rural agriculture and ranching area that sits between the U.S.–Mexico border and San Antonio.
A row of golden retriever therapy dogs sat at the entrance to the arena, and children and adults alike gravitated toward them.
Bonnie Fear, the K-9 crisis response coordinator for Lutheran Church Charities, said her dog therapy team was invited to Uvalde to help bring comfort after the tragedy.
"People will either cry, or they'll smile and say, 'I needed this.'  It just brings out whatever they're feeling," Fear said.
"Sometimes, I say we're a ministry that makes people cry, because they hold it in. And when they see the dogs, they cry, or they laugh … or they see that little glimmer of hope—that there is good in this world, and that's the message we want to get across. There is good in this world."

Pete Arredondo, the chief of police for the Uvalde Consolidated Independent School District, was outside the Fairplex hugging and comforting students as they emerged from the vigil.
"This is a good beginning," he said of the vigil. "It needed to happen. Get everyone to reach for their faith.
"I saw a lot of shoulders drop, which means people started to breathe a little bit. And that's one of the first processes—learn to breathe again. It's good to see a good tight-knit community come together."
The air was heavy with grief and disbelief as pastors encouraged the people of Uvalde to pray together and hold onto one another.
"It may be hard to see, it may be hard to understand or even believe, but God still loves you. God still loves those little children," one local pastor told the packed crowd in the rodeo arena stands. Many of the mourners wore the maroon merchandise of Uvalde High School.
Sen. Ted Cruz (R-Texas) and Gov. Greg Abbott attended the vigil, both wiping away tears and praying with others.
Sobs broke out and tears flowed as a violinist ended the vigil with "Amazing Grace."

Earlier in the day, Chris Vasquez, a pre-K teacher at the local Episcopal school, said she had talked to the parent of one of the two surviving children in the classroom. The young boy was shot in the shoulder but survived.
He told his parents that the shooter walked in and said, "OK, everybody, good night," and then opened fire.
"As a teacher, your job is to protect your students, they will do anything to protect their students," Vasquez said. The shooting happened during the final week of the school year, and all classes and associated activities were immediately canceled in Uvalde.
Vasquez said on the day of the shooting, the children would have been excitedly sharing with their teachers about their plans for the upcoming summer holidays.
Vasquez said she worries about when her 20-year-old son has children.
"I worry if he ever has children of his own, how difficult it would be to raise children in this age with all this violence going on in schools," she said. "You hear it in other towns, but not here."
Marilyn Olivarez, 15, a freshman at Uvalde High School, said she had attended Robb Elementary and knows a lot of the siblings of the children who were killed.
"I have no words," she said.
Olivarez said she's "a little bit" fearful of returning to school in the fall, but "I just kind of have trust in God that I'll be okay."

Earlier, Abbott held a press conference to provide an update on the shooting. He said Ramos had shot his grandmother in the face at their home before heading to the elementary school. The grandmother remains in stable condition.
Questions have emerged about the police response to the shooting, with several witnesses who had rushed to the scene saying that police waited to enter. Videos have surfaced of parents telling officers to "go protect the kids!"
"What are you doing? Get inside the building!" a person yelled in one of the videos, while another screamed, "Go protect the kids!"
Uvalde Chief of Police Daniel Rodriguez released a statement on May 26, saying, "It is important for our community to know that our officers responded within minutes alongside Uvalde CISD officers."
"I understand questions are surfacing regarding the details of what occurred," Rodriguez said. "I know answers will not come fast enough during this trying time, but rest assured that with the completion of the full investigation, I will be able to answer all the questions we can."
Texas Department of Public Safety regional director Victor Escalon confirmed on May 26 that the suspect was not confronted before entering the school, contrary to prior reports that a school officer engaged with him outside the school. The school was unlocked, Escalon said.
He refused to address questions during a media conference about the allegations that police officers could have confronted and eliminated the shooter more quickly, saying he would "circle back" once the investigation was further along.
The Texas Rangers are leading the investigation into the massacre.