A photograph of an American flag etched into the front lawn of a Texas home is generating social media buzz after its designer revealed its touching backstory.
The flag pattern in the front lawn of a family home in Haslet is the work of 17-year-old Cameron James, who told KXAS-TV he wanted to pay tribute to his friend who was killed last week while serving in the army.
James told the station that it took him around four painstaking hours to etch the flag into the grass, but "it was worth it."
"Our mower has different settings, so I just changed the settings so the grass would be different lengths for the stripes," James said.
KHQ Local News posted the story on its Facebook page, where it drew heart-warming reactions.
"That's really impressive and super awesome," one commenter wrote. "So sad to hear about his friend and I thank him for his service. Rest in peace hero."
"Beautifully crafted!" wrote another, and "Amazing job!👍🏻🇺🇸"
WTHR-TV also shared the story on its Facebook page, sparking emotional comments.
"How touching! Respectful and honorable," wrote one commenter. "This is the America I believe in. Thank you for your service and bless the family of that fallen hero."
"That's how all parents should raise their children," someone else wrote. "Love, compassion, and being a true friend by showing such a beautiful tribute to his friend. Thank you."
"This. This is newsworthy, not Colin Kaepernick! Beautiful tribute!" another commenter wrote.
Woman Hand-Stitches American Flag Quilt and Sends to White House
The story recalls the case of an 85-year-old Indiana woman who made a quilt for President Donald Trump and said she "never gave up hope" that her gift would reach the White House, Fox News reported.
Later, Betty Alexander, of South Bend, received thank you notes from the president and his daughter Ivanka Trump for her thoughtful gift.
"I just held it and cried. I was just shaking all over," she said, according to Fox News.
"Betty, Thank you—I love you!" reads the inscription, signed by the president.
In a separate note, Ivanka Trump wrote: "As promised, I hand delivered your beautiful quilt and letter to the President. Thank you for your prayers and warm words of encouragement."
Republican Sen. Todd Young of Indiana shared photographs of the thank you notes on Oct. 3 via Twitter.
Great news from Betty Alexander in South Bend! Betty received thank you notes from both @POTUS and @IvankaTrump for her handmade quilt. I'm so glad I was able to help deliver it to the @WhiteHouse. pic.twitter.com/WeAutTSBqv

— Senator Todd Young (@SenToddYoung) October 2, 2018
The normally busy octogenarian—who said she goes to the gym three times a week—told the South Bend Tribune that she began working on the quilt when she found herself indisposed after falling and breaking her hip.
"I'm a busy lady," she told the Tribune. "I'm not going to sit around and think about things all day. What I can do, I'm going to do."
She said Trump's respect for the American flag was what gave her the idea for the quilt's pattern.
"I knew he loved the flag, and I thought I could make a flag quilt," she told Fox News. "I didn't have no idea how to start it, or what to do, but I just prayed about it."
The article in the Tribune caught the attention of Republican Sen. Todd Young of Indiana, who arranged for the quilt to be delivered to the White House.
"Betty was just an absolute sweetheart," Young told Fox News on Oct. 3. "It was clear that she invested a lot of time in this. She took great pride in not just her craft, but also helping others."
"I think most of us appreciate that spreading some joy right now is a good thing for the country," Young told Fox News.
Boys Lauded for Stopping in the Middle of the Road to Honor Flag
In another story of a patriotic photo that went viral, two young boys in the small town of Roseboro in Sampson County, North Carolina, stopped what they were doing to recite the Pledge of Allegiance, as the American flag was being raised.
On the afternoon of Feb. 8, Roseboro Fire Department Chaplain Bobby Herring was raising the flag back to full staff outside the fire station. As he looked over to the intersection, he caught sight of a touching moment.
With hands over their hearts, two boys, later identified as Derrick Tyrone Ingram Jr., 6, and Thomas Edward Jones Jr., 8, were in the middle of the road reciting the Pledge of Allegiance.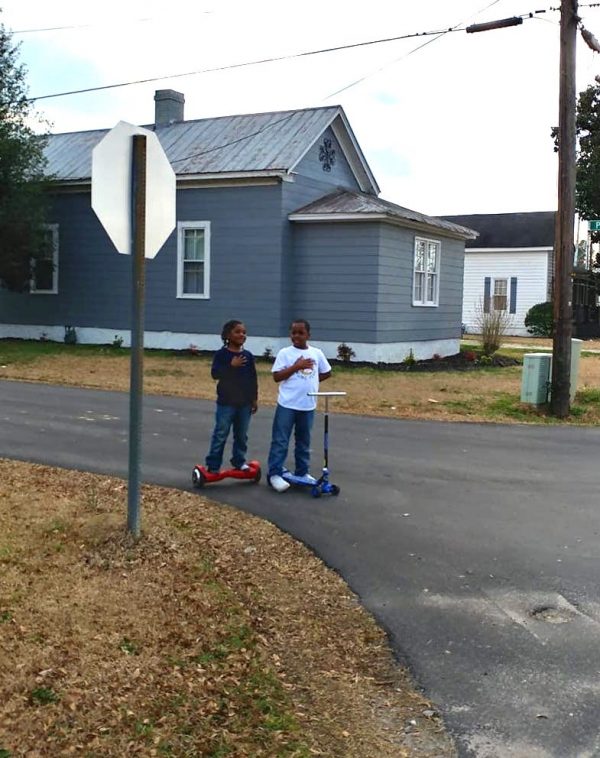 After Herring obtained permission from the boys and the adult who was with them, as well as the Roseboro Fire Department Chief, Kenneth Lee Coleman Jr., the picture was shared on the department's Facebook page.
"Permission was granted to use this picture that was hurriedly taken," the department wrote. "God bless our community."
The viral post also reached Derrick's mother, Journey Ingram, who couldn't be prouder of the boys.
First cousins Thomas Jones Jr. and Derrick Ingram Jr. received a special honor from the town of Roseboro for saying the Pledge of Allegiance as the flag was raised to full staff outside the fire department. Tonight at 10/11 the positive reaction from the community. #ABC11 pic.twitter.com/IrZEpYIz6y

— Akilah Davis (@DavisABC11) February 13, 2019
"I started crying," Ingram told CBS News, alluding to the moment she learned about the boys' good deed. "It made my day."
In a Facebook post, she wrote, "I'm very proud of them and can't help but love the positive view they are giving to our community."