The father of mass shooter Salvador Ramos gave his first media interview, issuing an apology to the families of the 19 children and two teachers who were shot and killed on Tuesday at a school in Uvalde, Texas.
"I just want the people to know I'm sorry man, [for] what my son did," his father, also named Salvador Ramos, told the Daily Beast.
"I never expected my son to do something like that," said Ramos, 42, in an interview published by the left-wing website on Friday. "He should've just killed me, you know, instead of doing something like that to someone."
The elder Ramos said he was working at the time of the shooting. His 18-year-old son is accused of shooting his grandmother, who remains hospitalized, before going on a rampage at Robb Elementary School where law enforcement officials killed him.
"I'm never gonna see my son again, just like they're not gonna see their kids. And that hurts me," he told the outlet, who interviewed him as he was living at his girlfriend's home in Uvalde.
In recent months, amid the COVID-19 pandemic, Ramos said that he noticed a change in his son's behavior. At one point, his son purchased boxing gloves and started fighting at a local park.
"I said, 'Mijo, one day somebody's going to kick your [expletive],'" Ramos recalled. "I started seeing different changes in him like that."
Ramos, meanwhile, said that he didn't spend much time with his son, who also had a poor relationship with his mother, and that he often worked outside of Uvalde digging holes for utility poles.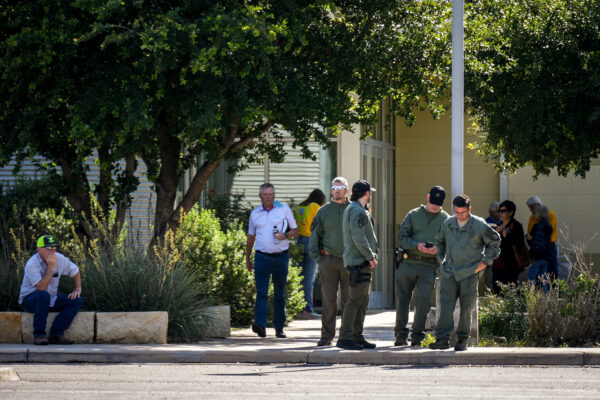 "My mom tells me he probably would have shot me too, because he would always say I didn't love him," he said.
The gunman also had a sister, the elder Ramos' daughter, who apparently joined the Navy, he told the Daily Beast.
"My daughter, I guess, changed her life, she went to the Navy," he said. "I wish my son would have gone and changed his life."
The younger Ramos, he said, also had a girlfriend who lived in nearby San Antonio but he could not comment further on the teen's social life.
On Thursday, meanwhile, an unnamed child who was in the classroom when the younger Ramos carried out the mass shooting told news outlets that the gunman told the children: "It's time to die."
"He shot the next person's door. We have a door in the middle. He opened it. He came in and he crouched a little bit and he said, 'It's time to die,'" the student told KENS 5 television. "I was hiding hard. And I was telling my friend to not talk because he is going to hear us," the unidentified student said while adding that he and several others hid under a table with a tablecloth.
Reports published earlier in the week, citing messages Ramos sent to strangers online, indicated that he recently purchased several firearms. After he shot his grandmother, Ramos wrote online that he was going to an unspecified elementary school to commit a mass shooting.