A Texas junior high administrator has been put on leave after reportedly using a marker pen on a 13-year-old's head to fill in his shaved hairstyle.
When Juelz Trice arrived at Berry Miller Junior High School on April 17 sporting a new hairstyle featuring a carved "M," he was told it was in violation of the school dress code.
According to a school district statement in south Houston he was given three options: face disciplinary consequences, notify his mother, or have the "M" filled in with marker pen.
The incident came to light when his mother, Angela Washington, posted a series of pictures on Facebook on April 19, showing his hair colored in with the marker, and two days later with the marker still visible.
"Juelz got a haircut on Tuesday with a design," she wrote in the post. "On Wednesday at school the Assistant Principal at Berry Miller Jr High in Pearland ISD told him he was out of dress code with his designs and decided to color my baby design with a PERMANENT MARKER!"
"His only options was to go to ISS or get his head colored," she wrote. "They did not call to inform me at all."
Her Facebook page was shared by Pearland ISD Trustee Mike Floyd, who called the incident "unbelievably unacceptable" and called for the administrator to be fired.
"From what we're seeing emerging right now in the public discourse, it's just absolutely inappropriate what occurred," Floyd told the Houston Chronicle. "The real problem is there's a clear and obvious display of a lack of judgment."
Pearland ISD said in a statement that it was "extremely disappointed" by the situation and had apologized to the family.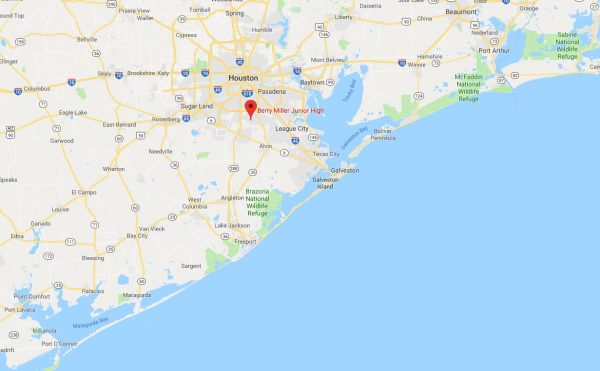 His father Dante Trice told ABC13 his son could have been put at medical risk by putting chemicals on open pores.
"It was wide open because he had just got his hair cut the day before, so it was wide open," he said. "I'm totally disappointed. Totally disappointed."
According to the school district, their rules state: "Hair must be neat, clean, and well groomed. Extreme hair styles such as carvings, mohawks, spikes, etc. are not allowed."
Washington's original post has gained a lot of attention on social media, where the vast majority of commentators agree that the administrator was out of line.
Most local reports, together with the school district statement, do not state explicitly how the boy's hair came to be colored in—whether he was asked to do it himself or whether school staff did so.
The administrator reportedly told the boy his haircut was out of dress code, and he would be punished unless he had it filled in with a marker.

Posted by ABC13 Houston on Wednesday, April 24, 2019
However, according to WFLA, his father said that two staff members had drawn on his head, laughing as they did so. He said that his son was too shy and respectful to talk back or resist.
Washington's original Facebook post also says that the school colored in his head.
The ISD said the school administrator had "mishandled disciplinary action by giving the student options including notifying his mother, disciplinary consequences or filling in the shape of the hair carving with a marker."
"This latter practice is not condoned by the district and does not align with appropriate measures for dress code violations."
The ISD confirmed that the campus administrator is currently on administrative leave, and said further action is forthcoming.
Washington told ABC13 that the administrator responsible had contacted them by telephone to explain what happened and admitted that they had not handled it right.
"They were very apologetic, but it still happened," she said. "You know, for an adult, no one should think that's the correct way to handle a situation."