T. Boone Pickens, the self-made oil tycoon from Texas, died on Sept. 11 at the age of 91, according to his Twitter account.
He died of natural causes in his Dallas home with his family by his side, spokesman Jay Rosser said on the website.
"The long-time Dallas resident, who had battled back from a series of strokes and further head injuries sustained in a 2017 fall, died of natural causes surrounded by friends and family on September 11, 2019," the website said.
It is with great sadness that we announce the passing of T. Boone Pickens on September 11, 2019. #RIPBoone https://t.co/w6bt9d22GL pic.twitter.com/PhCvOnOpfs

— T. Boone Pickens (@boonepickens) September 11, 2019
Memorial services are planned for Dallas and Stillwater, Oklahoma, according to the site.
Pickens is survived by his children Deborah Pickens Stovall, Pam Pickens Grace, Michael Pickens, Tom Pickens, and Liz Pickens Cordia.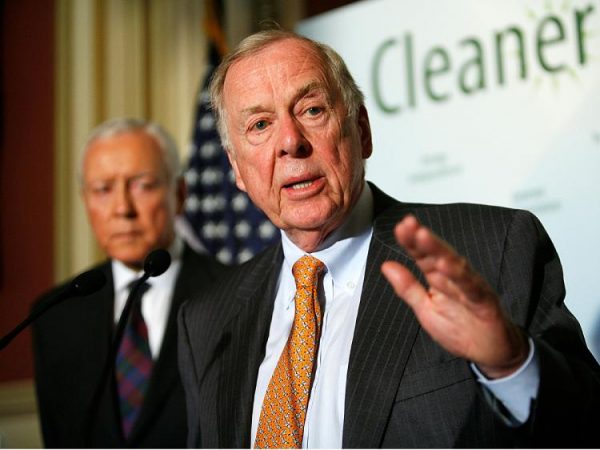 "With an outsize personality and aggressive business tactics that landed him on the cover of Time magazine, Mr. Pickens became one of the few businessmen in the 1980s recognizable to wide segments of America. His influence is still widely felt. Mr. Pickens was an early advocate for shareholder rights and insisting that executives be compensated with stock. That line of thinking informed a new generation of shareholder activists, and remains gospel on Wall Street," the New York Times wrote of him in 2018.
Pickens was a noted corporate raider.
"If you are a stockholder, the chances are that one way or another, most corporations are misappropriating your money,'' he wrote in his 1987 book, "Boone," according to the NY Times. "It is legal under the system; everyday this respectable crime is perpetrated in corporate corridors across the country."
He later branched out from fossil fuels and made significant investments in wind and water power ventures.
In 2008, he ordered 667 wind turbines from General Electric but stopped the project about a year later because he couldn't move power from the Texas panhandle to cities.
"Over a lifetime in business I've had to make a lot of tough calls—right and wrong, and many of them very public. Good calls have made me a lot of money, and I've lost my ass on the bad ones," Pickens wrote, the Wall Street Journal reported. "Fortunately, I've been right more often than I've been wrong."