Fort Worth police released a video of officers rescuing a suicidal woman who was standing precariously close to the edge of an overpass.
One patrol officer yells at her: "Don't do it!"
The Fort Worth Police Department released video from dashboard and body cameras via its Facebook page on Aug. 23.
Officers Justin Henry and Trae Cierzan repeatedly ask for the woman's name. "It doesn't matter," she says.
"It does matter. It does matter," Henry tells her.
"Everybody wants me dead, so I'll just die," she says. "No one wants that. No one wants that," Henry responds.
When the officers get within range, each one grabs her and pulls her away from the ledge. They then handcuff her. "We're going to get you some help," Henry says.
"Whatever's going on is not worth it," he says. "We're here for you, OK?" Cierzan tells her.
"Try to talk to them like they are humans. They're in an extreme emotional state that you just try to get them to talk to you," Cierzan later told Fox4 of the rescue. "Because if you can get them to talk to you, things can turn out for the better."
"I just think we thought we had to get her down as quickly as we could," Henry added to the outlet. "We had a storm coming in. It was windy. We think of the longer she was up there, it increases her chance to fall or to possibly jump. So we're just trying to approach her calmly and slowly."
"We both grabbed her at the same time," Cierzan noted. "We didn't really say, communicating back-and-forth to each other. We kind of just kept looking at each other, giving each other head nods and moving closer and closer. And once we get close enough to grab her, I think it might've been like a little head nod we both went in at the same time."
The incident unfolded on a bridge on I-35W southbound, according to the Fort Worth Star-Telegram.
According to CBS Dallas, the woman is now in the care of a nearby hospital. Her identity was not revealed by police.
Her family said that they are grateful to the officers, the CBS report stated. "Thank you for all you did to save our daughter and your hard work. We appreciate all that you do," they said.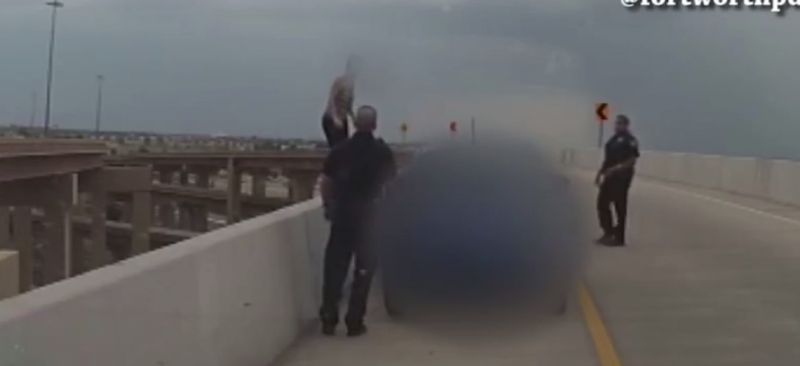 Suicide Stats
According to the American Foundation for Suicide Prevention, suicide is the 10th leading cause of death in the United States.
The Centers for Disease Control and Prevention released a report Vital Signs: Trends in State Suicide Rates on June 8, revealing that suicide rates have increased by 30 percent since 1999. However, the report points out that there were a variety of factors other than mental health conditions that lead to suicide.
"Suicide rates increased significantly across most states during 1999–2016. Various circumstances contributed to suicides among persons with and without known mental health conditions," the report stated.
If someone is in crisis, please call the National Suicide Prevention Lifeline at 1-800-273-TALK or to text "Talk" to 741741.