A Texas mother has been taken into custody in connection with the death of her 6-week-old daughter that she initially blamed on her 3-year-old son.
Halle Marie Murry, 25, was arrested on Saturday, April 27, on a capital murder charge in the death of her newborn daughter, Acelyn Lailani Rogers, the Fort Worth Star-Telegram reported.
Acelyn died on Jan. 14 of traumatic head injuries that a doctor quoted by the Star-Telegram said included "one of the worst" skull fractures he had ever seen.
When Murry and her young son took the injured Acelyn to Harris Methodist Southwest Hospital, she told a doctor that she had fallen asleep with her daughter on her chest and woken up to find the lifeless infant on the floor.
The mother reportedly said she saw her son—who she said suffers from attention deficit disorder—standing over her daughter.
Murry was reported by the Star-Telegram as telling a hospital chaplain that her son had "dropped her."
A detective on the case, C. West, wrote in an affidavit cited by the New York Post that Murry's attempts to deflect blame for the infant's death included stating "how bad her 3-year-old has acted in the past by describing him hitting Acelyn with objects, slapping, biting, kicking, and spitting."
But a doctor told Fort Worth police the baby's injuries were so severe that it was unlikely they had been caused by a 3-year-old.
The young boy's interactions with a doll were tested in a forensic interview and a doctor was cited by the Star-Telegram as saying the 3-year-old "did not demonstrate the dexterity or force to cause the extensive head injuries."
An autopsy cited by Fox News stated that the newborn had multiple fractures caused by repeated blows to the head and her death was ruled a homicide.
The affidavit reported by the Post stated both Murry and her son tested positive for cocaine days after Acelyn's death.
The boy is reportedly living with a relative.
Murry has been booked into the Tarrant County Jail.
Crime in the United States
Violent crime in the United States has fallen sharply over the past 25 years, according to both the FBI's Uniform Crime Reports (UCR) and the Bureau of Justice Statistics (BJS) National Crime Victimization Survey (NCVS).
The rate of violent crimes fell by 49 percent between 1993 and 2017, according to the FBI's UCR, which only reflects crimes reported to the police.
The violent crime rate dropped by 74 percent between 1993 and 2017, according to the BJS's NCVS, which takes into account both crimes that have been reported to the police and those that have not.
"From 1993 to 2017, the rate of violent victimization declined 74 percent, from 79.8 to 20.6 victimizations per 1,000 persons age 12 or older," the U.S. Department of Justice stated.
Both studies are based on data up to and including 2017, the most recent year for which complete figures are available.
The FBI recently released preliminary data for 2018. According to the Preliminary Semiannual Uniform Crime Report, from January to June 2018, violent crime rates in the United States dropped by 4.3 percent compared to the same six-month period in 2017.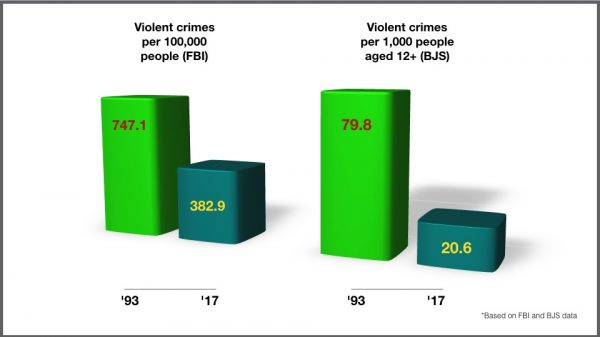 While the overall rate of violent crime has seen a steady downward drop since its peak in the 1990s, there have been several upticks that bucked the trend.
Between 2014 and 2016, the murder rate increased by more than 20 percent, to 5.4 per 100,000 residents, from 4.4, according to an Epoch Times analysis of FBI data. The last two-year period that the rate soared so quickly was between 1966 and 1968.
Property Crime
The property crime rate fell by 50 percent between 1993 and 2017, according to the FBI, and by 69 percent according to BJS.
According to the FBI's preliminary figures for the first half of 2018, property crime rates in the United States dropped by 7.2 percent compared to the same six-month period in 2017.
As with violent crime, the FBI survey only takes into account crime reported to the police, while the BJS figures include reported and nonreported crime.
Public Perception About Crime
Despite falling long-term trends in both violent crime and property crime, opinion surveys repeatedly show Americans believe that crime is up.
The vast majority of Gallup polls taken since 1993 show that over 60 percent of Americans believe there is more crime in the United States on a national scale compared to the previous year.
Pew Research surveys show similar findings. A survey in late 2016 revealed that 57 percent of registered voters said crime in the nation as a whole increased since 2008, despite both FBI and BJS data showing double-digit drops in violent and property crimes.
Perceptions differed on a national versus local level.
Surveys of perceptions of crime levels on a local scale showed that fewer than 50 percent of respondents in every single Gallup survey done since 1996 believed that crime in their area had risen compared to the previous year.