A Texas man who stabbed his wife and two stepsons to death has been executed after judges ruled that he was not intellectually disabled, and rejected claims that jurors were influenced by a court bailiff who wore a "death penalty" black necktie with a white syringe.
Robert Sparks, 45, died of lethal injection on Sept. 25, 12 years after he killed his wife and stepsons and then raped his two 12- and 14-year-old stepdaughters.
Sparks is the seventh Texas inmate to be executed this year, and the 16th nationwide.
"I am sorry for the hard times. And what hurts me is that I hurt y'all … even y'all, too," Sparks told family members, according to Fox News, as they watched through the windows of the death chamber.
He was pronounced dead 23 minutes later.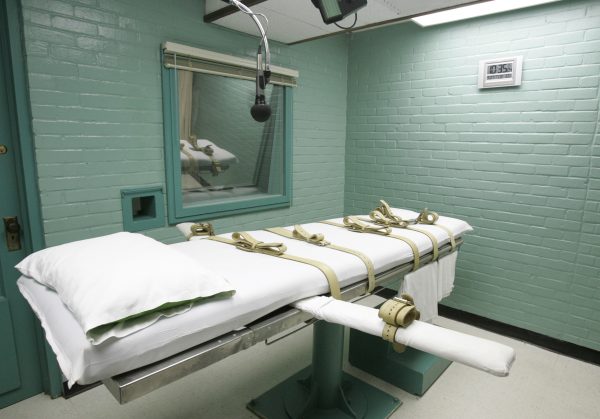 On the night of Sept. 15, 2007, Sparks woke his sleeping wife and stabbed her 18 times before turning the knife on her sons, aged 9 and 10, later claiming that he had been making secret recordings of them plotting to kill him.
After raping his two stepdaughters at gunpoint in the same room as the bodies of their slain brothers, Sparks fled to his ex-girlfriend's home and called the police to confess, later telling them to investigate the recordings.
"He told the police that the recordings proved that his wife and stepsons were conspiring to poison him," according to an appeals court docket (pdf). "The police located the tapes, but they contained only gibberish. Sparks was arrested shortly thereafter."
Sparks's lawyers tried to appeal against the death penalty conviction by claiming that with an IQ of just 75, he should be exempt from the death penalty.
The Supreme Court ruled in 2002 that states cannot put to death people with mental disabilities, but leaves the definition to each state.
The Texas state definition has shifted since Sparks's conviction.
The last legal block to execution fell away when the U.S. Supreme court rejected the argument (pdf) that the jury was improperly influenced by the necktie worn by a bailiff emblazoned with a syringe.
Despite rejecting the appeal, the Supreme Court judge noted that the allegations were "disturbing."
"On the day the jury began punishment deliberations in petitioner Robert Sparks's capital murder trial, one of the bailiffs on duty in the courtroom wore a black tie embroidered with a white syringe—a tie that he admitted he wore to express his support for the death penalty."
The judge described the conduct as "deeply troubling" but said that there was not enough evidence so conclude that the jury had seen the tie.