The Republican governor of Texas on Tuesday signed an election reform bill into law that supporters say helps close loopholes in the election system while making it easier for people to cast their votes.
Texas Senate Bill 1 (pdf) expands the number of hours Texans have to go to polls and forces employers to let workers vote during early voting or Election Day.
It also adds layers to the mail-in voting process, and makes the act of ballot harvesting, or gathering votes cast by others, a third-degree felony.
The law "does make it easier than ever before for anybody to go cast a ballot," Gov. Greg Abbott told reporters in Austin before signing the legislation. "It does also, however, make sure that it is harder for people to cheat at the ballot box in Texas."
"Easy to vote, hard to cheat," is how Texas Sen. Bryan Hughes, the bill's author, summed up its aims.
Senate Bill 1 is the latest piece of legislation the Republican-controlled legislature in the state has successfully passed before getting a signature from Abbott, following laws banning most abortions, allowing open carry, and penalizing cities that defund their police departments.
Texas is a trifecta Republican state, meaning the GOP holds both legislative chambers and the governor's mansion.
Democrats in the state's lower chamber fled to Washington over the summer, blocking it from achieving a quorum, which prevented consideration of any bills.
But the state lawmakers returned to Austin weeks later, ending the holdout and enabling the GOP to advance their agenda.
Democrat detractors said the bill was unnecessary, arguing little fraud occurs in the state. And the American Civil Liberties Union (ACLU) and some other groups also came out against the bill, filing legal challenges this month against it even before Abbott signed it into law.
Senate Bill 1 violates federal laws including the Voting Rights Act and the Americans with Disabilities Act, in part due to its restrictions on mail-in voting, the groups said in their suit.
"Voters with disabilities and voters with limited English proficiency have the same right to vote as anyone else," Tommy Buser-Clancy, senior staff attorney at the ACLU of Texas, said in a statement. "SB 1 cruelly targets these voters and anyone who might assist them with increased burdens and unnecessary criminal penalties. These provisions are unlawful and part of a long history of Texas implementing discriminatory anti-voter measures. The legislation should be struck down."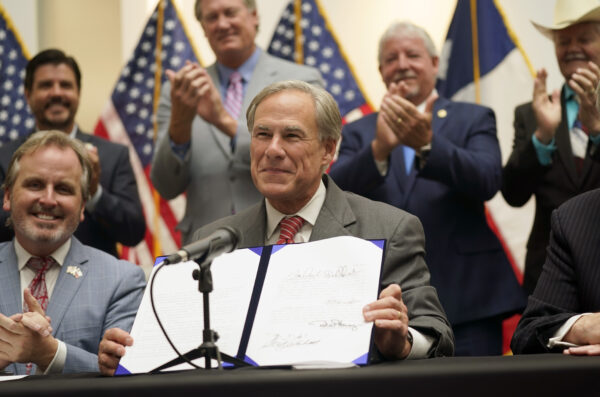 Abbott said he wasn't surprised the bill was already being challenged but expressed confidence it would be upheld by the courts.
"No one who is eligible to vote will be denied the opportunity to vote. It does, however, make it harder for cheaters to cast an illegal ballot. Those are the kinds of principles that the courts will uphold," he said.