Texas Republican Party delegates on June 16 unanimously approved a resolution rebuking the state's senior U.S. senator and other Republican lawmakers for working with Democrats on their gun control proposals that they say disregard the Second Amendment.
The resolution criticized U.S. Sen. John Cornyn (R-Texas), who led the group of GOP lawmakers to help put together a bipartisan legislative package in response to the Uvalde, Texas, mass shooting at Robb Elementary School. The other Republicans were Sens. Thom Tills (N.C.), Roy Blunt (Mo.), Bill Cassidy (La.), Susan Collins (Maine), Lindsey Graham (S.C.), Rob Portman (Ohio), Mitt Romney (Utah), and Pat Toomey (Pa.).
The resolution rejects the "bipartisan gun agreement" and said red flag laws violate due process and are a pre-crime punishment for people not adjudicated guilty. It added that those under 21 are "most likely to be victims" of violent crime and need to defend themselves. It said all gun control is a violation of the Second Amendment.
Many delegates booed Cornyn and called him a RINO (Republican in name only) during a speech he gave at the GOP state convention on June 17. Senate Minority Leader Mitch McConnell (R-Ky.), also criticized for being a RINO, had asked Cornyn to negotiate with the Democrats as they pushed gun control legislation incentivizing state red flag laws.
Since the May Uvalde school shooting, in which a teen gunman killed 19 children and two teachers, President Joe Biden and many Democrats have been pushing for stricter gun control as a solution, while others and many Republicans are looking to shore up school security and other initiatives to address early detection and mental health.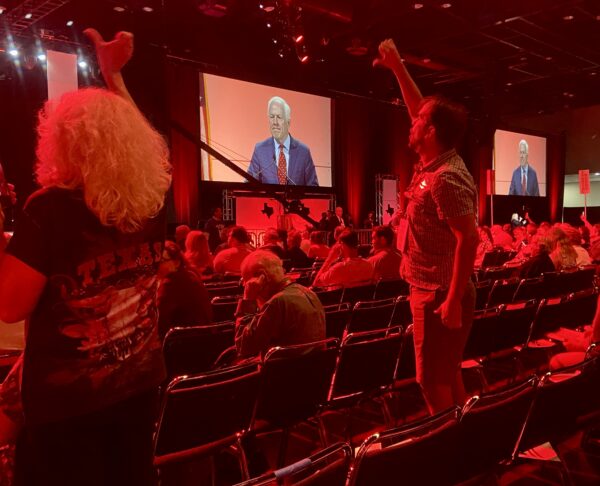 Cornyn at the state convention ignored his critics while speaking over the din about his views on gun legislation, right-to-life issues, and opposing the Green New Deal, which calls for phasing out fossil fuels.
Mark Ramsey, a delegate from Harris County and a former congressional candidate, told The Epoch Times that resolutions don't occur at every state GOP convention, and to have one pass unanimously—which happened on the gun control resolution—was something "that never happens."
The delegates voted to narrow 15 top legislative priorities to eight. However, the results of the vote weren't immediately available. They also voted on a platform that included 275 issues, called "planks," with results to be released later.
The No. 1 ranked legislative priority was to protect elections, which has been a top priority in the past. The election security measure would restore felony penalties and enact civil penalties for election code violations, while allowing any Texas jurisdiction, including the state attorney general, to enforce election laws.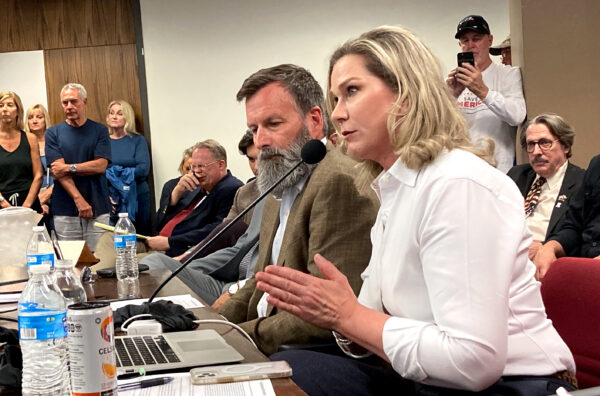 Delegates passed a second resolution saying they believe that the 2020 election violated the U.S. Constitution, and that various states' secretaries of state illegally circumvented their legislatures to conduct their elections.
That resolution went on to say that the Texas delegates believe that substantial election fraud in key metropolitan areas significantly affected the results in five key states in favor of Biden.
Other noteworthy issues on the legislative priority list included:
Gun rights.
Abolishing abortion.
Stopping the sexualization of children.
Banning gender modification of children.
Giving parents school choice.
Removing social theories from the classroom.
The Texas legislature, which already passed a law prohibiting critical race theory, now wants to give parents the power to leave a school and take their child's educational dollars with them.
James Wesolek, communication director for the Republican Party of Texas, told The Epoch Times that 5,500 delegates attended the convention, which offers Republicans an opportunity to set priorities for the next legislative session in 2023 and elect party leaders.
Delegates reelected Matt Rinaldi as the state GOP chairman and elected Dr. Dana Myers as vice chair.
UPDATE: This article has been updated to note that Dr. Dana Myers was elected as vice chair.