Days of hard rain have saturated the soil and overfilled the rivers in south-central Texas, leading to powerful flash floods.
In response, Texas Gov. Greg Abbott declared states of disaster in 18 counties on Tuesday, Oct.16.
Flooding of the Llano River reached near-record levels Tuesday morning. The force of the floods was sufficient to knock down the FM 2900 bridge near Kingsland. 
BRIDGE COLLAPSE! The FM 2900 bridge over the Llano River in Kingsland has COLLAPSED in the river due to flooding https://t.co/vks3sWf7w4 pic.twitter.com/zIfJyvDD8O

— CBS Austin (@cbsaustin) October 16, 2018
The floods generated a veritable wall of water, almost mountains of water, sweeping downstream.
The Llano River peaked at 39.91 feet Tuesday morning, just below the all-time record of 41.5 feet set in 1935—the highest level the river has reached since 1997.
The flooding this caused forced many nearby cities to evacuate.
According to NBC News, the river rose more than 35 feet in 24 hours. That is 7 feet above the level the national Weather Service classifies as a "Disaster."
BREAKING: A total of 8 flood gates will be open at Lake Buchanan Dam soon. This will be a serious concern for Lake Travis which is still rising, now expected to reach 700 feet elevation; that's 5 feet above MAJOR FLOOD stage #atxwx #CBSAustinWX #txwx pic.twitter.com/fNLIrgdRf3

— Avery Tomasco (@averytomascowx) October 17, 2018
Lakes Overflowing
Two local lakes, Lake Buchanan to the northeast and Lake Travis to the southeast, are both near flood levels. Llano County officials told ABC News they had rescued 105 endangered by flooding along the shores of Lake Lyndon B. Johnson.
Lake Buchanan Dam officials opened eight floodgates to drain water downstream, which will put even more pressure on Lake Travis that is already at 131 percent capacity, according to ABC meteorologists.  
Major issues building at Lake Travis: With more water coming from Lake Buchanan today, water will rise by 3 feet or more.

Significant flood threat developing. #atxwx #CBSAustinWX #txwx pic.twitter.com/CXBAGdzUTv

— Avery Tomasco (@averytomascowx) October 17, 2018
Lake Travis hit 697 feet by 1 p.m. on Wednesday, Oct. 17, and is expected to keep rising. If the water tops 714 feet, the water will pour down the Mansfield Dam spillway, possibly causing even more disastrous flooding.
Flash flood warnings are in effect for multiple Texas counties. Most of the warnings extend until the evening of Oct. 18. Some are listed as "until further notice," as the National Weather Service acknowledges that no one knows how long the storms might last or how bad the flooding might be.  
Marble Falls under boil water notice after flooding https://t.co/xi3pxGCi27 pic.twitter.com/RqABbc4rbK

— CBS Austin (@cbsaustin) October 17, 2018
Flooding is only part of the problem. The city of Marble Falls told residents that its wastewater plant was flooded and overstressed.
The Texas Commission on Environmental Quality (TCEQ) is advising residents to boil tap water before using it for drinking, washing face or hands, or brushing teeth.
TCEQ advises everyone to boil any water for two minutes. The elderly and the very young are at greatest risk for bacterial infections from sewage-contaminated water, but no one is safe.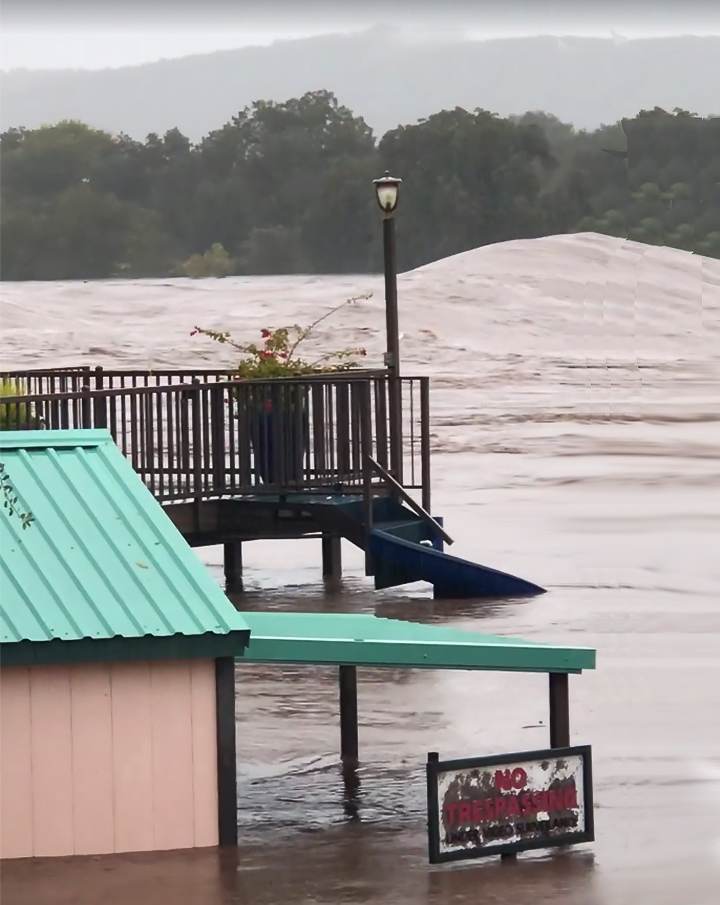 A Month's Rain in a Day
According to Accuweather, some parts of Texas have seen months' worth of rainfall in just a few days.  An unusual blast of cold air has descended onto south-central Texas where it met moist tropical air lingering from summer. The combination is proving disastrous for residents in the region.
Much of central Texas is arid plains and rolling hills. Four to eight inches of rain is all the region might expect to see in the entire month of October. Yet more than 10 inches of rain have fallen on the region in 36 hours.
The resulting flash floods have washed out bridges and roads, stranded people in their homes and in some cases washed them away in their cars as they tried to drive to safety.