A Texas-based company wants to build a large-scale carbon capture network across five states in the U.S. Midwest to help its customers reduce their greenhouse gas emissions.
Navigator Heartland Greenway, of Dallas, announced it had entered into contracts with two industry-affiliated companies to begin site development for the proposed multibillion-dollar pipeline project.
A series of public meetings in communities located across the project's path will take place later this month through January 2022. The first meeting is scheduled in Rock Rapids, Iowa, on Nov. 29.
The Heartland Greenway pipeline will span 1,300 miles across five Midwest states—South Dakota, Minnesota, Nebraska, Iowa, and Illinois—to nearly 20 receipt points.
Navigator says the goal is to reduce carbon output in order to meet global greenhouse-gas emission targets.
"By providing an economic means to reduce the carbon footprint of homegrown biofuels, the Heartland Greenway will enable producers to create a more sustainable, premium product to bring to market," the company stated in a fact sheet.
Navigator said the benefits of the project will include property tax revenue for communities along the pipeline, 8,000 new contract jobs during construction in Iowa, and 80 new permanent jobs after project completion. At the same time, the new technology will increase the "viability and competitiveness" of biofuels and fertilizers.
The project is described as "multi-faceted," and will assist customers in building CO2 capture equipment.
The liquified CO2 will then be transported over the pipeline for storage in Illinois.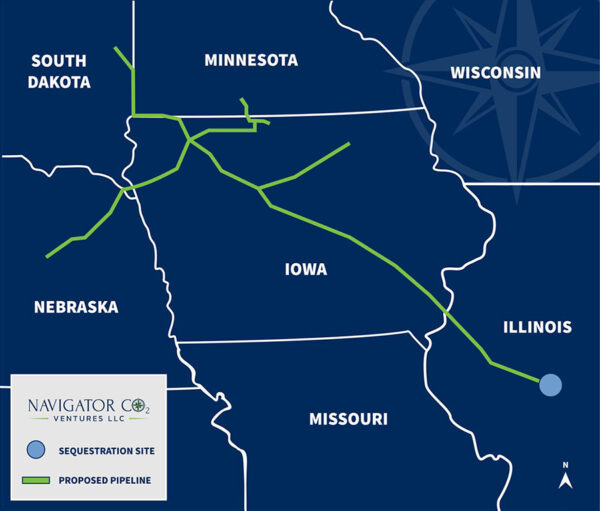 Once fully expanded, the system will be able to hold up to 15 million metric tons of CO2—the emissions-equivalent of 3.2 million passenger cars—per year.
"This is the first inning of a long game, and we are 100-percent aligned with our customers' focus on executing a highly scalable platform that can respond to increasing customer demand and industry change," Navigator CEO Matt Vining said in a statement.
The first phase of the project is expected to begin service in early 2025.
"The Heartland Greenway is the first substantial, fully integrated CO2 handling system to reach a final investment decision, and we could not be more excited for the path ahead for all stakeholders," Vining said.
Navigator's customers include rural agricultural processors from the ethanol and fertilizer industries.
Following the informational meeting, Navigator right-of-way representatives will begin contacting landowners regarding survey activity and easement negotiations, said Ann Marie Welshans, director of right-of-way for Navigator, in an Oct. 29 letter to stakeholders.
"Our goal is to reach voluntary agreements with the landowners along the project route, though, if we are unable to do so, we may need to request the right of eminent domain" through each state's utilities board, Welshans said in the letter.
A construction easement is an acquired right of use over the property of another for building purposes. Eminent domain is the compulsory purchase of land by a government entity, or a private company, with authorization.
"This is a big deal," said Linda Hasche, whose husband, Daryl Hasche, is president of D & D Hasche Grain and Livestock based in Rock Rapids, Iowa.
"This is way bigger than people can understand. Right now, there are a lot of unknowns."
Linda Hasche said the Heartland Greenway project appears to cross two of her family's three working farms, which comprise 355 acres. The fifth-generation operation produces corn, soy, hogs, and cattle.
The Hasches say that they, and other affected farmers, are concerned the project may cause harm to the environment and hurt agriculture by preventing CO2, which allows vital photosynthesis to occur, from going into the atmosphere.
Navigator has offered to pay farm owners a one-time settlement of 100 percent crop loss value for the first year during construction, 80 percent for the second year, and 60 percent for the third year.
"You can't even vote" on the project, Linda Hasche said. "If you say no, they'll pull the eminent domain card, (but) they still have to compensate the farmers."
Navigator officials didn't immediately respond to requests by The Epoch Times for comment.