Deputies in Texas responding to a domestic violence call near Rhome uncovered a scene of child abuse that included two children locked in a dog kennel.
According to a WFAA report, authorities in Wise County received a call at about 7:20 a.m. on Feb. 12 about a violent incident involving a man and a woman at a house off County Road 4930 near Newark, located about 30 miles north of Fort Worth.
The Wise County Sheriff's Department told reporters that responding deputies found a man with cuts to his face and spoke to the couple about the incident.
Sheriff Lane Akin said that while deputies were talking to the man and woman, they heard the sound of children coming from inside a building. When they investigated, Akin said, deputies found two children locked together inside a dog kennel.
BREAKING: Children reportedly found locked in dog kennel in Wise County: https://t.co/i8qh6JOJt2 pic.twitter.com/n6ZaxA6B8z

— NBC DFW (@NBCDFW) February 12, 2019
'Covered In Urine and Feces'
Investigators then searched the property, according to the Wise County Messenger, and found two more children, who were dirty and emaciated.
"The others appeared malnourished, covered in urine and feces," Akin said, the Wise County Messenger reported. "There was food in the house, but it was locked up where the kids couldn't get it."
Wise Co. Sheriff says they found 4 children, ages 5 and younger, malnourished and locked in dog kennels in this barn in Rhome. They were called to scene because of a domestic violence incident between a man and woman. Shefiff, EMS, DPS are all on scene. pic.twitter.com/sgeItuHG2p

— Chris Sadeghi (@chrissadeghi) February 12, 2019
WFAA reported that deputies noticed feces scattered throughout the house.
Akin said the children's ages were 5, 4, 3, and 1, and all suffered from malnutrition. The two oldest children were the ones locked in the dog kennel.
EXTREME CHILD ABUSE: Deputies rescued 4 young, malnourished children in Wise Co. this morning. 2 of the kids were found locked in a dog kennel. https://t.co/WmIj293i8g pic.twitter.com/l3jhYl1VEz

— FOX 4 NEWS (@FOX4) February 12, 2019
Wise County Emergency Medical Services personnel transported all of the children to Cook Children's Hospital in Fort Worth for evaluation.
The man was also taken to the hospital for treatment for the wounds he had sustained to his face. The woman was taken into custody and faces a charge of family violence.
Akin told reporters both the man and woman have each been charged with four counts of endangering a child.
This Wise County house was a house of horrors for four young children. The @WISECOSHERIFF says the kids were malnourished and covered in feces, while two were locked in a dog kennel. I'll have a live report at noon on @KRLD. pic.twitter.com/uWCmXdGJzp

— Andrew M. Greenstein (@KRLDAndrewG) February 12, 2019
Child Protective Services were cited by NBC DFW as saying that they were aware of previous concerns about the family. According to the report, CPS is investigating the case.
Kids Locked in Boxes
The Rhome incident recalls a case in August 2017 when police said a Missouri couple had locked four children inside makeshift boxes made out of plywood and screws inside a home.
Laura Cheatham, 38, and Daryl J. Head, 38, were arrested by officials with the St. Francois County Sheriff's Department.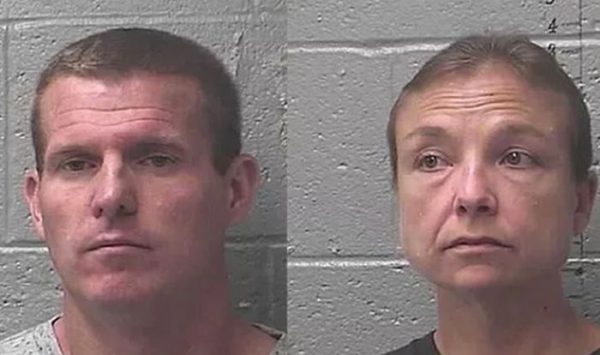 Officials said Cheatham and Head were charged with five counts of endangering the welfare of a child creating substantial risk as well as three counts of kidnapping, according to the St. Louis Post-Dispatch.
'Nothing This Deplorable'
Officers accompanied investigators with the Children's Division of the Missouri Department of Social Services when they found the three girls and one boy between the ages of 5 and 12 in a Farmington home, the publication reported. The rooms that held the children were "specially constructed" with no access to toilets, water, or lighting, officials said.
"I've seen some pretty nasty things, but nothing this deplorable," said St. Francois Sheriff Daniel Bullock, KMOV-TV reported. "This is the kind of thing that happens somewhere else, not here."
Officials believe that the children had to use vents in the floor for bathrooms. The children were adopted by Cheatham and her estranged husband, the sheriff's department said. They appeared to be in relatively good health. Officials think they were living at the home for several weeks, KMOV reported.