UVALDE, Texas—A trio of small border locales have banded together in a bid to compel the state of Texas to provide the resources they need to secure their citizens against an unprecedented flow of illegal alien traffic.
Officials from Uvalde County, the city of Uvalde, and Kinney County formed a subregional planning commission on Aug. 2 under a unique Texas statute that gives small entities the teeth to force state agencies to the table to solve problems.
Tens of thousands of illegal immigrants pass through the area—via car or train, or on foot—to get from the border cities of Del Rio and Eagle Pass to San Antonio. The counties have declared themselves in a perpetual state of disaster since April.
Two officials from the Texas Division of Emergency Management (TDEM) attended the commission's first meeting on Oct. 21. Gov. Greg Abbott, a Republican, tasked TDEM with providing resources to beleaguered border counties, after issuing a state disaster declaration on May 31.
The Texas Department of Public Safety (DPS) has dedicated more state troopers to the area, but the 391 commission members complained to the two TDEM officials about nonaction and communication issues that have left them feeling ignored and frustrated.
Uvalde County Commissioner John Yeackle said one of his county's biggest problems is finding jail space for illegal aliens and smugglers.
"We're getting verbal commitments—as I understand from the sheriff's office—for DPS to move them to Del Rio, but that's not happening in reality," Yeackle said. The facility in Del Rio is a temporary state-run detention center that's holding illegal alien inmates arrested for trespass and other crimes, but it's 70 miles from Uvalde.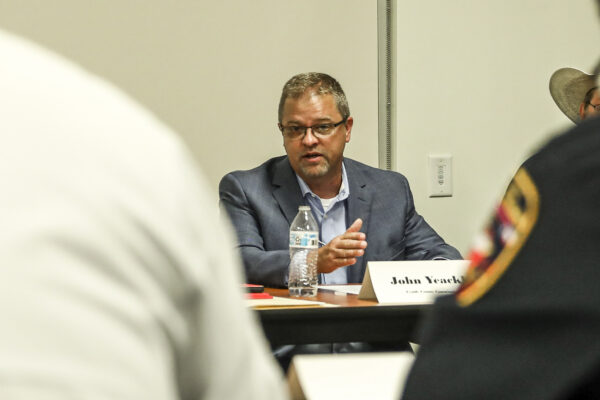 Kinney County Sheriff Brad Coe said several formal requests he's made to TDEM and DPS have gone unanswered or unresolved, including radio communications between his deputies and state troopers while on duty.
"Right now, Kinney County seems to be at the epicenter of all this," he said. Between Val Verde and Kinney counties, he said, 12 human smuggling loads had been intercepted in the previous 24 hours.
One case involved a 21-year-old U.S. citizen out of Brownsville, Texas, who was transporting three Guatemalans and one Mexican to San Antonio. While deputies were arresting him and the illegal alien passengers, another vehicle drove past that state troopers subsequently stopped. The driver and passenger—U.S. citizens out of Fort Worth, Texas—were transporting three Guatemalans to San Antonio from the border.
"To get to San Antonio, you have to go through Kinney County," Coe said. While he said DPS has helped arrest 1,100 illegal aliens in Kinney County on trespass and other misdemeanor charges, he estimates that at least another 3,000 have slipped past.
Kinney County also has a jail space problem.
"I've got on my desk right now about 100 to 150 [arrest] warrants that I can't serve because I don't have a place to put these people. I've got a 14-bed facility," Coe said.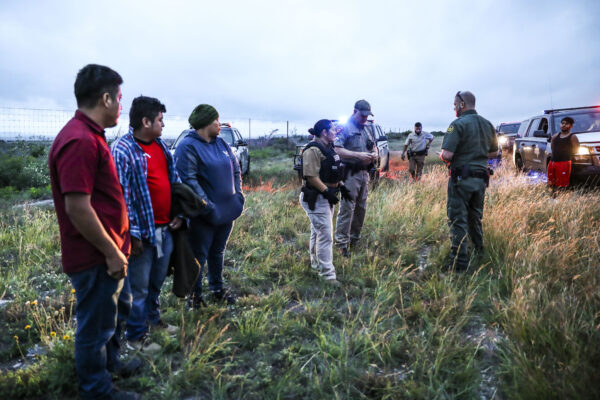 Uvalde Mayor Don McLaughlin said local schools went into lockdown 48 times in the spring because of high-speed vehicle pursuits and bailouts of illegal aliens. He said some citizens won't let their children play in their yard unless an armed adult is supervising.
"We're not getting any help. We're not geared up for this. They're doing a great job, but we need help," he said, referring to DPS and local law enforcement.
"We're still averaging three to four bailouts every day. And then they spend most of their time trying to round these people up."
McLaughlin said law enforcement is finding firearms in smuggling vehicles, and some of the illegal aliens are murderers, pedophiles, and sex offenders.
The county reached out to TDEM over the summer to get extra capacity to store bodies after several illegal aliens died.
"We had two that jumped off the train that got killed. We found one in a farm field. We got another one that got run over by a combine," he said.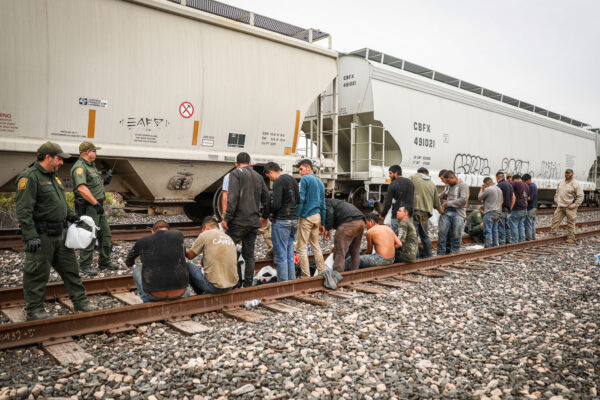 Uvalde has the capacity to hold seven bodies, and McLaughlin said sometimes it takes up to six months before someone claims the body of an illegal immigrant.
TDEM Assistant Chief Tony Pena apologized during the commission meeting for the agency's failure to respond to the request at the time. He said he would seek answers to all the complaints presented and promised better communication.
"This has to be likened to building an aircraft while it's in the air," he said.
"We didn't create this problem as the state. It was created elsewhere and by somebody else, and the answer lies with them," Pena said, referring to the Biden administration.
"All I can say is, the state of Texas is using the resources that they have available at the moment to at least slow down this invasion."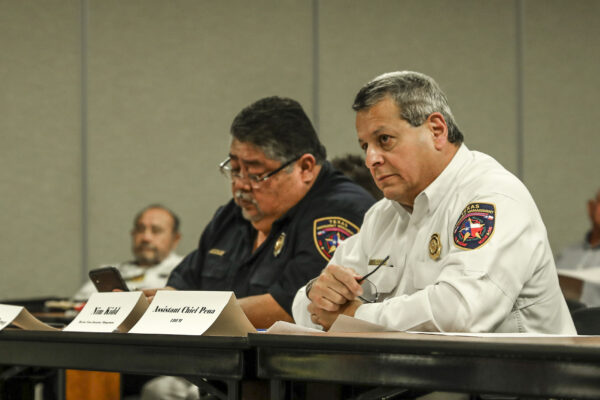 The meeting took place as tens of thousands of illegal immigrants were traveling from southern Mexico on their way to the U.S. border.
"There's a human tsunami on its way," Kinney County Judge Tully Shahan said. "We do have a grave concern for Texas and our country."
Four days after the meeting, McLaughlin told The Epoch Times that he had since talked to TDEM Chief Nim Kidd three times and was positive that things were moving in the right direction. He is submitting a new request for vehicles, extra personnel, and equipment. A temporary detention center is next on the list.
Meanwhile, the White House on Oct. 24 rejected Abbott's appeal to the Federal Emergency Management Agency to reimburse the state for millions of dollars it has spent on the border crisis.