A baby was born during Hurricane Harvey in Corpus Christi, Texas, as the storm took landfall on Friday, and he was aptly named.
Harvey Rodriguez weighed in at 7 pounds and measured about 18 inches long, the Corpus Christ Caller-Times reported.
The mother said that she hadn't picked a name for her child as she went into labor.

A nurse suggested that she name it after the storm. Harvey was born at Corpus Christi Medical Center Doctors Regional.
According to a press release from the hospital, "Harvey was delivered by Dr. Leighann Glazener and Dr. Romulo Corrada as the eye of the storm made landfall just north of Corpus Christi."
"It was exciting delivering my baby during the hurricane. We are thankful for the care we received at Doctors Regional and for the good health of our family," said Rodriguez in the release.
According to the National Weather Service, Houston-area residents can expect some 24 inches of rain and high flood waters this week.
The NWS issued flood watches and warnings from near San Antonio to New Orleans.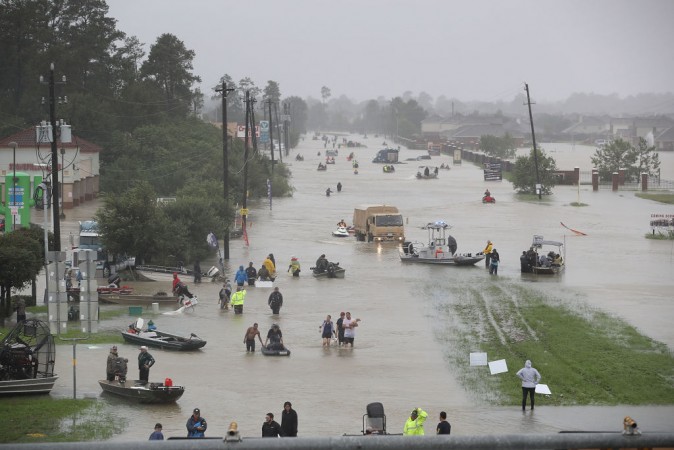 "This is a landmark event for Texas," Brock Long, administrator for the Federal Emergency Management Agency (FEMA), told reporters, according to Fox News. "Texas has never seen an event like this."
"It's going to require the citizens getting involved," he also stated.

Some 30,000 residents of America's fourth-largest city were expected to be left temporarily homeless by Harvey, now a tropical storm, Reuters reported.
"The goal is rescue. That's the major focus for today," Houston Mayor Sylvester Turner told reporters on Monday.
Authorities have been overwhelmed with calls for help, and they've asked those hit by floodwaters to only call 911 if there is a need for medical attention or immediate evacuation.