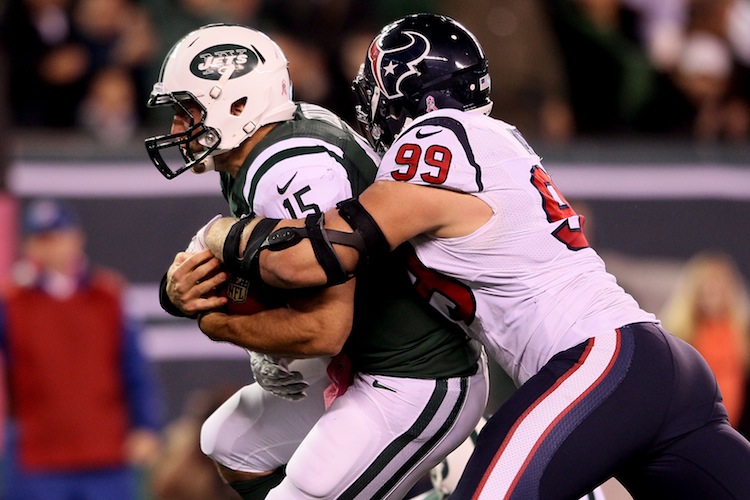 After Monday night's win over the Jets the 5-0 Houston Texans are the lone remaining unbeaten in the AFC. Meanwhile Rex Ryan's bunch, now at 2-3, is looking worse and worse every week and is in need of some major mid-season changes to reach the postseason.
Two years ago, these two teams' positions in the NFL were nearly the opposite. In 2010, the Jets went 11-5 and made it to their second straight conference final while the Texans, still in search of the franchise's first playoff appearance, went 6-10.
A closer look at the teams and their transactions reveals they were already starting to head in opposite directions.
The Jets had built up their teams with solid draft classes in 2006 and 2007. The former produced two-time All-Pro Nick Mangold, three-time Pro Bowler D'Brickashaw Ferguson, and one-time All-Pro Leon Washington. The latter netted them three-time All-Pro Darrelle Revis—the best corner in the game today—as well as linebacker David Harris who has been a starter ever since.
But 2008 was another story. The Jets had the sixth overall pick of the draft and took the infamous Vernon Gholston—who barely saw the field in his three years and is now out of football. Though they took pass-catching tight end Dustin Keller later in the round, he's the lone draftee from that class that starts.
Their big gamble was in 2009 though. The Jets traded first (17th overall) and second round selections to move up and grab USC's Mark Sanchez. New York then traded their third, fourth, and seventh round picks to take Shonn Greene with the first pick of the third round.
Though the duo are starters currently, statistically speaking they rank as two of the worst at their positions for an offense that's generated just two touchdowns in their last three games. Sanchez has a quarterback rating of 66.6—third-to-last in the NFL—while Greene's 2.9 yards per carry is 42nd out of 46 qualifiers.
Meanwhile the Texans counter Sanchez and Greene with Matt Schaub, whose career quarterback rating of 92.6 is ninth all-time, and All-Pro running back Arian Foster. Though the Texans were questioned heavily in 2006 for trading two second round picks for Schaub, who was a backup in Atlanta at the time, the gamble has clearly worked out.
Foster was a low-risk gamble though, signing with Houston after going undrafted in 2009. By 2010, he was an All-Pro after leading the NFL with 1,616 rushing yards and has been starring ever since.
In 2006, prior to the Schaub deal, Houston, like the Jets, had a similarly stellar draft, shocking everyone by passing on Reggie Bush to take two-time Pro Bowler Mario Williams with the first pick. Two-time Pro Bowler DeMeco Ryan was their second round choice, Pro Bowl tight end Owen Daniels was their fourth-round pick, and still starting tackle Eric Winston was taken in the third.
After getting little impact in their 2007 draft, the Texans got still-starting left tackle Duane Brown with the 26th overall pick in the first round in 2008.
Their 2009 haul made up for any previous disappointments though. The Texans took Pro Bowler Brian Cushing with their first pick, defensive end Connor Barwin (11.5 sacks last year) with their second pick and starting cornerback Glover Quin in the fourth round.
In 2010 the team drafted starting cornerback Kareem Jackson (three interceptions this year already) and the next year took defensive lineman J.J. Watt (NFL-leading 8.5 sacks already this year) in the first round and linebacker Brooks Reed (6 sacks last season) in the second.
Meanwhile, the Jets 2010 draft has looked shaky thus far. Though fourth round pick Joe McKnight has shown flashes of being a good player, the Jets have mysteriously stuck with Greene at running back. First round selection Kyle Wilson keeps getting high endorsements from Ryan (so does Sanchez though) but the Jets re-signed Cromartie last year as the starter.
While the Jets can try to counter J.J. Watt with the potential in young lineman Muhammad Wilkerson, Kenrick Ellis, and Quinton Coples none has had the impact that Watt has had. The Texans were even able endure letting Mario Williams sign with Buffalo in the offseason, while getting no compensation. Williams has been a highly-paid bust thus far as a Bill—another Houston gamble that's worked well.
The Epoch Times publishes in 35 countries and in 19 languages. Subscribe to our e-newsletter.