Test of English Easily Bested by Cheats in China
February 27, 2013 7:39 am Last Updated: October 1, 2015 11:02 am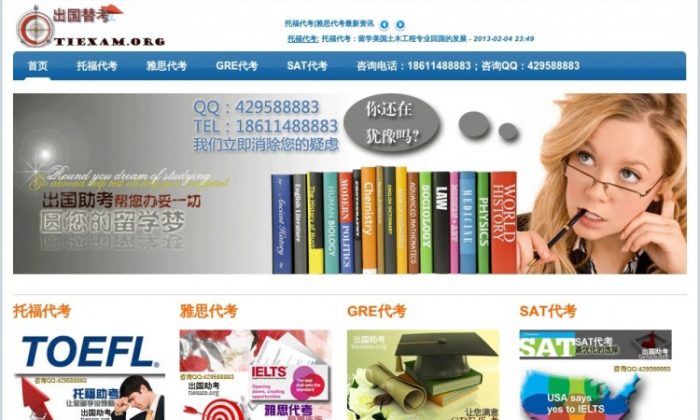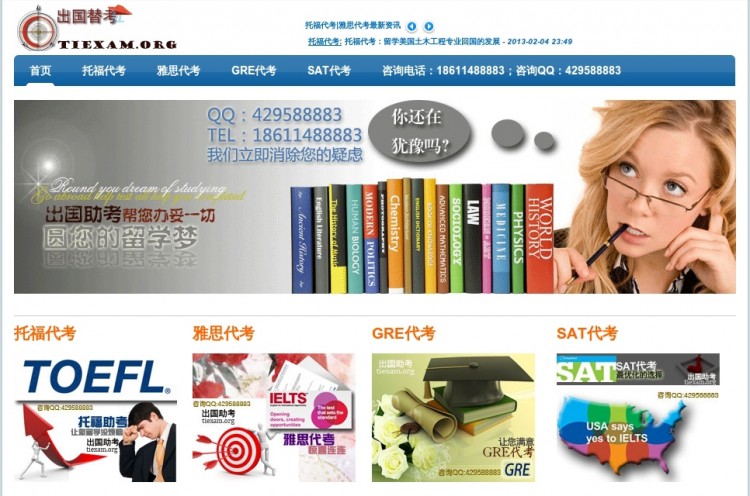 Every Chinese student who would come to the United States for higher education faces a crucial and decisive language test: the Test of English as a Foreign Language, or TOEFL. 
But what if instead of studying hard to pass it, one could simply buy one's way through? 
An abundance of evidence suggests that thousands of Chinese students are doing just that, taking advantage of a thriving underground industry in China—mediated through the Internet—that operates largely with impunity.
Methods for beating the test abound: from study guides available online compiled from previous years' examinations, to finding doubles in China to sit the test in person, to, in the most organized and entrepreneurial instance, taking advantage of the time zone difference between China and the United States and feeding answers to co-conspirators across the Pacific.
Scoring 'Even Higher'
That's the approach that Zhang Li (not his real name) took when he wanted a better score with less hassle for entrance to New York University.
He's now a 28-year-old graduate student at NYU, and he admits to cheating his way through the TOEFL test. 
Zhang Li simply went online and purchased the "Jijing Live Service" (Jijing translates roughly to "computer test bible"). Because the same TOEFL test is administered in both the United States and China, the Jijing services, based in China, take advantage of the time difference to feed the questions back to their clients.
"I would have scored high enough to get into NYU even without cheating, but I wanted to score even higher with less effort by cheating," Zhang Li said. "The higher your test scores are, the better chance you have to get scholarships." 
Once he had the answers in hand, he peddled them to other students, getting back his investment plus a bit of walking around money.
As Easy as ABC
The ease with which cheating can be perpetrated indicates that there are probably many more Zhang Li's taking advantage of the loophole.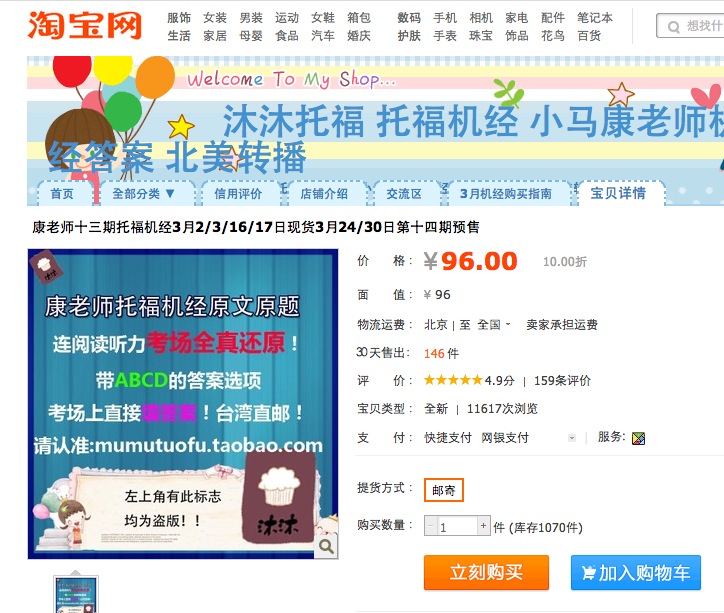 A search on Taobao, the Chinese version of eBay, offers hundreds of sellers hawking their test-beating wares. 
One seller provides a detailed introduction of his "Jijing Live" service, along with a schedule of upcoming tests, notes on when answers will be available, and instructions for purchasing the service. 
Just like Ebay sellers who deal in legitimate products, the Jijing service's Taobao webpage features reviews and remarks of previous clients, along with accuracy ratings.
An Epoch Times reporter followed the instructions on the page, paid up to become a "member," and registered for answers for the Feb. 11, 2011, TOEFL test.
The examination took place both in China and the United States (the former 13 hours earlier). Just as advertised on the Taobao page, the seller emailed step-by-step notifications, and different parts of the exam streamed in throughout the morning. 
Hours before the examination was going to be taken in the United States, an Epoch Times reporter had received all of the questions, and answer tips to boot.
Product Review
As though they had just bought a juice blender or had their computer repaired, Chinese students leave product reviews and experience reports on the web pages of the companies that offer the cheating services. 
"I would like to share my experience of finding a test replacement," one young man wrote. A "test replacement" refers to a lookalike who can do the test in the stead of the real applicant. He wrote that his English has always been poor but he wanted to go abroad to study. 
"I had a friend who got a good mark with the 'TOFEL IELTS Test Replacement Association,' so I went with them too," he wrote. 
"Their service is really remarkable. They have a very detailed plan for test replacement, with every single step considered properly. I feel I can really count on such a service. Thanks a lot to the help of 'TOFEL IELTS Test Replacement Association' for my poor English."