News Analysis
At its 2023 Investor Day presentation in Texas, Tesla revealed its plans to produce its next generation EV motor without any rare earth minerals. As a global leader in the electric vehicle market, Tesla's plan for zero rare earth permanent magnet motors, if successful, could have a significant impact on the rare earth market—particularly China's rare earth monopoly.
"As the world transitions to clean energy, the demand for rare earths is really increasing dramatically, and not only will it be a little harder to meet that demand, but mining rare earths has environmental and health risks," said Colin Campbell, VP of Powertrain Engineering at Tesla.
"We have designed our next drive unit, which uses a permanent magnet motor, to not use any rare earth materials at all," he announced.
Currently, Tesla's Model Y uses three types of rare earth materials: approximately 500 grams of one, and 10 grams of two others. But in Tesla's next generation permanent magnet motor, zero rare earths will be used, according to Campbell's presentation.
Campbell did not specify which materials would be used to replace the rare earth components.
Tesla also stated that from 2017 to 2022, its use of rare earth materials in the Tesla Model 3 had decreased by 25 percent due to improved efficiency in its powertrain system.
Shortly after Tesla's announcement to remove rare earths from its EVs motors, China's largest rare earth supplier, Northern Rare Earth (600111.SHA), saw its stock price drop by nearly 10 percent as of March 10. The stock prices of two other major rare earth suppliers, China Rare Earth (0769.HKG) and Shenghe Resources (600392.SHA), also fell by 5.9 percent and 10 percent, respectively.
Compared with the traditional excitation generators, permanent magnet motors—especially rare earth permanent magnet motors—have higher magnetic energy product and coercive force: the ability to resist demagnetization. This makes them reliable and highly efficient. The energy conversion efficiency of rare earth permanent magnet motors typically reaches 90 percent, with the best achieving over 98 percent.
However, the supply of rare earths has been highly monopolized by the Chinese Communist Party (CCP). According to data released this year by the United States Geological Survey (USGS), in 2022, China's rare earth reserves accounted for 34 percent of the world's known reserves, and its rare earth production accounts for 70 percent of global production. As a result, the supply and price of rare earths in the global market are largely under the control of the CCP.
In addition, the supply of rare earths may not keep pace with the rapid expansion of the global EV market, especially Neodymium-Iron-Boron (NdFeB) permanent magnets, a key component in advanced electric motors.
In the wake of heightened tensions between the United States and China, minimizing or eliminating the use of rare earth elements without affecting product performance would be beneficial to supply chain stability.
Zero Rare Earth Technology May Have Wide Impact
In 2022, Tesla delivered more than 1.31 million EVs, accounting for 18.2 percent of the global EV market and ranking first in the world. Since 2018, Tesla has taken over more than 60 percent market share of the American EV market. In Europe, Tesla's Model Y and Model 3 were the two most popular EVs in 2022.
This dominant position gives Tesla tremendous influence in the EV industry.
According to rare earth consulting firm Adamas Intelligence, EV motors account for 12 percent of global consumption of NdFeB magnets, of which Tesla accounts for 15 percent to 20 percent.
If Tesla succeeds in removing rare earths from its motors, Adamas estimates that the global market for NdFeB will lose only 2 to 3 percent of demand in the short term. However, in the long term, it is estimated to lose 3 to 4 percent at most, assuming Tesla can maintain its leadership position in the EV market.
But this analysis did not take into account that other EV companies will likely follow suit if Tesla is successful, as this innovation has cost-saving potential and helps to rid industry reliance on the vulnerable and costly rare earth supply chain.
In addition to new energy vehicles, rare earth permanent magnet motors are also used in several other areas, including wind turbines, traditional automotive motors, home appliances that use frequency conversion technology (air conditioners, refrigerators, washing machines, etc.), industrial robots, and energy-saving elevators. Therefore, the development of zero rare earth permanent magnet motor technology may have broader implications, potentially affecting demand for rare earths from China.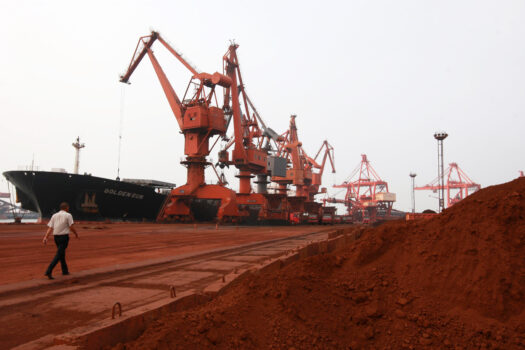 CCP's Secret Weapon
The CCP sees rare earths as a political bargaining chip.
In 2010, after China escalated its sovereignty dispute with Japan over the Diaoyu Islands, the CCP began restricting the export of all 17 rare earth materials to Japan as a means of coercion. This move alerted Western countries to the risks of relying on Chinese supply chains.
The CCP has been establishing a so-called rare earth strategic reserve system since 2011, treating rare earths as strategic resources, and collecting and stockpiling large amounts of rare earth raw materials.
At the same time, through a quota system that controls the total volume of rare earth mining and smelting in China, the CCP has concentrated rare earth production in the hands of a few government-controlled rare earth groups, further strengthening its control over global rare earth supply and prices.
Beijing began seriously considering rare earth export restriction to the United States in May 2019, amid the escalation of U.S.-China trade war.
"Since the United States announced its decision to include Huawei on its 'Entity List', speculation has been rife that China may restrict or even stop its exports of rare earths to the United States," the CCP's mouthpiece Global Times warned in a May 2019 article. "We believe that if the White House continues to intensify its pressure on China, it may only be a matter of time before China wields rare earths as a weapon."
Around the same time, People's Daily also issued a harsh warning, saying that the United States "should not underestimate China's ability to counteract."