Tesla Leading the Electric Car Revolution
Does sales volume justify the sky-high valuations?
September 16, 2013 5:48 am Last Updated: September 16, 2013 11:08 am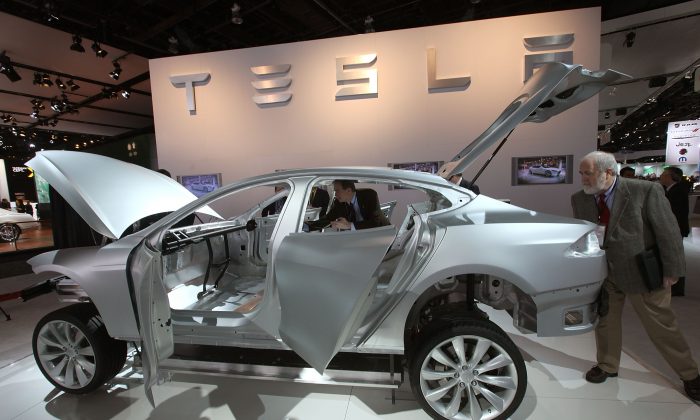 Even CEO Elon Musk thinks Tesla Motors Inc.'s stock is overvalued.
Analysts have criticized the volatile numbers and investors buying into Tesla's stock, which hasn't kept the price from rallying again, past $165 and surpassing a $20 billion market capitalization.
Musk is not a fan of hyped-up stock prices either, but even critics give glowing reviews to the company's work and Musk intends to honor that. 
Founded in 2003 with the mission to popularize electric vehicles, the Tesla Roadster was the company's first vehicle, priced at over $100,000.
"I actually think the value of Tesla right now is the market is being very generous. And they're obviously giving us a lot of credit for future execution. So we'll do our best to honor the faith the market has placed in us," Musk told CNBC.
Tesla has been busy lately. The company has taken pre-orders in China, shipped 300 cars to Hong Kong, and opened a second manufacturing facility in the Netherlands. Last Tuesday Musk presented the Model S sedan and Supercharger at the International Auto Show in Frankfurt, where Musk said Tesla plans to open a number of stores and service centers across Europe by end of the year.
Coast-to-Coast Travel
Musk announced a road trip across the United States using only Supercharger stations—which won't be possible until the stations planned for this winter are built. Supercharger stations allow drivers to recharge Tesla cars in just twenty minutes for no cost, and there are currently 21 such stations across North America.
This fall, Tesla aims to have most metropolitan areas covered, and enable coast-to-coast travel by winter. By 2015, 98 percent of the United States and Canadian populations will be within range of a Supercharger station, the company says.
Article Continues after the discussion. Vote and comment
[tok id=fc847dd1f7d0f144beb62576758d15c5 partner=1966]
At its current production rate, Tesla will have 26,000 cars on the road worldwide by the end of this year. Production rate has reached 400-500 units a week and Tesla recorded record sales of 5,150 Model S sedans in North America Last Quarter. 
"If demonstrated demand in North America and Europe is matched by similar demand in Asia, annualized sales for Model S could exceed 40,000 units per year by late 2014," reads the company's letter to shareholders. Including sales of other models, Tesla envisions sales of 500,000 yearly units by 2015. 
Those sales still can't justify the company's market cap. Much of the hype comes from Tesla's second quarter report, showing a 70 percent increase in net income. The company has $747 million in cash, and used $450 million to make an early payment towards a $1 billion federal loan.
Volume Concerns
To justify its $20 billion value, analysts say that Tesla's sales volume needs to increase dramatically, and possibly by more than Tesla is able to at this stage.
The company faces a number of obstacles. Car dealerships around the country are suing Tesla for bypassing them. Some states require vehicles to be sold through a dealership, though judges in New York, Massachusetts, and North Carolina have already overturned such lawsuits.
Virginia and Texas separately denied Tesla dealership licenses, but according to its second quarter earnings report, service centers drive sales about as well as their sales centers. And the presence of such lawsuits means Tesla is seen as viable competition to traditional automakers.
Tesla now has service centers in Houston and Austin, Texas where any sales activity—such as test drives and even referrals to Tesla's online site—are prohibited. Setting up its own dealership network would force Tesla to increase the price of its vehicles, which it actually need to drive down to better compete in the market. The company also stressed the importance of education to reach potential buyers, which requires having a sales staff.
The Model S sells at $49,000 after a $7,500 federal tax credit. Chevrolet's gas-electric Volt starts under $27,000 and Nissan's LEAF is the world's first mass-produced pure electric vehicle. The Leaf went on sale Dec. 2010 and over 70,000 units have sold since. 
An Electric Future
The Silicon Valley company brings the expected culture of innovation and it's undeniable Tesla has influenced the auto industry.
Tesla plans to introduce, sometime in 2016 or 2017, a third-generation electric vehicle at a $30,000 price point with a 200 mile range. Analysts at Citigroup believe that is a more viable price point for mass-adoption.
"A $35,000 price point is typically what's required to begin the path towards achieving sizable volume of over 100,000 units in theory enough to crown Tesla as the first mover in the affordable (and desirable) pure electric vehicle market," according to a Citigroup report. "For any automaker, achieving an early mover advantage could be strategically critical ahead of the potential for more mass electric vehicle adoption early/mid next decade—once battery costs come down further and capacity is added."
Tesla has gained plenty of competition and will find more as it expands globally. BMW unveiled its hybrid and battery-powered cars at Frankfurt while Volkswagen and Porsche unveiled new hybrids as well. Mercedes plans to release new electric vehicle next year.
BMW, which has a market cap of $63 billion, sold over 1.8 million cars last year—about 90 times Tesla's volume.
Some analysts say that due to Tesla's capacity issues, an acquisition of the niche company is the natural evolutionary step. Columnists have brought up Google and Apple as potential suitors in the technology sector, while Toyota Motor Corp. and Daimler AG already have ownership stakes in Tesla. 
Daimler is using the company's batteries in its own Mercedes-Benz electric vehicle.
"We like to call it Tesla inside—like Intel inside—because Tesla now is quite cool," Daimler CEO Dieter Zetsche said at Frankfurt. 
"We're very happy that they are successful."