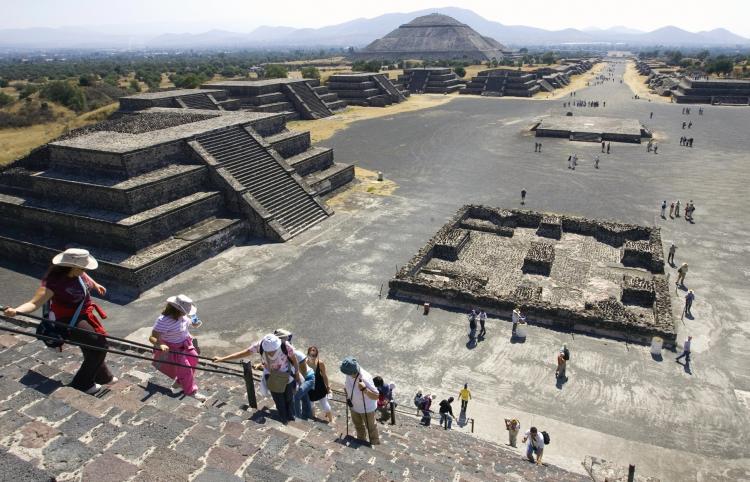 For nearly 100 years, archeologists have searched for clues to the identity of the monarchs of the ancient city of Teotihuacan in northern Mexico. On Tuesday archeologists announced they have found what they believe is a tunnel that could possibly lead to a ruler's tomb.
The long sealed tunnel is believed to be more than 1,800 years old. With the use of a camera and ground-penetrating scanner, archeologists have so far found that the tunnel extends about 37 yards and leads to what appears to be a tomb chamber.
In the tomb chamber, archeologists reported finding rich offerings, including almost 50,000 objects of stone, jade, shell and pottery, including rare ceramic beakers. They have not confirmed that chamber contains the remains or imagery of a ruler.
The first hint of where the tunnel lay came in 2003 when a heavy rainstorm caused the ground to sink at the foot of the Pyramid of Quetzalcoatl in the central ceremonial area of the ruins, which lie approximately 340 miles north of Mexico City.
Unlike any other pre-Hispanic metropolises that contain remains of deified rulers, Teotihuacan has to date not yielded a single depiction of a ruler, or even the tomb of a monarch.
Teotihuacan is a large, sprawling complex of temples, avenues and plazas, still used for ceremony by many native Mexican tribes. It is home to the Jaguar Temple, Pyramid of Quetzalcoatl, and the towering Pyramids of the Moon and the Sun.
Researchers believe that the tunnel was deliberately closed off, between A.D. 200 and 250 and was a central element around which the rest of the ceremonial complex was built, making it the most sacred aspect of the ruins.
The city is believed to have had more than 100,000 inhabitants and scientists posit it may have been the largest and most influential city in pre-Hispanic North America at the time.
The city reached it's height between 100 B.C. and A.D. 750 and was designated "Teotihuacan" by the Aztecs who discovered it in the 1300's. Teotihuacan means "the place where men become gods."
Since no names, images or other references to rulers have been found in Teotihuacan's stone carvings and exquisite murals, one theory is that city rule may have been shared among multiple leaders, its four precincts possibly ruled by alternating leaders.
In 1987 Teotihuacan was designated as a UNESCO World Heritage Site. It is one of the most visited archaeological sites in Mexico.