Hundreds of supporters of President Donald Trump on Saturday rallied outside the state capitol building in Lansing, Michigan to protest what they claim is the stealing of the presidential election.
The group of over 500 Trump supporters assembled shortly after former Vice President Joe Biden was projected by numerous media outlets to win Pennsylvania and its 20 electoral college votes, reported Lansing State Journal. The participants told the newspaper that they were calling on state legislators to investigate alleged election fraud, which they believe gave Biden an advantage over Trump.
The "Stop the Steal" demonstrators were confronted by a smaller crowd of Biden supporters, who urged them to accept the election results. They exchanged heated words before Michigan State Police troopers showed up and separated the two groups.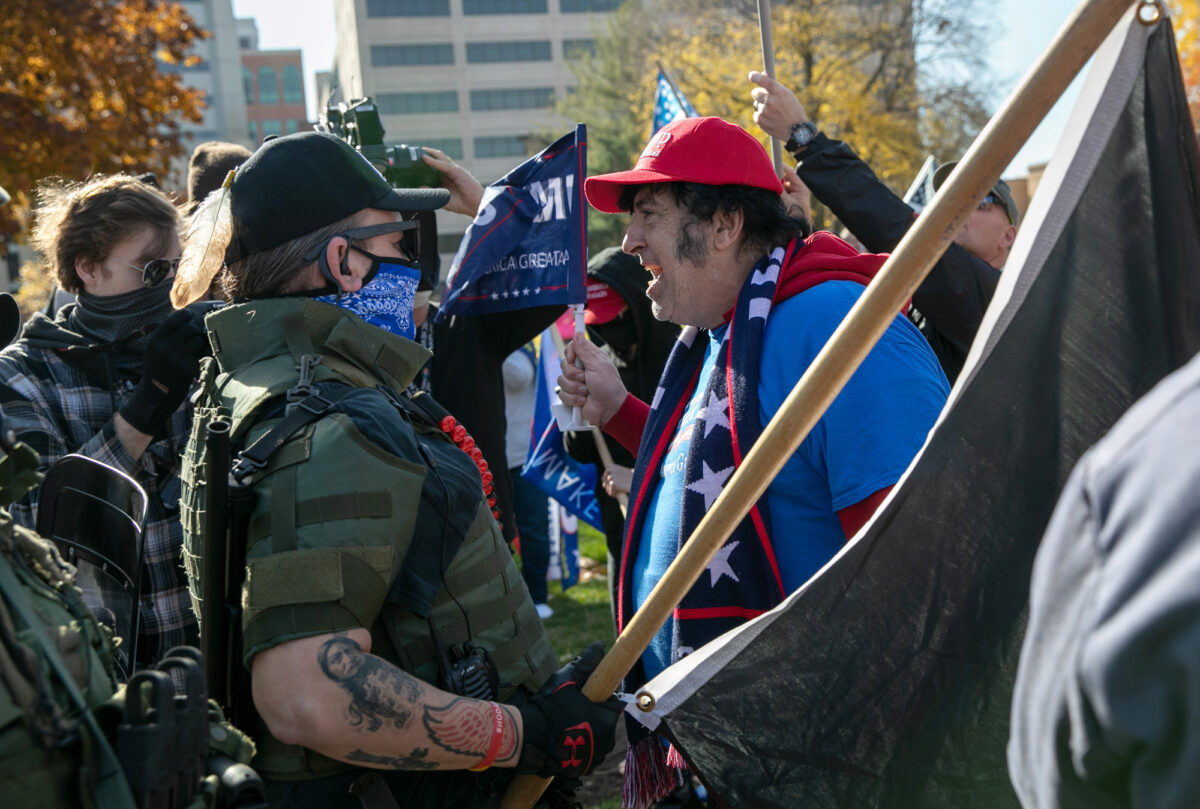 Joe Biden reclaimed Michigan for Democrats with a margin of or 2.6 percentage points, or roughly 147,000 votes. In the 2016 presidential election, Trump won Michigan by just under 11,000 votes, becoming the first Republican to carry the Great Lake State in a presidential election since 1988.
A Trump supporter named Michael Elkins told Lansing State Journal that he believed at one point, Joe Biden received 100 percent of some 130,000 new votes counted in Michigan.
"If Joe Biden won legitimately, I'm OK with that," Elkin said. "Election integrity is a cornerstone of society that is crumbling away."
According to a now-deleted tweet posted by conservative commentator Matt Mackowiak, nearly 130,000 votes were added to Biden and zero to Trump during one update provided by Decision Desk HQ, a data firm tracking election results for media outlets. Decision Desk HQ then posted another update, saying the previous statistically impossible data was caused by an additional zero added in a typo.
Mackowiak has since deleted the post, saying it was inaccurate.
Trump's campaign on Wednesday filed a lawsuit in Michigan to pause the vote count across the state, alleging that observers were denied "meaningful access" to the ballot counting process, as well as access to surveillance video footage of ballot drop boxes. Michigan Court of Claims Judge Cynthia Stephens (pdf) on the following day denied the complaint, saying "the matter is now moot."
Trump on Thursday called out Michigan, claiming that Democrat-run cities were trying to "steal" the presidential election from him with "illegal votes."
"Poll workers in Michigan were duplicating ballots," the Republican president said from the White House. "But when our observers attempted to challenge the activity, those poll workers jumped in front of the volunteers to block their view so that they couldn't see what they were doing. And it became a little bit dangerous."