Burma's military launched a coup in the early morning of Feb. 1, and said it would impose a state of emergency for one year.
At present, there are tens of thousands of mainland Chinese business entrepreneurs and workers in Burma, also known as Myanmar. Previously, the Chinese regime said that due to the current COVID-19 pandemic, overseas Chinese citizens were restricted from returning to China. Since the military coup, the Chinese regime has not addressed the situation of its citizens in Burma or extended any help to them.
Mr. Chen, who works in the media industry in Yangon, told Radio Free Asia (RFA) that after the coup, local communications were cut off. People were panic buying and there were bank runs. Soon after, banks and self-service ATMs were closed, and shopping malls only accepted cash. People in Yangon are still unsure about the situation, and the atmosphere in the street is tense. However, large-scale unrest has not yet occurred.
Before the military coup, many overseas Chinese in Burma were unable to return home for the upcoming Chinese New Year holiday due to China's COVID-19 travel restrictions.
Since earlier last year, as the virus pandemic worsened, anti-Chinese sentiment has risen in Burma. There was a spate of attacks on Chinese nationals, including Yan Bangchao, vice chairman of the Zhejiang Chamber of Commerce in Burma, who was killed in May 2020.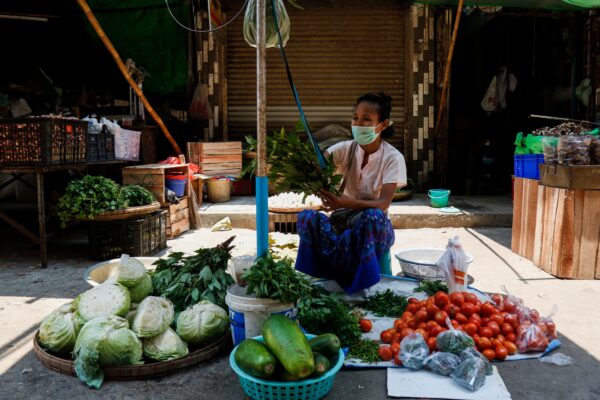 Tu Guoding, chairman of the Zhejiang Chamber of Commerce in Burma, told RFA that before the coup, China had announced that major Chinese airlines—Air China, China Southern Airlines, and Eastern Airlines—would suspend their flights to Burma during the Chinese New Year, from Feb. 1 until Feb. 20. After the coup, the only flight to mainland China run by Myanmar Airlines, which flew once a week, was immediately suspended. The Myanmar Civil Aviation Administration said that the Yangon airport would be closed until the end of May.
Tu also revealed that there are many people from China's southern Zhejiang Province in Burma doing business, such as those who own factories that manufacture clothing and shoes for export. If the military government comes to power, Chinese business owners are worried that the factories may be affected by sanctions imposed by European countries and the United States, Tu said.
Asked about the coup in Burma at a press briefing on Feb. 1, China's foreign ministry spokesperson Wang Wenbin did not mention the situation of overseas Chinese in Burma, saying only that "We have noted what happened in Myanmar, and we are learning more information on the situation. China is a friendly neighbor of Myanmar. We hope that all parties in Myanmar will properly handle their differences under the constitutional and legal framework and maintain political and social stability."
The Chinese embassy in Burma issued an "urgent reminder to Chinese citizens in Burma to take safety precautions" on its official website on Feb. 1, and gave a telephone number for assistance. Radio Free Asia called the number and various departments of the embassy, but no one answered the call.