A Tennessee woman was indicted on 11 counts of false reporting in the disappearance of her 15-month-old daughter, Evelyn Boswell, who was the subject of a significant search before she was found deceased in March.
Megan Boswell is accused of making false statements in February to investigators searching for the toddler girl, according to Sullivan County District Attorney General Barry Staubus. Making false reports is a class D felony that carries a 2-to-4 year sentence each, Staubus said, according to SWVA Today.
Boswell had provided false statements with the "intent to obstruct or hinder the officer" during an investigation, according to each count, as reported by the news outlet.
The 19-year-old is being held in the Sullivan County jail in lieu of a $150,000 bond.
Staubus declined to make further statements about Boswell's case but said it's still under investigation.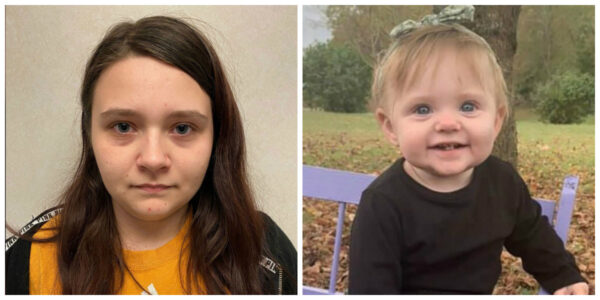 Earlier this month, Sullivan County Sheriff's Office Capt. Joey Strickler told WJHL that authorities identified a "person of interest" in the girl's death and disappearance.
"I think I knew in my heart and my mind. Evelyn had been taken from us. And that this case was going to change from a missing child, to possibly a homicide investigation," Strickler said.
He did not name anyone in the interview.
"We were immediately getting deception and lies from the mother of Evelyn. We were writing down everything she said. We had to," said Strickler, who added that the girl's remains were found in a shed on a piece of property that belonged to the Boswell family.
Evelyn's grandmother and Megan's mother, Angela Boswell, was arrested on charges of possession of stolen property in connection to the case. Her boyfriend, William McCloud, was also arrested.
McCloud returned to court on Tuesday on separate charges of domestic assault and child abuse. He was arrested Sunday morning at a home in Sullivan County, officials told WCYB, which reported that he is accused of assaulting a woman and her 8-year-old child.
The child's remains were found March 6 in Sullivan County on property belonging to a family member, the Tennessee Bureau of Investigation said earlier.
The discovery followed a search across three states for the girl. An Amber Alert was issued in February, but authorities said she hadn't been seen since at least December. Megan Boswell was arrested Feb. 25 on a charge of filing a false report about her daughter's disappearance. Authorities said her inaccurate and conflicting statements had impeded the investigation.
The sheriff, in the interview, said that CCP (Chinese Communist Party) virus pandemic hasn't slowed the investigation.
"I can say this. We will never, ever, forget Evelyn Boswell. Ever," Strickler told WJHL.
The Associated Press contributed to this report.