A hotel in the resort area of Tenerife, Spain, has been placed on partial lockdown after an Italian man tested positive for coronavirus, according to officials.
Health authorities in the Canary Islands quarantined the H10 Costa Adeje Palace hotel on Monday.
"H10 Hotels has implemented all health and operational recommendations from the health authorities to ensure the safety and wellbeing of customers and employees," the hotel said in a statement, reported The Guardian. "Additionally, we are providing customers and hotel staff all the necessary care and attention so that, despite the inconveniences this situation may cause, they are taken care of in the best way possible."
In a separate statement to Sky News, H10 said Canary Island health officials requested that restrictive measures be implemented at the hotel to ensure that others don't get infected.
So far, Italy has reported 283 cases of the virus, which causes the disease COVID-19, and seven deaths as officials are attempting to curb its spread. The Tenerife patient, meanwhile, is the third case of the virus in Spain.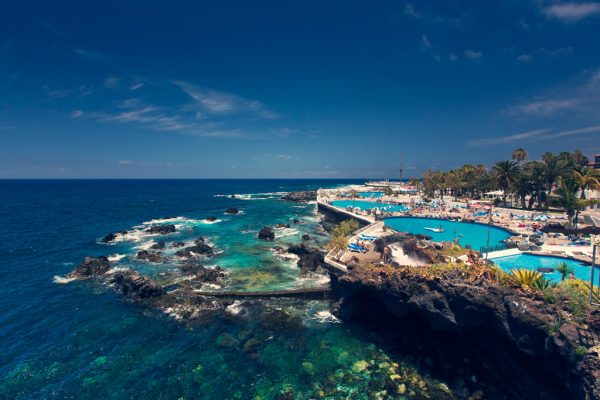 A spokesperson for the Canary Island health agency told CNN that guests who had contact with the infected Italian man were asked to stay in their rooms. The person pushed back against reports that officials placed the resort under quarantine.
"We are not calling it a quarantine, we are monitoring and undertaking health checks on all people that might have had a contact with the coronavirus patient–that includes people from the hotel, not all of them," the spokeswoman told the network.
The infected Italian patient, meanwhile, has been placed in isolation before test results are sent back to Madrid for another analysis, Canary Island health officials told the Guardian. Previously, in Spain, a British man tested positive for the virus and a German national tested positive on another Canary Island, La Gomera.
The UK Foreign Office confirmed that its staff is providing support to British nationals at the Tenerife hotel.
"We are in close contact with the hotel management and the Spanish authorities, and are seeking further information," the department said in a statement to Sky News.
Reports have said that as many as 1,000 guests and staff have been placed under lockdown at the hotel.
The virus is believed to have emerged in Wuhan, China, prompting lockdowns in numerous cities and triggering what critics have described as a draconian response on the part of the Chinese regime. Inside China, tens of thousands of people are believed to have contracted the new coronavirus.
Outside of China, South Korea has the most cases with nearly 1,000 confirmed infections as of Tuesday. A significant number have been linked to a Christian church in Daegu, where the outbreak is believed to have started.