Martin Lau Chi-ping, Tencent President, recently sold 300,000 shares of his company holdings, worth $24 million. Prior to this, Lau has repeatedly reduced his Tencent shares, and this year alone cashed out approximately $57 million.
According to the Hong Kong Stock Exchange data, on June 2, Lau sold 250,000 shares of Tencent holdings at an average price of $81 per share; on June 3, at an average price of $80, he sold 50,000 shares.
After the transaction was completed, Lau's shareholding ratio dropped from 0.59 percent to 0.58 percent, leaving him with approximately 50,646,500 shares.
This January, Lau also reduced his holdings twice, by a total of 400,000 shares valued at approximately $33 million.
Since the beginning of this year, Lau has cashed out about $57 million in shares.
Last year, Lau successively reduced his holdings of Tencent shares on Jan. 3, April 1, May 29, June 1, June 30, July 3, Oct. 8, and Oct. 9. The total value was about $155 million.
Lau is a Hong Kong businessman born in Beijing. He joined Tencent in 2005, served as the president in Feb. 2006, and was appointed as an executive director in March 2007. In the China Richest Professional Managers 2021 List released by the Hurun Research institute on Jan. 19, Lau ranked second, with assets of $4.5 billion.
Tencent, the CCP's Next Financial Regulatory Target
Under supervision of the Beijing authorities, the share prices of well-known technology companies have fallen sharply in the past few months. As of May this year, the total market value of 10 Chinese high-tech companies, including Tencent and Alibaba, has fallen by more than $800 billion from the peak in February this year, a drop of nearly 30 percent.
On May 27, Caixin Media reported that several sources familiar with the matter indicated that to facilitate supervision, Beijing's regulatory authorities have requested that Tencent integrate its financial-related businesses into a new financial holding company.
According to the report, the regulator did not specify which financial services Tencent needs to inject into the new company and details would not be provided until Tencent submits its plan.
On May 20, Tencent issued its financial report for the first quarter 2021. The net profit from January to March this year was $7.4 billion. However, as the CCP tightened its control over Tencent, Tencent's share price remained weak. On May 25, Tencent's stock price fell more than 20 percent from the record high set in February this year.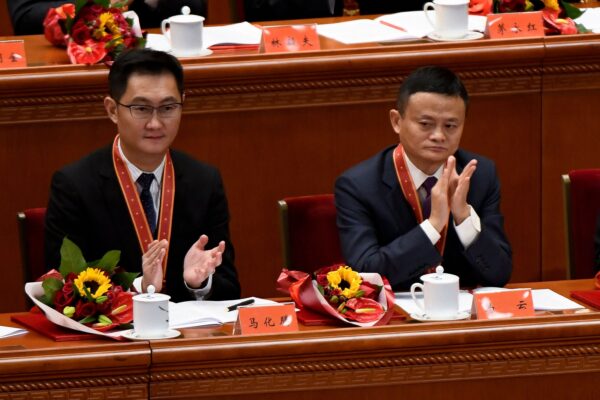 Tencent Fined for Monopoly
Earlier, the regime imposed fines on Tencent for violating the Anti-Monopoly Law. On April 30, Tencent was fined $70,000 by the State Administration of Market Supervision.
On April 13, the social media and corporate administrative guidance committee ordered 34 Internet platforms to "rectify" within a one-month period. Otherwise, heavy fines may be imposed. Tencent invested in 16 of those 34 companies, including Sogou, JD, Meituan, Kuaishou, Bilibili, and others involving online shopping, food delivery, and community group buying.
Prior to this, on April 10, Jack Ma's Alibaba was fined $2.8 billion by the authorities on the grounds of running a monopoly.
On March 12, Tencent was fined $70,000 for the same reason.
Zang Qichao, a Chinese equity investment and financing expert, made a speech in early April in which he revealed how Tencent has monopolized, developed, and grown. He said that Jack Ma won't be able to compete with Ma Huateng, founder of Tencent, because Ma Huateng, also known as Pony Ma, aimed at a disorderly expansion of business.
Zang said that platforms such as Pinduoduo, JD, Meituan, BYD, Tesla, Xiaohongshu, and others are all invested by Pony Ma, making him the major, or at least the second, shareholder. He said: "Actually, Tencent is not an Internet company at all. It is a typical investment company. What it holds is everything that you want."