Weather forecasters on Jan. 29 are warning tens of millions of Americans that the coldest weather in decades is set to hit Tuesday and Wednesday.
According to AccuWeather, the freeze began Tuesday morning the Upper Midwest with a temperature of 75 degrees below zero Fahrenheit in Grand Forks, North Dakota.
But, according to the weather website, the worst is yet to come as the so-called "polar vortex" is displaced from around the Arctic Circle and heads south into the lower 48 states.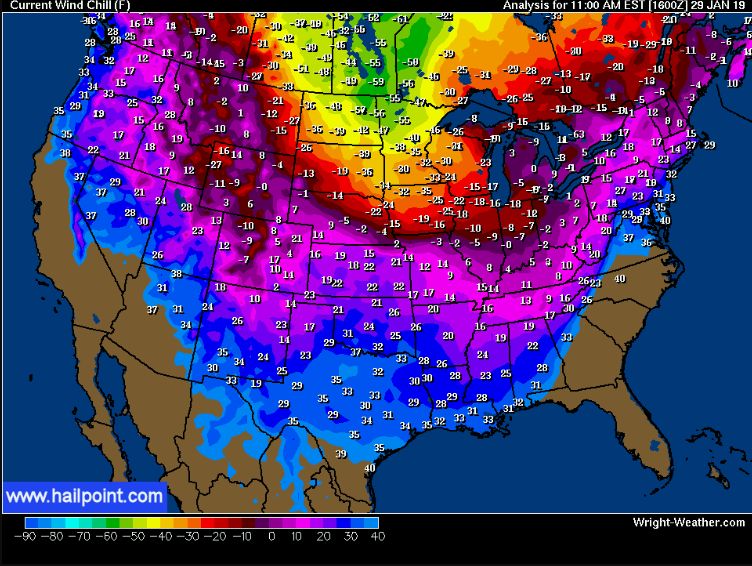 Officials have warned about hypothermia and frostbite, but residents will also have to deal with broken or frozen water pipes, dead car batteries, school closures, and high heating costs.
"You're talking about frostbite and hypothermia issues very quickly, like in a matter of minutes, maybe seconds," said Brian Hurley, a meteorologist with the Weather Prediction Center, reported NBC News.
"Some locations in the Midwest will be below zero continuously for 48-72 hours," AccuWeather Senior Meteorologist Mike Doll said on the website. The worst conditions will hit North Dakota to northern Illinois, including Chicago.
Arctic blast by-the-numbers: Next 5-days:

250 Million population in Lower 48 will experience a freezing temperature (32°F): 73%

90 Million will be 0°F or colder! Over 1/4 of all Americans.
25 Million colder than 20 below zero! #PolarVortex pic.twitter.com/tg80Tfk53F

— Ryan Maue (@RyanMaue) January 28, 2019
"Historic cold, unprecedented cold, these are all adjectives you could use to describe this," said NBC meteorologist Kathryn Prociv, adding, "These are some of the coldest temperatures an entire generation has ever felt, talking about the millennials," Prociv said.
"A lot of these temperatures will be the coldest since about 1994, when a lot of them were just being born."
It appears that Tuesday night to Wednesday morning will see the worst cold, but Wednesday night might also be severe, said forecasters.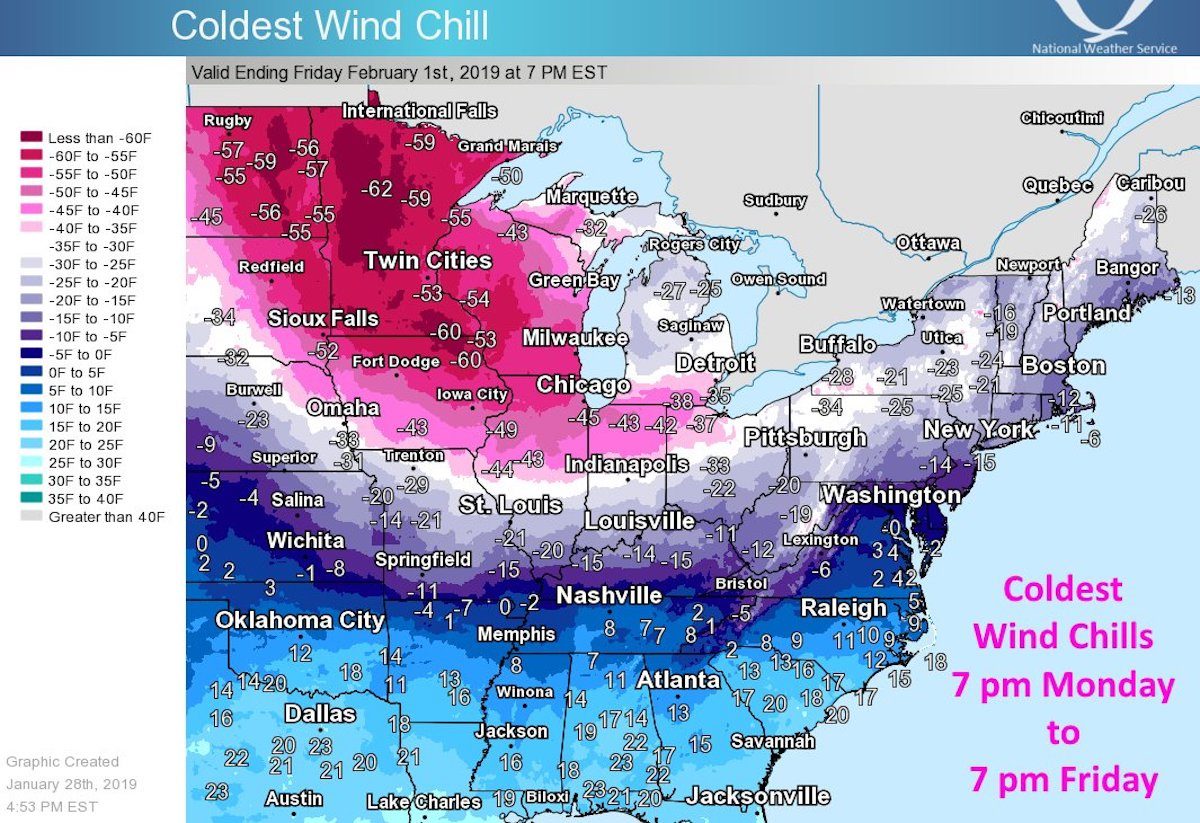 Low temperatures across the Midwest, after wind sets in, could be anywhere between 40 degrees and 60 degrees below zero, or worse.
For many in Chicago, such low temperatures might be a first.
"I cannot stress how dangerously cold it will be," Doll said. "An entire generation has gone by without experiencing this type of cold in the Chicago area."
Due to the extreme cold, airlines at Midway have cancelled 270+ flights and are reporting delays of less than 15 min. Check flight status with carrier.

— Midway Intl. Airport (@fly2midway) January 29, 2019
"This storm poses a serious threat to the well-being of people around the state, and we will use every tool at our disposal to keep our residents safe," said Illinois Governor J.B. Pritzker in a statement on Tuesday, Reuters reported.
Forecaster Ryan Maue, of Weathermodels.com, estimated that some 250 million people will experience sub-32 degree Fahrenheit temperatures, 90 million will experience sub-zero F temperatures, and about 25 million will see 20 below zero temperatures.
"Listen to the people in your area … We're taking about what could be a very dangerous situation, especially for those traveling," NWS forecaster Jim Hayes warned on Tuesday.

Officials in Chicago, which has the nation's third-largest school system, said classes would be canceled for all 360,000 students on Wednesday due to the severe weather.
Several thousand flights have been canceled or delayed across the United States amid the cold temperatures, according to Flightaware.com.
Chicago, meanwhile, is forecast to be among the worst-affected cities. Temperatures in the Windy City will be below places in Antarctica, Siberia, and Greenland.
Colder than Chicago over the next 2-days?

Here are the places on Earth that are expected to be colder than -20°F:

Interior Antarctica, Greenland, Siberia.

The Arctic Ocean including North Pole will probably be around -20°F but that's normal over the snow covered ice. pic.twitter.com/pCugCcHtWv

— Ryan Maue (@RyanMaue) January 29, 2019
Reuters contributed to this report.