The world's most indebted real estate developer made some overdue interest payments just before the Nov. 10 deadline, sources told media, while some creditors say they received nothing.
Cash-strapped Evergrande has rushed several last-minute transfers since October, teetering on the brink of default. The Chinese property developer was supposed to make further overdue interest payments of $148 million on three U.S. dollar bonds—due in April 2022, 2023, and 2024, and no later than Nov. 10.
A failure to pay would result in a formal default by the company and trigger cross-default provisions.
Chinese media outlet Cailianshe reported several bondholders had received interest payments on the three bond tranches. Customers of international clearing firm Clearstream received overdue interest payments, a spokesperson said, according to Bloomberg, while two unidentified investors holding two bonds confirmed that they received payments.
The payments were made at the end of a 30-day grace period that ended on Wednesday, as was the case with two separate offshore coupon payments due in late September.
Yet German data service provider DMSA, who invested in these bonds, said in a statement that it had not received any interest payments up to the end of the grace period. Two sources with knowledge of the matter earlier told Reuters that some bondholders had not been paid by the end of Nov. 10 in Asia time zone.
For two separate offshore coupon payments due in late September, bondholders did not receive the payments until one working day after their 30-day grace periods ended.
Evergrande, that once epitomized a freewheeling era of borrowing and building, is struggling from deadline to deadline in recent weeks with overall more than $300 billion in liabilities, $19 billion of which are international market bonds.
According to HKEXnews, the giant had raised around $145 million (HK$1.125 billion) in three consecutive trading days before Wednesday's deadline, by selling stakes in media firm HengTen Networks Group.
Last week, Evergrande's automotive unit also sold its UK-based electric motor making business Protean Electric.
Evergrande has not so far officially explained its defaults. It would face $8.1 billion in interest and principal payments on its offshore bonds by the end of 2022 and has hundreds of projects across China, according to Financial Times.
A string of offshore defaults of Chinese developers over the past months has seen credit rating downgrades in the property industry. International investors are now demanding the highest ever yields to buy or hold "junk" dollar bonds from Chinese issuers, said analysts at JPMorgan.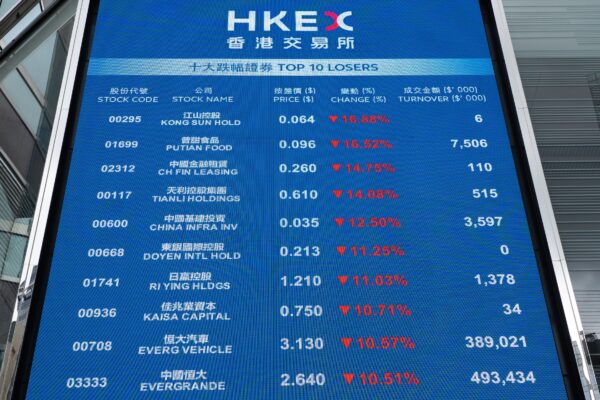 The Federal Reserve on Nov. 8 warned that stresses in the Chinese real estate sector, including debt-ridden property developer Evergrande, could impact the United States if they spill over into the Chinese financial system.
"Financial stresses in China could strain global financial markets through a deterioration of risk sentiment, pose risks to global economic growth, and affect the United States," the Fed said in its semi-annual Financial Stability Report.
China's central bank denied the possibility on Oct. 15, claiming the debt crisis is "controllable" and unlikely to spill over.
The liquidity crunch of Evergrande has been in global headlines since September, as its wealth arm, which raised more than $15.6 billion in the past five years, suspended payments to its products, triggering protests in several cities by retail investors.
Some fear their life-savings will all be lost.
Reuters contributed to this report.