A 14-year-old girl fell 700 feet to her death at the popular lookout at Horseshoe Bend in Arizona, on Christmas Eve.
The girl was visiting the Glen Canyon National Recreation Area with family from San Jose, California, when she went missing, according to a statement from  Coconino Sheriff's Office on Dec. 26.
A search was launched, and the girl's body was spotted from a rescue helicopter about 700 feet below the overlook at the bottom of Horseshoe Bend, located in Page, Arizona.
"Due to impending nightfall, rescuers were not able to recover her body that evening," said the Sheriff's Office.
Her body was recovered on Christmas morning.
The name of the girl has not been released. It is believed to be an accident, according to authorities.
The overlook is a popular spot for tourists, with many taking selfies and photograph close the edge, where there is no barrier.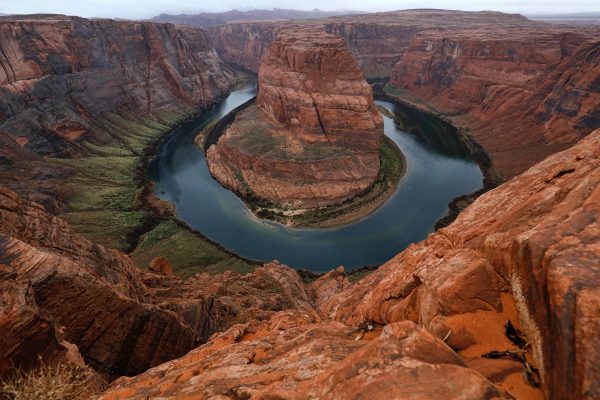 Barriers are currently under construction, following previous deaths and accidents.
The girl's body was transported to the Coconino County Medical Examiner's Office in Flagstaff, according to the Arizona Sun, which reported the incident is under investigation and pending review by the Medical Examiner's Office.
Zachary Wallace, 33, fell 800 feet from the same spot on May 6. His brother told authorities he had seen him slip over the edge. No foul play is suspected.
Safety Barriers Under Construction
A Greek tourist also fell to his death in 2010.
Hidden from the highway, once a deserted beauty spot known only to locals, Horseshoe Bend has become an increasingly crowded international tourist spot, with people lining up to take photographs from the precipitous edge, where the panoramic vista of the Colorado River is revealed in its full glory.
There are no official visitor numbers but estimates put the total at around 1.5 million in 2017. That is expected to rise to 2 million for 2018.
" It's an amazing experience to stand inches from the edge of the rim at Horseshoe Bend to get photos," wrote one visitor in a TripAdvisor review. "The view is truly amazing. It moves you emotionally. I was lucky to escape with 5 panoramas before calling it a day. The winds were gusting with sandstorm power making it even more risky."
"There were crowds of people all around waiting for their chance to move into a spot near the rim to get a shot, added the reviewer. "Masses of people there, and no safety provisions. OSHA would not allow any Union workers to get that close to danger without a fine or safety line or net."
Work started on small viewing area with a safety rail barrier in November, along with the creation of a trail to the rim of the canyon from the car park.
"Construction of a viewing platform and rim railing will greatly increase visitor safety at the rim for families while also meeting accessibility standards, said a statement from park officials in November. " The rim railing will encompass a viewing area at the terminus of the trail."
"Though not recommended, visitors may always choose to take in the iconic view without the security of railing simply by walking along the canyon rim."