A Tennessee teen was shot in the head in a disturbing social media challenge gone wrong, police said.
The 17-year-old Memphis boy was allegedly playing the "No Lackin' Challenge," which involves people recording themselves drawing guns and pointing them at one another, news station WMC-TV reported.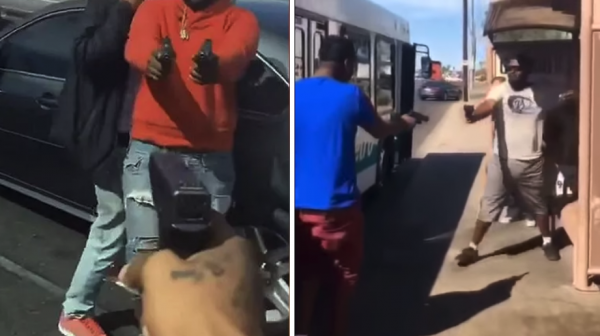 No shots are supposed to get fired in the challenge, but the teen's friend, 21-year-old Sherman Lackland, accidentally pulled the trigger of his .40 caliber handgun, according to the Commercial Appeal.
Lackland and two others were reportedly sitting at E's 24 Hour Cafe in Memphis on the morning of Thursday, Jan. 25, playing the game when the weapon discharged, according to Fox 19, citing a police affidavit.
A witness described the immediate aftermath of the shooting.
"A real loud bang, then I see the guy across from him fall in the floor," said eyewitness Thomas Fitzpatrick, according to Fox 19 news. "He started grabbing him and telling him to get up and then he was kind of mad and was swinging stools and stuff."
The victim was transported to the hospital in critical condition.
Lackland, who did not have a carry permit for his gun, was arrested and booked at Shelby County Sheriff's Office. He faces charges of aggravated assault, reckless endangerment, and unlawful possession of a weapon.
The "No Lackin' Challenge" is a relatively recent phenomenon, with some videos seeing significant social buzz. "Lackin'" is slang for unprepared for a confrontation, according to Urban Dictionary.
The trend is yet another risky viral craze alongside such fads as the Tide laundry pod challenge, which started as a social media joke where memes feature photos showing laundry pods as pizza toppings or breakfast cereal, reported ABC15.
The challenge then evolved into someone biting or consuming the detergent pods.
forget pineapple, in 2018 we putting tide pods on pizza pic.twitter.com/CM1PIOn64I

— memes (@memeproviderz) December 31, 2017
Medical experts are warning against the trend as the consequences of consuming the detergent packets are dire.
Banner Health toxicologist Dr. Frank LoVecchio told ABC15 that the intentional consumption of the packets is concerning. He added that the chemical in the pods can burn your mouth, lips, and esophagus if ingested.
According to The Washington Post, in 2017 U.S. poison control centers received reports of more than 10,500 children younger than 5 who were exposed to the capsules, citing the American Association of Poison Control Centers.
It was also reported that nearly 220 teens were exposed, with about 25 percent of those being intentional.
Recommended Video:
Snowboarder Survives Avalanche in Canada