A teenager hired via WhatsApp as private security to guard in Melbourne's hotel quarantine program said she left because she had no appropriate training and other staff were not taking COVID-19 risks seriously.
Shayla Shakski claims there was no infection control training when she worked at the Stamford Plaza in May; the 19-year-old was handed a mask and gloves on her first shift.
"It was really like, "Okay, how do I wear a mask? How do I sanitise?" she said in an ABC 730 report.
Stamford Plaza and Rydges on Swanston in Melbourne are allegedly the source of Victoria's second wave of CCP virus cases.
The Victorian government's hotel quarantine program has been heavily criticised, particularly on the decision to use private security guards instead of police or Australian Defence Forces, like other states.
The misconduct of some hotel security guards has highlighted gaps in the system and is said to be how the outbreak occurred.
The Age reported on July 3 that senior health officers in the Victorian government were told about the "ill-equipped"  private security guards a month before the first case was recorded.
MSS Security acquired the contract to safeguard returnees in central Melbourne's Stamford Plaza as part of the mandatory quarantine regime. MSS Security used several subcontractors to fill the security guard positions.
Shakshi said there was such a lack of transparency she didn't know who had hired her.
"I got put on a WhatsApp group where they actually contacted me, and they were like, "Would you like to work at this place?" I'm like, "I don't know what you guys are, what company, nothing else," she said.
As well as little to no training, Shakshi was told to bring her own PPE to work the next shift.
"I finished my shift, and we had a meeting in a room, so they were like, "Okay, guys, you have got to come in a team and bring your masks from tomorrow. Bring your own gloves, your own sanitisers because we might run out because we have so many guards on-site," she said.
"That was the first shift I did, first and last shift. I just didn't want to go back there."
Shakshi said COVID-19 was a "joke" among her colleagues; she claims seeing people hugging and flouting health guidelines.
"They weren't serious about how serious this COVID is. They were taking it as a joke like, "Oh, it is just some virus that anyone can get, you know, we're not going to get it," she said.
The first positive case of COVID-19 was recorded at the Stamford Plaza hotel weeks after Shakshi stopped working there.
A hotel media release titled "Statement with respect to Stamford Plaza Melbourne on an inaccurate report by ABC News on July 1, 2020" said:
"On or about June 13, 2020, a security contractor, personnel hired by the Victoria Government, tested positive for the COVID‐19 virus. This security personnel was not under the employ of Stamford Plaza Melbourne or its related companies."
To date, 43 cases of the CCP (Chinese Communist Party) virus, commonly known as novel coronavirus, are tied to the Stamford Plaza Melbourne.
The Epoch Times contacted MSS Security for comments but has received no response.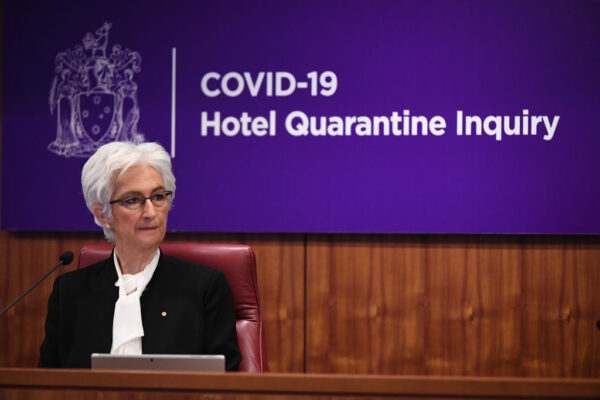 Subcontracting Problems Are Nothing New
Chief Executive of security firm Monjon Australia, Bryan Goudsblom, believes the issues with MSS Security, Unified Security, and Wilson Security are due to companies subcontracting out their services.
"The moment you start subcontracting is when you start losing control, so I'm not surprised that the hotel quarantine situation has occurred given that a number of these situations and practices have occurred for many, many years,"  Goudsblom told ABC 730.
Managing director of Queensland-based Executive Security Group, Andrew Bourke, agreed and has made complaints to government bodies about problems within the private security industry for decades.
"This is the problem, the regulators are not regulating, … on a government level they've failed us totally," Bourke told The Epoch Times.
"There are so many reports into the security industry about fair work; I just don't understand why we haven't gotten an ombudsman."
Bourke said he is glad northern Melbourian Shayla Shaski has lifted the lid on some of the issues that take place with subcontractors.
"They're very cagey to talk to people, they know it's a big problem for them. But I'm just glad she has," he said.
Victoria corrections took over the hotel quarantine program earlier this month. A Judicial Inquiry into the hotel quarantine program began on July 20. The inquiry will look into the communication between government and private contractors as well as how training and PPE were provided for security guards.