An 18-year-old teen, who fell into a blowhole while hiking at a coastal park near Big Sur, is presumed dead after a four-day rescue ended.
The victim was identified as Braxton Cooper Stuntz of Carmel, Calif. Stuntz and his friends had been hiking at Garrapata State Beach on Jan. 12 when they found a blowhole near the cliffs along the Pacific Coast, according to the Monterey County Sheriff's Office.
Stuntz slipped and fell through the hole down to the rocky beach inside while exploring the marine geyser and trying to have a closer look.
The blowhole is flooded with waves measuring 14-feet-high every nine seconds.
Sheriff Sgt. Dave Murray told KSBW Stuntz's friends saw the teen making a thumbs up signal right after the fall. However, after a few waves, his friends were not able to see Stuntz anymore.
Authorities said the waves filled the blowhole, dragged Stuntz out, and pushed him underwater into the sea.
Stuntz's friend immediately sought help from a passerby, who called the police. First responders were not able to find Stuntz. As a result, members of the MCSO Search and Rescue, Mid-Coast Fire, Cal-Fire, California State Park Rangers/Lifeguards, and CHP Helicopter all joined the search effort for Stuntz.
"The United States Coast Guard boat from Monterey sector and Helicopter from San Francisco sector arrived and conducted search patterns well into the night," Monterey County Sheriff's Office said in a statement but no result has been achieved.
MCSO drone operators returned the next day to continue the search for Stuntz and attempted an underwater search. No sign of Stuntz was detected in the following days.
"At this time the young adult is classified as a missing person. However, operations have shifted into a recovery mode," sheriff officials said.
Although warning signs can be seen across the area, concerned citizens say signage is far from adequate.
"It's shocking how dangerous it can be out here. For people who don't know the risks, it can be really alarming. You can slip and fall and be in big trouble," said local resident Jared Sandman told KION.
The Garrapata State Beach Park is 15 miles north to Big Sur, which is one of the popular destinations in California, connected by the iconic Highway 1.
In May 2017, a major landslide at Mud Creek destroyed part of the road and led to an 18-month closure from Ragged Point to Big Sur.
When Highway 1 was reopened in July 2018, a woman drove off a 200-foot cliff stretch of the highway to avoid hitting an animal.
Angela Hernandez, 23, of Portland survived by drinking water from the radiator of her wrecked sports utility vehicle. A pair of hikers found her seven days later after seeing her wrecked SUV partially submerged at the bottom of a cliff in the Big Sur area.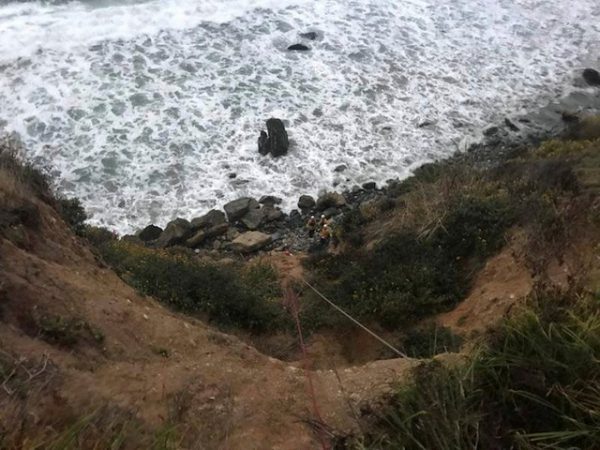 Rescuers managed to hoist her up the cliff and to a helicopter, which flew her to a nearby hospital. She was in a fair and stable condition but appeared to have suffered from a concussion during the collision, the California Highway Patrol said in a statement.
"It's usually the fall that gets them, or the ocean that gets them, and she was lucky to survive both," said Monterey County Sheriff's Office spokesman John Thornburg.