A teenage girl who is believed to have died in the floods spawned by Hurricane Harvey expressed worry over the storm.
"No sleep & anxiety, please let this pass sooner," 16-year-old Devy Saldivar wrote on social media, according to the New York Daily News.
The post came a few hours before her family's van is said to have become inundated. Devy, her three siblings, and her great-grandparents reportedly drowned.
A relative, 56-year-old Manuel Saldivar, escaped but he wasn't able to rescue the others inside the van.
They were identified as great-grandparents Belia Saldivar, 81, and her husband Manuel, 84. The other victims were identified as Devy, Dominic, 14, Xavier, 8, and Daisy, 6.
Manuel Saldivar, who is their great-uncle, was found clinging to a tree branch.
"The water picked the van up, and it was just floating after that," an uncle, Ric Saldivar, told ABC 13. "It went head-first in, and water came in real fast."
"He called it a twig," Ric said. "A 2-inch little branch."
The Harris County Sheriff's Office said that their van hasn't been located.
"It's so unfair," Esmeralda Saldivar, an aunt, told NBC News. "They were good kids. They didn't deserve to die this way."
It comes as a Houston police officer reportedly drowned in a separate incident. "He was trying different routes, and took a wrong turn," one high-ranking official told the Houston Chronicle. The officer, after getting stuck in the water, tried to get out but was not able to do so.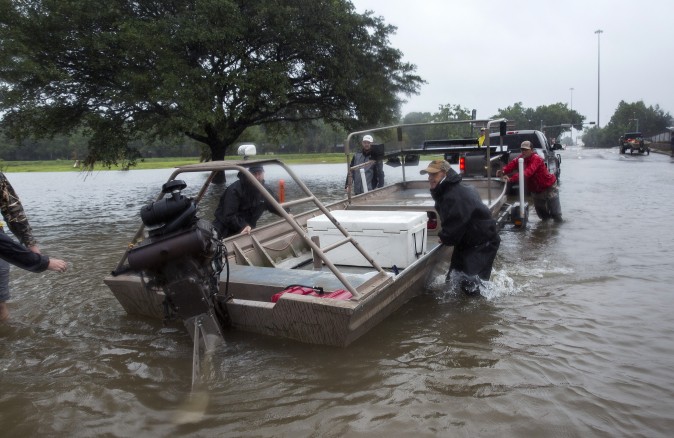 The officer was a veteran of the HPD for 30 years. He was in his patrol car driving back to work Sunday when he got trapped in high water at around Interstate 45 and Hardy Toll Road, the paper reported.
Meanwhile, a levee along the Brazos River south of Houston breached on Tuesday due to heavy rains from Tropical Storm Harvey, forcing officials to call for residents to evacuate low-lying areas, Reuters reported. Matt Sebesta, the chief administrator of Brazoria County, urged residents of the Columbia Lakes neighborhood to leave.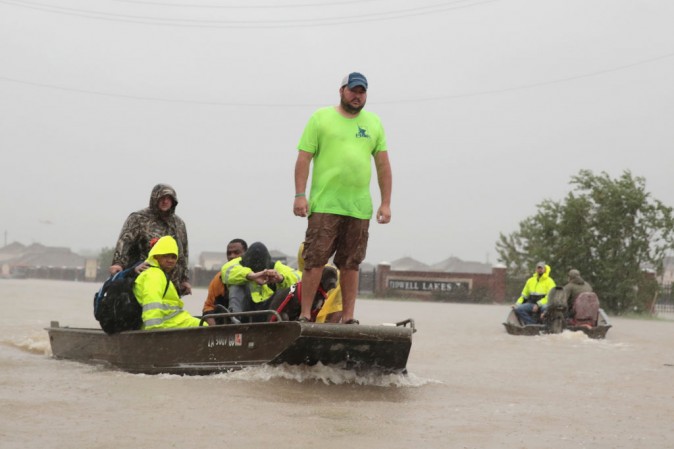 "They need to get out. Get to higher ground in Angleton," the county seat, he said in a televised interview.
Columbia Lakes is located about 50 miles from Houston, close to Brazos River.
The Houston area's rivers have started to flood. Earlier on Tuesday, Harris County officials warned resident of six northern Houston neighborhoods to evacuate around two water reservoirs that had started overflowing.
Fifteen people have reportedly died in Harvey, now a tropical storm. It made landfall at Corpus Cristi, Texas, on Friday night as a Category 4 hurricane.
Reuters contributed to this report.