A young man who recently aged out of foster care described years of ordeals and the pain of separation from his family. He says there was never a need for the government to take him in the first place.
His story underscores decades of pleas for reform of the child welfare system, which seems too often to remove children that likely would have fared better with their families.
Michael Ardt's family had its issues. Like about 2 million other Americans, his parents, Janice and Michael Sr., got hooked on opioid prescription pills. It started with a pain pill prescription for his father's neck injury in 2000; the parents later took the pills to get high and developed a dependency.
Meanwhile, the injury stifled the family income. Before they got their insurance money, their house was foreclosed, Janice told The Epoch Times.
That didn't mean, however, that the family couldn't take care of their two children.
"There wasn't a need [for the government to get involved.] We weren't getting abused or hurt in any way," Michael said. "We were taken care of."
Taken
When the family moved to Kentucky around 2007, the local sheriff tried to make them leave the neighborhood, threatening that their children would be taken away otherwise, Janice said.
They didn't believe that could happen, but indeed, within two weeks, the police came and arrested Janice and her husband for public intoxication and driving under the influence.
Six years old at the time, Michael and his older sister were taken away and quickly placed with a foster family.
"We had no idea what was going on and I was too young to comprehend the situation," Michael said. "They never to this day have told us what happened or why they took us."
The foster family simply told him that he was going to stay there for a while. After about a month, his sister explained to him that it may take some time for him to see his parents again.
"I just felt sad. I didn't cry, but I did feel really sad," he said. "It hurt me as a kid just [because] I didn't understand enough why this would happen."
Separation from family was pushing him into depression.
"It made me feel alone and unacceptable as a person," he said. "I had trust issues with anyone. It was hard to meet new people."
The foster family wasn't abusive.
"They treated me nice," he said. "But my real family made me feel more accepted as a part of a family."
His parents managed to get him back after 18 months, after the governor intervened, Janice said.
Again and Again
A few years later, Michael was taken again—because he missed six days of school, Janice said. It took the parents four months to get their son back. She said the alleged unexcused school absence turned out not to be unexcused to begin with.
Michael was taken for a third time a few years after that, after Janice and Michael Sr. failed a voluntary drug test.
At the time, Michael was 14 and staying with his sister, who was an adult by then. In retrospect, he thought he was mature enough to have a say in whether he wanted to stay with his family or not; he had no say whatsoever.
"I felt loneliness, pure loneliness. I felt unaccepted anywhere I went and that I could never find what I was going to do in life," he said. "So I became unhappy to the point where I wanted to give up."
Disobeying the family court, Janice secretly stayed in contact with her son, desperately trying to raise his morale and dissuade him from taking his life.
He made it through.
"I overcame it in sophomore year of high school. I met new friends and it made me have hope again and made me focus more on making my life better," he said. "But ever since seventh grade, I was miserable in life away from my family."
Why Is This Happening?
Janice has raised claims of corruption at the sheriff's office, the local child welfare agency, and the family court. The sheriff's office and the state family services agency didn't immediately respond to emails seeking comment; family courts don't normally comment on individual cases.
Child Protective Services (CPS) agencies have systematic issues. Operating on a mixture of state and federal dollars, they are under pressure to detect and prevent child abuse. But the funding is set up in a way that encourages the agencies to remove children for small issues, out of precaution—breaking up families rather than rehabilitating them.
More than 440,000 children were in the social services system as of September 2017. Only in a minority of cases were physical abuse (12 percent) or parent incarceration (7 percent) the reasons for removing the children. The most common reasons were neglect (62 percent) and drug abuse by one or both parents (36 percent).
Research has consistently shown that children coming out of the foster care system have substantially worse life outcomes than children in general. Moreover, children with a history in the CPS system are most at risk of falling victim to sex trafficking. They are systematically targeted for grooming by traffickers. In addition, some end up being abused by their foster parents or government workers.
In fact, in marginal cases of neglect and abuse, in which keeping the family together and removing the child were both plausible options, the children who stayed with their parents did better than those who were removed, according to a 2007 study that mainly pertained to children aged 10 to 15 (pdf).
"Foster care is an extremely toxic intervention that should be used sparingly and in small doses," said Richard Wexler, executive director of the National Coalition for Child Protection Reform (NCCPR). "Instead, America has prescribed mega-doses of foster care."
The financial incentives in the CPS system are about to change in October, when the Family First Prevention Services Act takes effect. Republicans in the House of Representatives added the measure to the 2018 budget bill. It allows CPS agencies to use federal funding on certain services that help prevent a child's removal from its family and helps families stay together.
Adoption
Shortly before his 18th birthday, Michael was adopted by his foster parents. Paradoxically, it was a way for him to get out of the CPS system, he said.
He was taking advantage of a government program that covers college tuition for youth in the CPS system, but that would have required him to regularly go to the family court and stay committed to the CPS until he was 21, he said. The only other way was adoption.
"It made life a bit easier for the fact that I didn't have to deal with the social workers and CPS system, cause that was the goal for me. To get out," he said.
In addition, he wanted to keep a connection to the foster family too, he said, since they cared for him for four years.
"I did make it clear I wanted to keep my family's name because I wanted my family name," he said. "It means a lot more to me, they are blood."
Back Together
In August, the Ardt family was reunited for the first time in five years, after Michael turned 18.
"It's so amazing to be able to talk everyday all day," Janice said.
He was just accepted to college, too.
"We couldn't be more proud of his accomplishments," she said.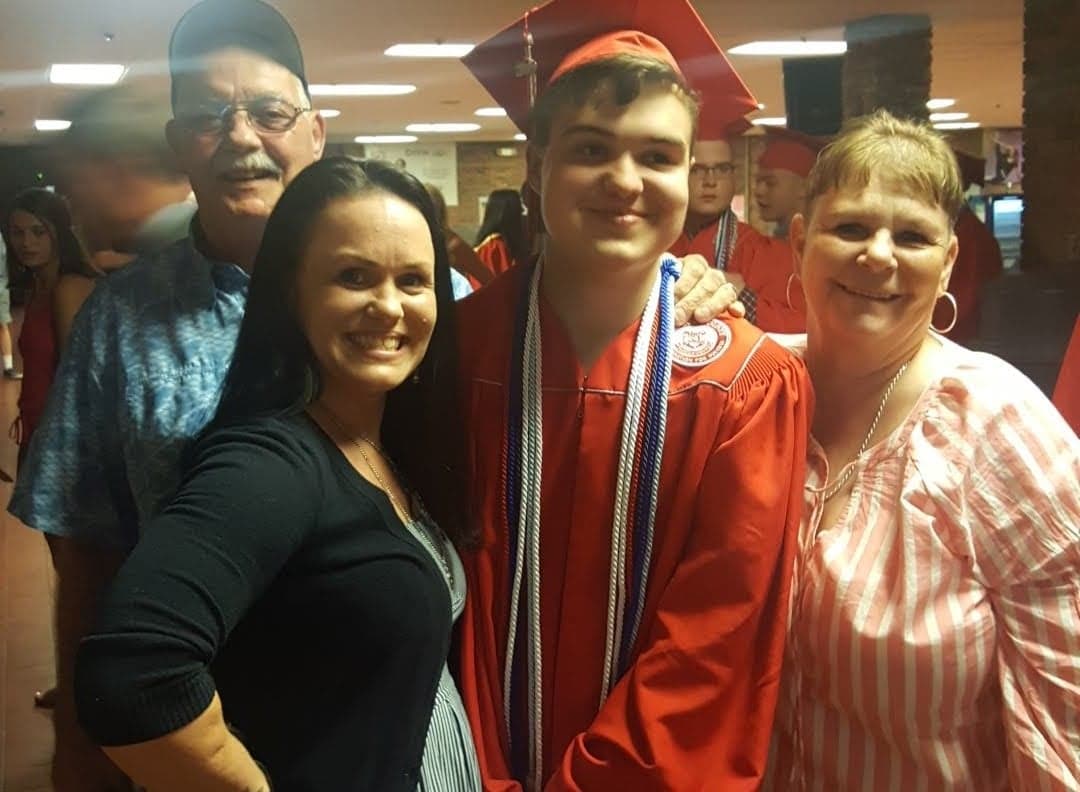 Update: The article has been updated with information regarding Michael Ardt's adoption.