Ted Nugent Assassination Attempt Article is a Hoax from National Report, a Satire Site
November 20, 2013 11:33 am Last Updated: July 18, 2015 5:18 pm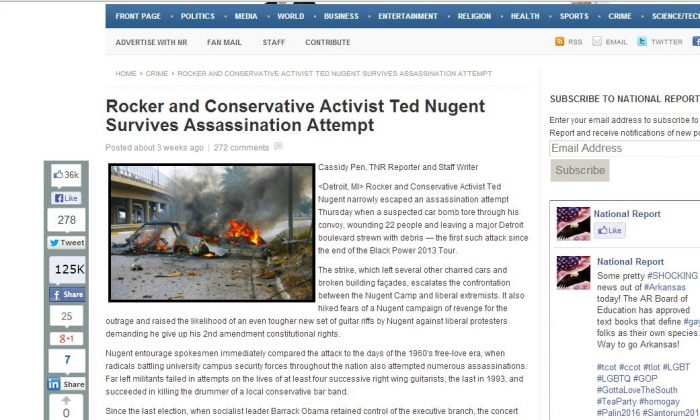 An article from the National Report, a satire news website, about Ted Nugent surviving an assassination attempt, showing a flaming car, is not true.
"Rocker and Conservative Activist Ted Nugent narrowly escaped an assassination attempt Thursday when a suspected car bomb tore through his convoy, wounding 22 people and leaving a major Detroit boulevard strewn with debris," the article reads, suggesting that Nugent has been the target of other assassination attempts.
The National Report is a satire news website–much like the Onion–albeit with edgier, somewhat more believable content. It also doesn't have the name recognition of the Onion or a clear disclaimer on its site.
However, that didn't prevent people from sharing it more than 125,000 times on Facebook.
The son of Ted Nugent, Toby Nugent, told MLive.com several weeks ago that the longtime rocker is "safe and sound."
"Confirmed he's in a treestand in southern Michigan – safe and sound. Not unlike most things, (the report) is pretty laughable," he added.
Another telltale sign that the article was faked is that it was written by "Cornelius Bartholomew 'Cassidy' Pen," a bearded Vietnam veteran "trained in special ops and insurgency and clandestine assault."
The National report has produced a few other hoax articles, including one about an "Assam Rape Festival" and RFID chips being implanted in people for Obamacare.
"National Report is a news and political satire web publication, which may or may not use real names, often in semi-real or mostly fictitious ways. All news articles contained within National Report are fiction, and presumably fake news. Any resemblance to the truth is purely coincidental," its disclaimer states.
On its Facebook page, one user named David makes a comment about how people "who take them seriously are the ones who really crack me up," drawing the comment from the National Report Facebook administrator: "You're not alone on that one David… its the ppl who don't get it that are such a joy to [mess] with. TY."