Lingerie League Offers Tim Tebow QB Coaching Job
April 29, 2013 5:17 pm Last Updated: April 29, 2013 5:40 pm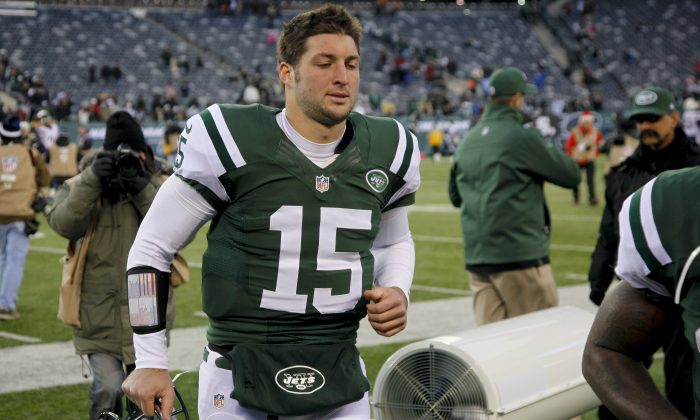 Tebow Lingerie League: Following his release from the New York Jets, quarterback Tim Tebow got his first job offer: from the former Lingerie Football League.
TMZ reported that Tebow, who spend last season with the Jets and got little playing time, got an offer from the league, which is now called the Legends Football League and features scantily clad female athletes, for a job coaching quarterbacks.
"Now that it appears Mr. Tim Tebow's career in the National Football League may be coming to an end, we at Legends Football League would like to extend him an offer to become our Quarterbacks Coach nationally," LFL President Mitchell Mortaza told the website.
The league did not disclose any potential pay or what he would have to do as a quarterbacks coach.
It is unclear where Tebow will head next. Reports suggesting the Jacksonville Jaguars would pursue him were shot down recently, when the team said they would not go after the former college standout.
Amid rumors he would be dropped by the Jets in recent weeks, the Arena Football League's Orlando Predators said in March they "would love" to have Tebow on board, reported the Orlando Sentinel.
"I think he would definitely improve as a quarterback in our league. Kurt Warner told me once that when he got back to the NFL after playing in the Arena League, the NFL game was like slow motion," Predators owner Brett Bouchy told the paper.
And a general manager with the Canadian Football League's Montreal Alouettes said that Tebow could be a backup to longtime quarterback Anthony Calvillo, while he learns the game.
"If he wants to come to Canada he would be in the same situation as the one he was in with New York," Popp said, reported NBC Sports. "He can come here and compete to be the backup to Anthony Calvillo and learn the game, just like Jeff Garcia did [behind Doug Flutie]. And one day he might be the guy; that's our vision. He can learn from the best."