This article has been updated with the latest information.
The air in Hong Kong filled again with tear gas on May 24 after months of relative quiet during the pandemic lockdowns.
In a scene reminiscent of last year's mass protests, thousands returned to the streets to voice their opposition to Beijing's proposal for a "national security" law that was presented at the Chinese regime's rubber-stamp legislature this week—bypassing the Hong Kong legislative council.
According to Hong Kong police, at least 180 protesters have been arrested as of Sunday 10 p.m.
Beijing's move was met with international criticism as critics argued that the law would undermine Hong Kong's autonomy and freedoms, which the Chinese regime promised to preserve after the city's sovereignty was handed over from Britain to China in 1997.
Washington said on Sunday that China's proposal could lead to U.S. sanctions.
"It looks like, with this national security law, they're going to basically take over Hong Kong and if they do … Secretary [of State Mike] Pompeo will likely be unable to certify that Hong Kong maintains a high degree of autonomy and if that happens there will be sanctions that will be imposed on Hong Kong and China," National Security Adviser Robert O'Brien told NBC television.
Beijing announced the details of the law on Friday, which include the likely scenario that the regime's security agencies will be granted jurisdiction over matters in Hong Kong. The law drew immediate condemnation from the United States, the European Union, the United Kingdom, Australia, Canada, and Taiwan.
Planned March
Netizens on Hong Kong's social media quickly called for a march on Hong Kong Island from Causeway Bay to Wan Chai beginning at 1 p.m. local time on Sunday.
Largest public Hong Kong protest gathering since the start of #COVID outbreak. #HKers defy 8-person-max group gathering rule to protest against China's recent #NationalSecurityLaw plan, which effectively erases one country, two systems. pic.twitter.com/oGxRCKf06H

— The Epoch Times Hong Kong (@EpochTimesHK) May 24, 2020
Protesters did not obtain police approval, given the city's social distancing rule, which prevents gatherings of more than eight people, is still in place until early June to prevent the spread of the CCP (Chinese Communist Party) virus, commonly known as the novel coronavirus.
Before the march took off, a large number of police officers were seen gathering in Causeway Bay, including patrols at the local metro station, where they stopped people for inspection.
Police fired the first shot of tear gas at around 1:30 p.m. local time outside the local shopping mall Hysan Place in Causeway Bay in an effort to disperse protesters. The first arrest was made about 20 minutes later.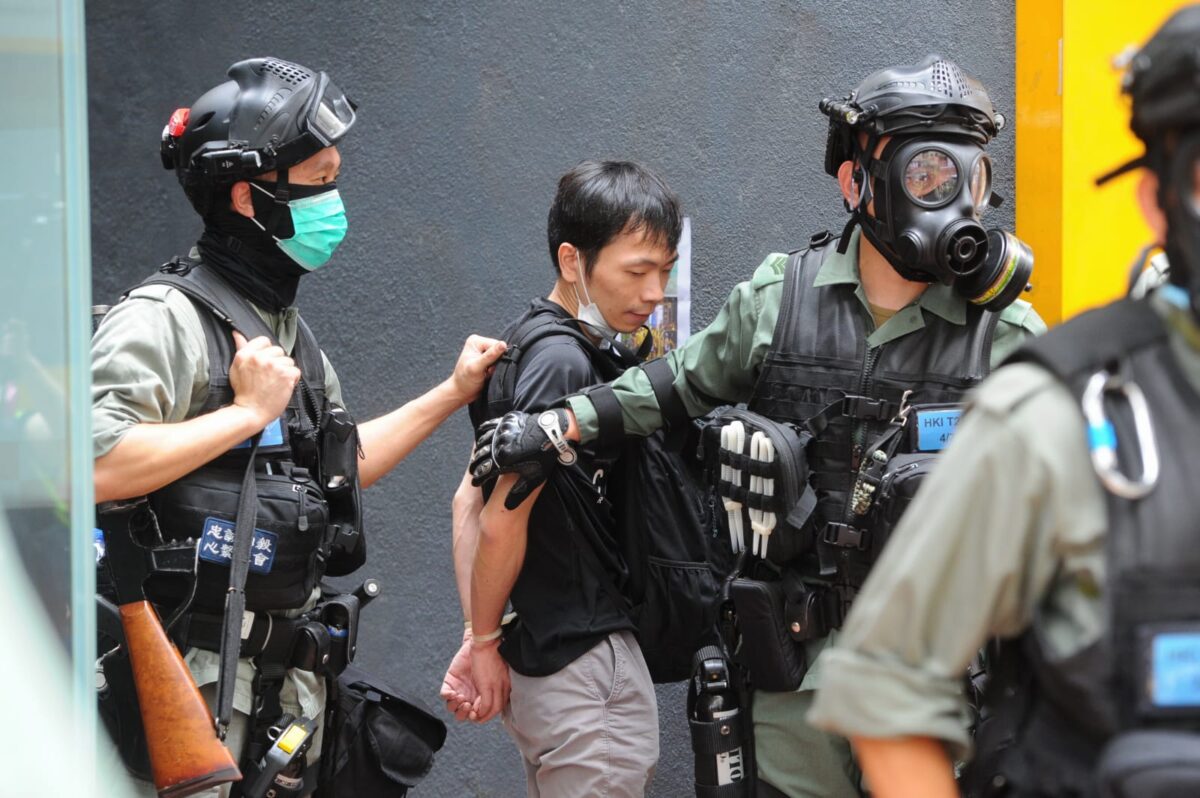 Hong Kong police have arrested over 7,500 people since June last year—the start of the current anti-CCP and pro-democracy movement that was sparked over the since-scrapped extradition bill.
At 2:30 p.m. local time, the Hong Kong government issued a statement saying that "rioters" had thrown items at police officers and blocked roads with miscellaneous objects. It added that the police were using "minimum necessary force, including tear gas" to disperse "rioters."
Police have since fired multiple rounds of tear gas and pepper spray. Journalists covering the protests were also hit. The Hong Kong edition of The Epoch Times reported that reporters were pepper-sprayed by the police at the Canal Road Flyover, a bridge at Causeway Bay at around 2:45 p.m. local time.
Meanwhile, police armored and water cannon vehicles were seen heading toward Causeway Bay.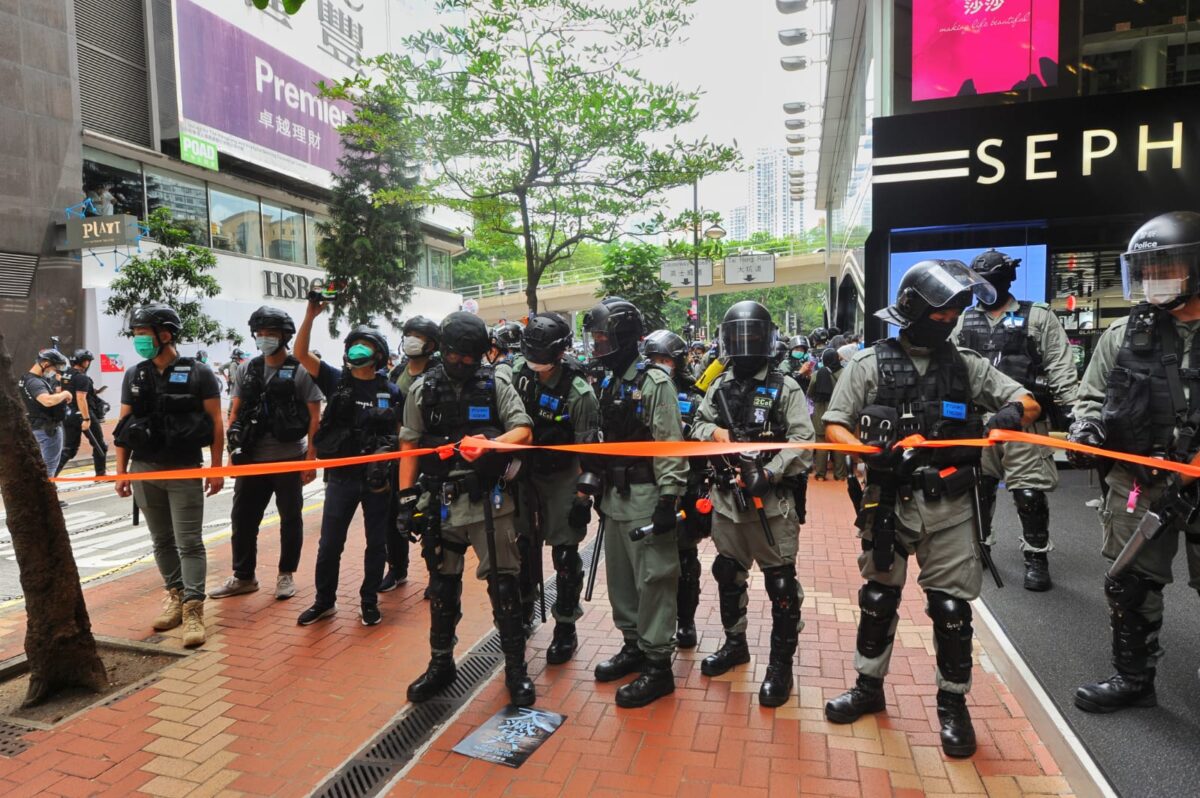 The local police were already gearing up for a possible confrontation with protesters earlier in the day, with a police water-cannon vehicle parked outside of the Hong Kong Liaison Office in the morning, the Hong Kong branch of The Epoch Times reported.
At around 3:20 p.m. local time, a police water cannon fired at protesters and journalists near Canal Road Flyover.
Morning Protests
Members of several groups, including Hong Kong's pro-democracy parties the League of Social Democrats, Neo Democrats, Labour Party, and the Hong Kong Alliance in Support of Patriotic Democratic Movements in China, staged protests outside the Hong Kong Liaison Office—Beijing's representative office in the city—on Sunday morning.
The groups held banners and placards voicing their opposition to the CCP's national security law that they see as destroying the promises made between the British government and the Chinese regime under the Sino-British Joint Declaration.
They repeated the longstanding "five demands" of prior demonstrations, including for universal suffrage and an independent inquiry into instances of police violence.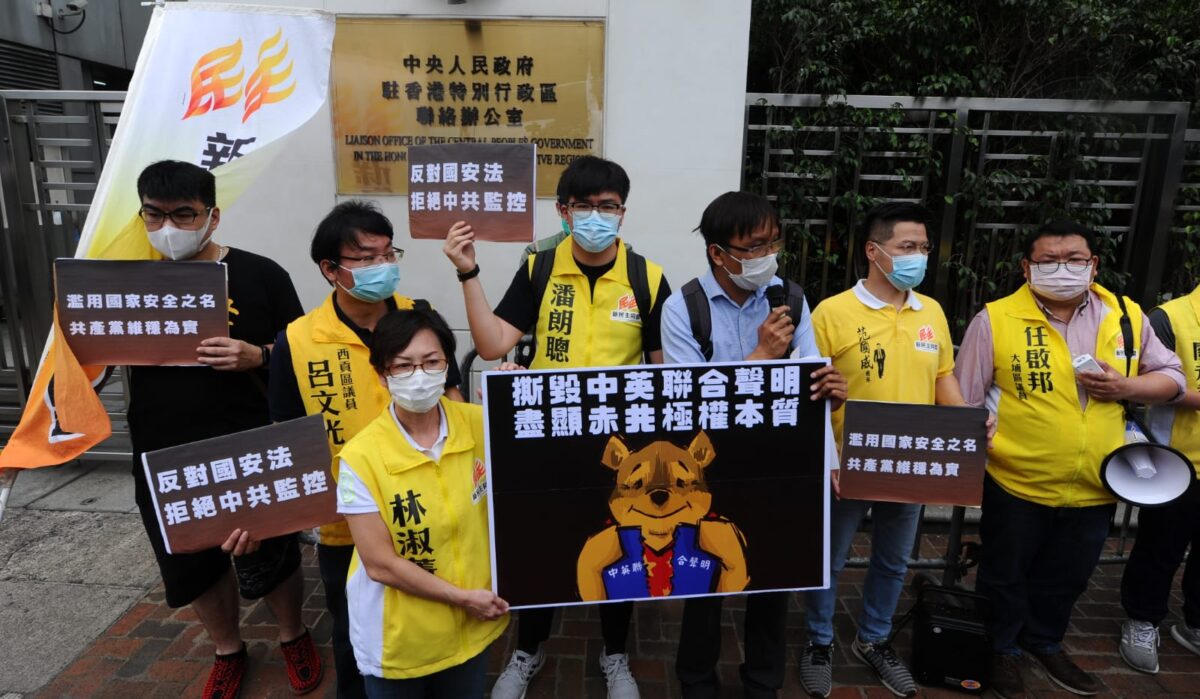 Lee Cheuk-yan, the alliance's chairman, told local media that Beijing was "digging its own grave" by proposing the national security law.
Leung Kwok-hung, a former lawmaker and one of the founders of the League of Social Democrats, said the law will deprive Hongkongers' freedom of speech.
Recently, over 200 parliamentarians and policymakers from 23 countries issued a joint statement, saying that China's law is a "flagrant breach of the Sino-British Joint Declaration."
Beijing Also Pushing National Anthem Law
The Sunday protest was originally planned in opposition to the Hong Kong government's pushing ahead with a second reading of a controversial national anthem law, scheduled for May 27 in the city's legislative council (LegCo).
If passed, the law stipulates that anyone in Hong Kong found guilty of actions such as "singing the [Chinese] national anthem in a distorted or disrespectful way" could face a fine up to HK$50,000 ($6,440) and three years in prison.
The push for a national anthem law in Hong Kong was mandated by Beijing in late 2017, when the standing committee of China's rubber-stamp legislature, the National People Congress, adopted the decision to add the law to Annex III of Hong Kong's Basic Law.
Once a Chinese national law is added to Annex III in Hong Kong's mini constitution, the Hong Kong government can pass it through local legislation, or the city's chief executive can bypass the legislature by issuing a legal notice in the Government Gazette, paving the way for the law to be applied verbatim.
Opting to go through the legislature, LegCo passed the first reading of China's national anthem law in January 2019, according to China's state-run media.
Then in early May this year, Hong Kong leader Carrie Lam announced that local lawmakers should prioritize passing the anthem law, defending the move as "proper" legislation during a weekly briefing.
The national anthem law has been criticized by rights groups.
In March 2019, British NGO Hong Kong Watch issued a report, saying that such a law would be "an appalling violation of freedom of expression." It said that the law's vague definition of "insult" was "not in line with the basic principles of the rule of law."
The Hong Kong edition of The Epoch Times and Reuters contributed to this report.