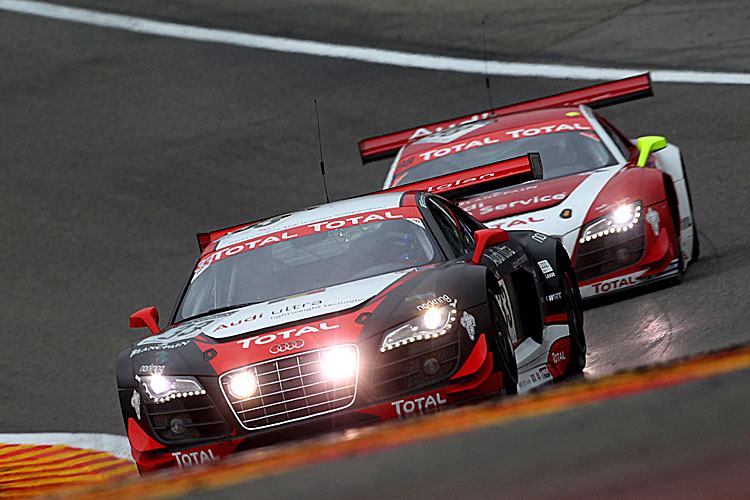 Team WRT has elected to represent Audi in the restructured FIA GT1 World Championship, which now features GT3 specifications.
WRT has entered a pair of Audi R8 LMS Ultras in the ten-race, nine country series. "Both in terms of the sport and logistics this is the biggest challenge our young team has tackled so far," said WRT Team Director Vincent Vosse in an Audi press release.
The Belgian team will be well-represented in the cockpit. Audi factory driver Oliver Jarvis will join former DTM driver Frank Stippler in one car, while former Le Mans winner Stéphane Ortelli will team up with Belgian rookie Laurens Vanthoor in the other.
Oliver Jarvis was just named to the 2012 Audi R18 WEC and Le Mans squad. The Englishman has driver four seasons in the popular German DTM series, and was named Le Mans rookie of the year in 2010 while driving an Audi R10 for Kolles. In addition, the 28-year-old has been driving the R8 LMS at the Nürbuergring.
Frank Stippler has been a development driver for Quattro GmbH, Audi's high-performance division, since 2004, working with the R8 since 2009. He has also raced in DTM, VLN, Swedish Touring Car Championship, and the Nürburgring 24.
41-year-old Stéphane Ortelli has 14 Le Mans 24 starts with one win and three podiums. He has driven for Audi and Oreca in the Le Mans Series, Porsches and Ferraris in FIA-GT, and in 2005 won the Sebring 12 hours in the Prodrive Aston Martin. The Monte Carlo native has driven the R8 since 2009 and already has two seasons with WRT.
20-year-old Laurens Vanthoor from Belgium was a Volkswagen factory driver from 2009 to 2011 and won the Formula 3 Cup in Germany in 2009.
The Audi R8 has scored 120 victories since its introduction in 2009. The latest version, the Audi R8 LMS Ultra, promises to be better in every respect than its predecessor, giving Team WRT and good chance at success in their new series.