Commentary
The Beijing Winter Olympic Games are about to begin. Is anyone really excited? Whether they are or not, plenty of people are concerned—and for valid reasons.
The British Olympic Association (BOA) is so concerned by the cyberthreat posed by the Chinese Communist Party (CCP) that it's now offering "burner phones" to all members of its Olympic team.
"We've given athletes and staff practical advice so that they can make their own choice as to whether they take their personal devices to the Games or not," a BOA spokesperson commented. "Where they do not want to take their own equipment, we have provisioned temporary devices for them to use."
Of course, the UK isn't the only one concerned. According to de Volkskrant, a leading Dutch newspaper, the Dutch Olympic Committee is also anticipating "Chinese surveillance during the Games." Athletes have been asked to not bring any personal electronic devices to China.
At home, Team USA has encouraged staff and athletes to use "burner phones." Let's hope all members of Team USA heed the advice.
As someone who has previously lived in China and experienced invasions of privacy firsthand, I say the following with 100 percent certainty: China is a surveillance state. There, everyone is watched and mined for data. Every move, every message, and every purchase is scrutinized and recorded. Privacy doesn't exist.
China's Digital Currency and Surveillance
Anyone attending the Winter Olympics will be encouraged to use the CCP's new digital currency, the e-CNY, which has been introduced to replace all cash and coins already in circulation. According to some authors, the e-CNY is little more than a weapon for further acts of authoritarianism. I tend to agree, as does James Griffiths, author of "The Great Firewall of China," who wrote that the Chinese "government's willing embrace and investment in certain technologies has helped make China a world leader in many areas, but also further enmeshed citizens in a system where they are subject to widespread censorship and surveillance both from private companies and also state security."
Authoritarianism is going digital.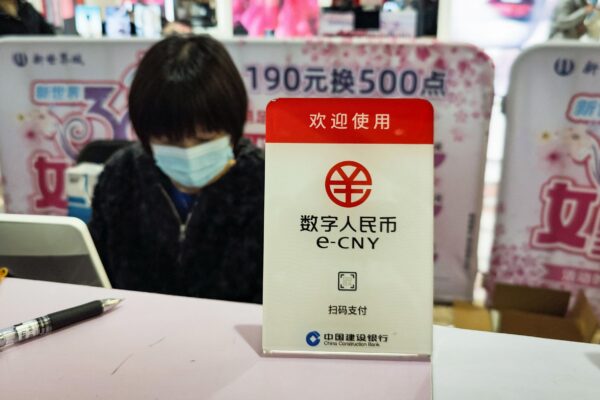 The e-CNY, which has already been rolled out across various parts of the country, requires users to download an app and a digital wallet. As I've documented before, every single Chinese app should be viewed as a Trojan Horse that's designed to siphon off copious amounts of data, including biometric information. There's little reason to believe that the e-CNY is any different. After all, other cash-based apps, such as WeChat and Alipay, are essentially surveillance tools masquerading as super apps. The former, with more than 1 billion registered accounts, amasses insane amounts of data readily available to the CCP.
Although the Beijing 2022 organizing committee has promised that "the Chinese government attaches great importance to the protection of personal information," and that all personal information "collected by Beijing 2022 will not be disclosed unless the disclosure is necessary," there is every reason to doubt these words. Talk is cheap, especially in China, a communist country that quite literally keeps tabs on every citizen through a perverse social credit score system.
In 2019, The Guardian ran a piece about a group of tourists who had traveled to China and, unbeknownst to them, had their phones compromised. A surveillance app, which was intended "to extract personal and private information from the [traveler's] device and to search for suspicious files," was installed in their phones.
As the article noted, the app harvested "emails, contact numbers, SMS messages, social media account identifiers and detailed information about the handset, including unique device identifier."
Which brings us back to the upcoming Winter Olympic Games. To think that the CCP won't monitor athletes and staff closely requires a complete suspension of disbelief, especially if you happen to be an American traveling to Beijing. Tensions between China and the United States are at an all-time high, and there's every reason to believe that Americans will be monitored much more closely than citizens from other countries.
Remember, the CCP has already stolen the data of 80 percent of American adults. Why should we expect CCP leader Xi Jinping and the Party to stop, especially when a number of these adults are about to enter Beijing's backyard?
For any Americans traveling to China, please remember that you're entering a techno-surveillance state devoid of human rights and a country where people disappear on a regular basis. China is a surreal place. The CCP isn't to be trusted. You'll be monitored and your privacy will be violated. This is especially true for U.S. citizens.
Views expressed in this article are the opinions of the author and do not necessarily reflect the views of The Epoch Times.