Team USA has won four gold medals at the 2022 Beijing Winter Olympics, trailing only Germany, Norway, and Austria, on day 6 of the Games.
Austria is leading the Games' total medal count with 13 medals, followed by Norway, which has earned 12 medals. The Americans, in addition to four gold medals, have also won five silvers and one bronze, earning Team USA 10 medals in total.
Women's Snowboardcross
Competing in her fifth Winter Games, Lindsey Jacobellis took home the first gold medal for the United States on Wednesday. The 36-year-old racer was within feet of winning gold back in 2006—the first time snowboard cross was included in the Games—when she fluffed a trick move and was overtaken at the finish line.
"They can keep talking about [the 2006 Games] all they want because it really shaped me into the individual that I am and kept me hungry and really helped me keep fighting in the sport," she said.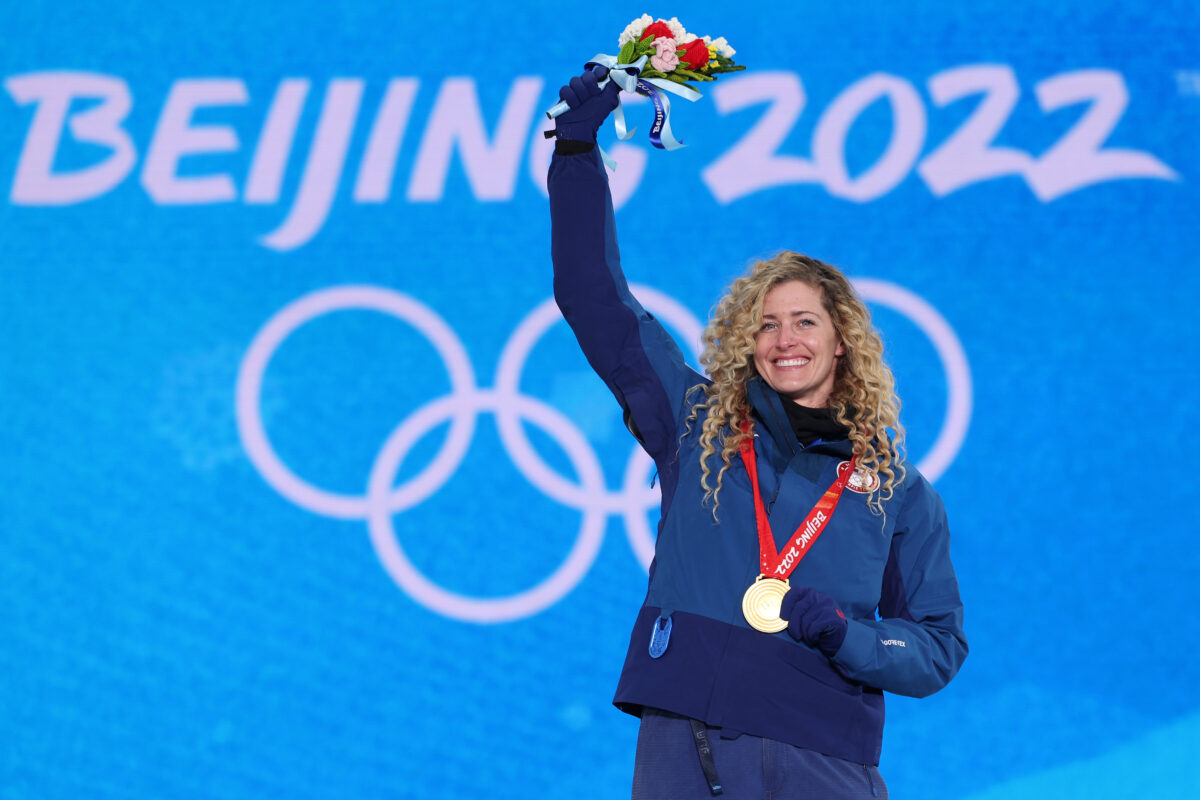 Women's Halfpipe Snowboarding
American snowboarder Chloe Kim easily defended her Olympic title on Thursday after winning another gold for the United States—the 21-year-old pulled a top score of 94.00 in her opening run in the women's halfpipe snowboarding.
The two-time Olympic champion, at the age of just 17, became the youngest woman ever to win gold in halfpipe snowboarding at the Pyeongchang Olympic Winter Games in 2018.
"I just was so proud of myself," Kim said about her opening run. "I was just like overflowed with emotions when I was able to land it on the first go."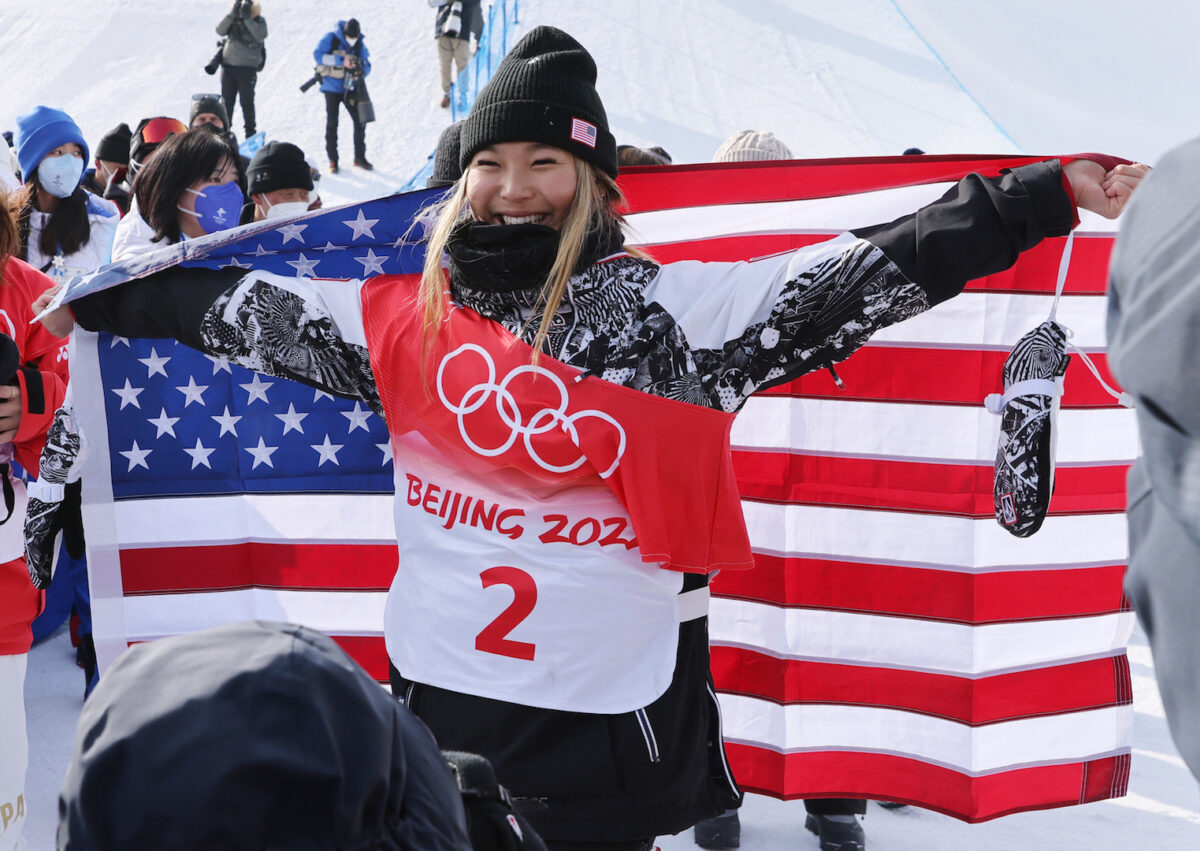 US Wins 1st Aerials Gold in Over 20 Years
Team USA's trio—Ashley Caldwell, Christopher Lillis, and Justin Schoenefeld—also won gold in the mixed team aerials event, giving the Americans their first gold in the freestyle skiing discipline in more than 20 years. The last Americans to win gold in the competition were Eric Bergoust and Nikki Stone in 1998.
Lillis's back double full-full-double full was given the highest score of any trick in the finals, and the U.S. title was assured when Schoenefeld followed with a clean back double full-full-full.
Caldwell, 28, a 2017 world champion, is in her fourth Olympics but has never finished higher than 10th.
'Rocket Man' Nathan Chen
American figure skater Nathan Chen won gold for the United States on Thursday, joining an exclusive club of U.S. Olympic champions in the sport and capping a four-year journey that started after his medal hopes were dashed at the 2018 Pyeongchang Games.
The 22-year-old's win in Beijing makes him the seventh U.S. men's skater to step atop the podium. Chen delivered a rousing performance of his "rocket man" free skate, drawing cheers from the limited crowd of spectators.
"I never imagined I'd be able to make it this far in my career and be able to go to two Olympics and then, of course, having the opportunity that I had today. It really means the world and I still, of course, I have to take a little bit more time to process everything," the men's singles figure skating gold medalist said.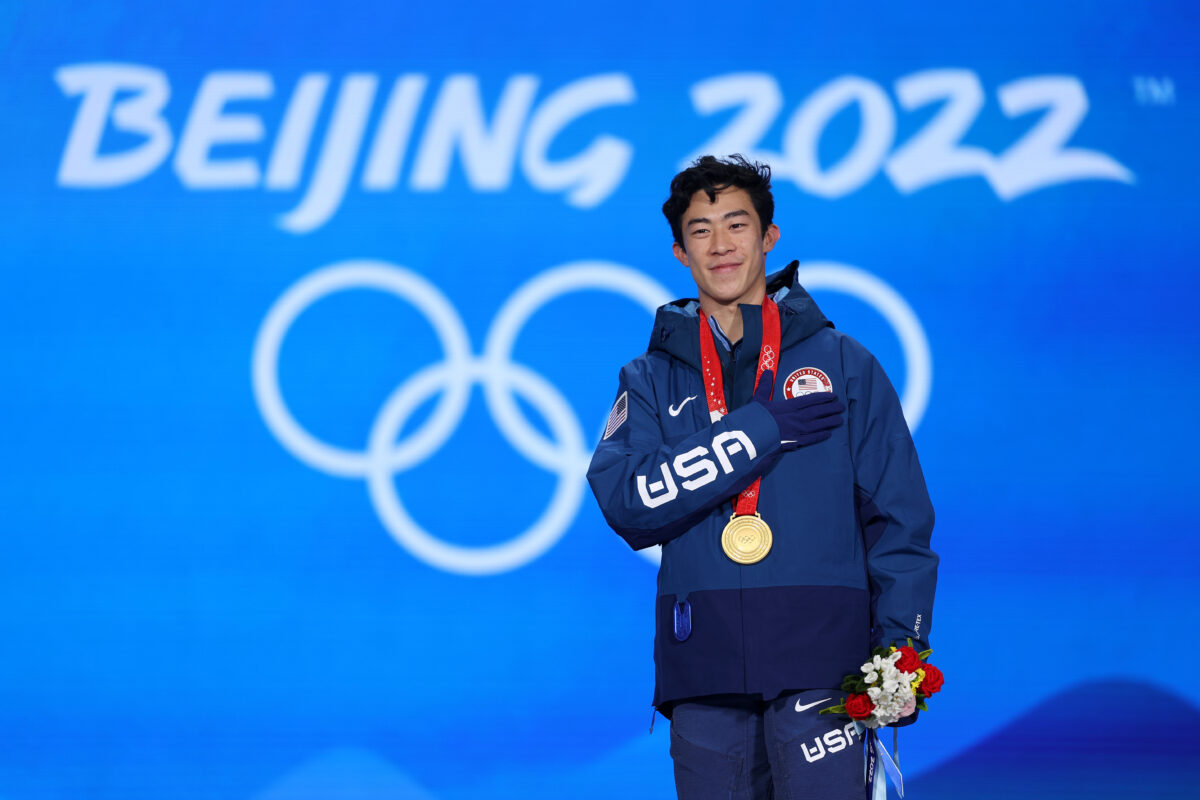 Team USA's Silver and Bronze Medalists
American skier Jaelin Kauf took home silver in the women's freestyle moguls on Feb. 6. Kauf was among the favorites to medal in the 2018 Olympics, where she finished seventh and did not make the medal final. Team USA ended fourth with 23 medals in the overall count in 2018—behind Norway, Germany, and Canada.
Julia Marinoder also won silver for the United States on Feb. 6 while competing in the women's snowboard slopestyle. She said Zoi Sadowski-Synnott of New Zealand, who won gold, was elevating the women's slopestyle competition, putting down tricks that have only been performed successfully in the men's competition.
Colby Stevenson won silver in the men's freestyle skiing big air event on Tuesday. He had never finished higher than sixth at a World Cup big air event. American alpine ski racer Ryan Cochran-Siegle also won silver on Tuesday. The event was won by Austrian Matthias Mayer.
The only bronze medal for Team USA was won by Jessie Diggins, who became the first person to win a medal for the United States in the cross-country sprint.
"I'm just so thankful for the awesome skis and a chance to just practice that power striding," Diggins said. "This was a great-feeling classic race for me. I'm really proud of how I paced it. I'm happy."
The Associated Press and Reuters contributed to this report.
From NTD News