Teacher's Union Seeks Moratorium on Common Core Consequences
April 30, 2013 3:58 pm Last Updated: April 30, 2013 8:38 pm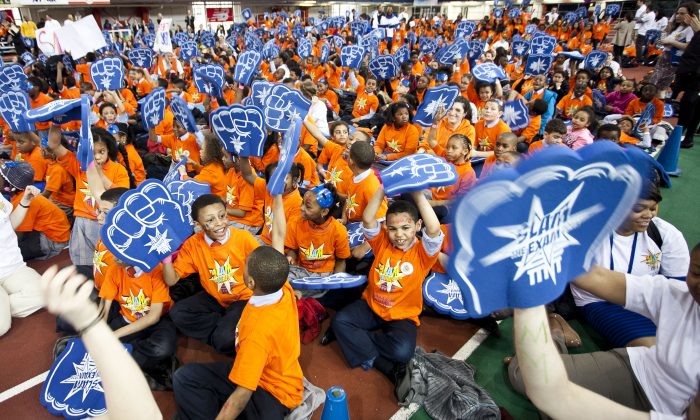 NEW YORK—The pressure may be lifted on the Common Core testing standards for New York students, if Randi Weingarten, head of the American Federation of Teachers (AFT), has her way.
Weingarten believes the new standards are the future of the education system, however, she is calling for a moratorium on marrying test results to student and teacher evaluations until a clear plan has been laid out and field tested.
"We are committed to the success of our students," Weingarten said. "That means getting transition to Common Core standards right. That is why today, I am calling for a moratorium on the stakes associated with Common Core assessments."
Weingarten wants to see states and districts in the 45 states where Common Core is implemented—including New York State—to work with educators to develop a timeline for implementation. She wants to see the testing continue, but until the time when the new standards can be implemented, teachers and students should not be punished for their scores.
"Can you imagine doctors being expected to perform a new medical procedure without being trained in it or provided the necessary instruments—simply being told that there may be some material on a website?" Weingarten asked. "Of course not, but that is what is happening right now with the Common Core."
Speaking at an ABNY breakfast on Tuesday morning, Weingarten's gave an example of a school in Cleveland that has developed a comprehensive plan for a three year transition to implement Common Core.
New York, on the other hand, began testing amid complaints that the new curriculum will not be in the classroom until Sept. Students wrapped up two weeks' worth of Common Core testing in english and math for the first time in April.
A New York City public school parent, who did not give her name, spoke of her frustration at the ABNY breakfast on Tuesday morning. She said her 10th grader woke up every morning due to stress over the tests. "I have eight children and all of them have been through this high stakes testing regime," the mother said. "I have never been so angered, frustrated, and at the same time stressed over these tests."
The AFT has prepared letters for parents to send to Education Secretary Arne Duncan to support calls for a moratorium.
Duncan issued a statement saying he did not have an instant reaction to Weingarten's proposal, "but it does speak to a legitimate concern that we've heard and are thinking through carefully."
New York State Board of Regents Chancellor Merryl Tisch, said teachers and schools would not be penalized for poor grades on the Common Core tests because they will be compared against each other and not to scores from previous years, according to schoolbook.org.
Tisch, who was in attendance for the speech, told reporters after, "We take this seriously. But let everyone understand that if we continue to educate to a lower standard, what we are doing is we're saying New York State cannot and will not be competitive in a 21st-century economy," according to schoolbook.org.
In an emailed statement, Andrew Kirtzman, Senior Advisor to Schools Chancellor Dennis Walcott, students and teachers in New York City Schools would not be punished due to the higher standards.
"The union's call for a moratorium appears to be a tactic to prevent its members from being held accountable for their performance," Kirtzman said in an emailed statement. "Change is difficult, but our schools have been working on the new standards for over two years now and it's time to implement them."
Kirtzman said the DOE has created 65 curriculum units teachers have used and implemented in the classrooms. He said 92 percent of the teachers surveyed said they understood the Common Core standards last spring, however the number of teachers surveyed was not mentioned. 
"What [DOE] are saying is they don't want to do their job, they would rather demonize and scapegoat a union leader they know very well, rather than do the midcourse correction," responded Weingarten, when asked for her views by a reporter.