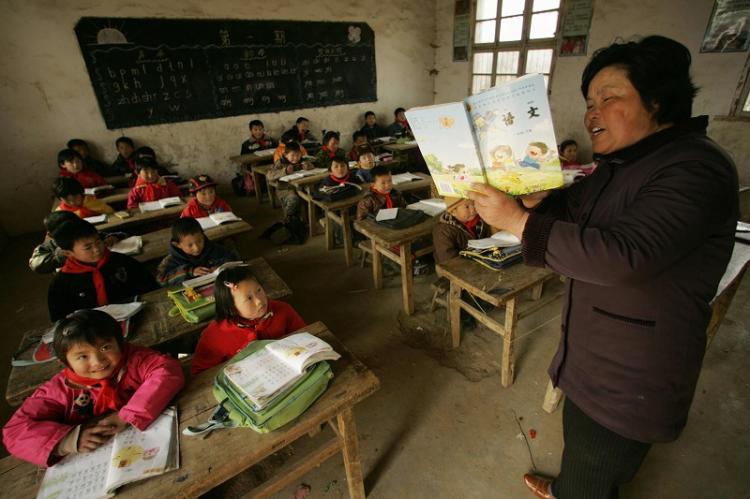 Middle and elementary school teachers in Chongqing City and other towns across Sichuan province have been on a series of strikes since the end of September calling for higher wages. Their claim is for equal pay with employees of the regime, but local authorities denied them, saying the budget does not allow for such a raise.
A teacher with the surname Yang, from Pitong Township of Pi County, cited the Teacher Law, ratified on January 1, 1994, and the Compulsory Education Law, ratified on September 1, 2006. Both state that teachers' average salary should not be lower than that of regime employees.
As an example, a middle school teacher in Yongchuan with more than 30 years of teaching standing earns only 1,382 yuan every month (US$202.42). Recently meat prices have doubled and rice became much more expensive. This teacher is always worried about his health and not being able to pay his medical bills. To pay for his son's college tuition, which is more than 10,000 yuan (US$1460), he has to rely on loans completely.
In Yubei District, the teachers' annual salaries range from 6,000 to 15,000 yuan (US$890 to 2,200) lower than that of city and township workers. Some teachers do not even make one third of what regime employees do. When asked to comment, officials from Yubei District explained that teachers and regime employees have different jobs and cannot be compared.
The message spreading in teachers' circles in Sichuan and Chongqing is, "For the dignity of knowledge, for the primacy of culture, for character and morality, for our own social standing, we must no longer be silent." Despite the increasing cost of living and inflation, teachers' salaries have remained stagnant. "Their salaries have been always low. Now, they can't keep the balance between income and spending," Hualong, an Internet news Web site, reported.
Faced with more frequent strikes at the end of October, local authorities tried to pacify the protesters with promises of higher wages. Meanwhile, teachers were threatened with replacement or relocation to the countryside if they continued striking. School principals also had their positions threatened. Worrying they might lose even their small income, some teachers have softened their attitudes. Given that their income barely supports their lives, teachers are doing their jobs only half-heartedly.