With only a sleeping bag between her and the concrete sidewalk, a sixth-grade teacher gave birth to her second baby overlooked by the walls of the Denver school where a few minutes earlier she had just been starting the school day.
Lindsay Agbalokwu wasn't due to give birth to her second child for another two weeks, reported Yahoo Lifestyle, dismissing the twinges on Sept. 3 as false contractions as she headed into work.
But after being presented an award at assembly, the sixth-grade reading teacher at DSST: Conservatory Green in Stapleton realized it was no false alarm.
A colleague brought her car around for a dash to the hospital, as other colleagues helped her out of the building, reported Chalk Beat.
But it was too late for the ride.
Her colleague spread out a sleeping bag.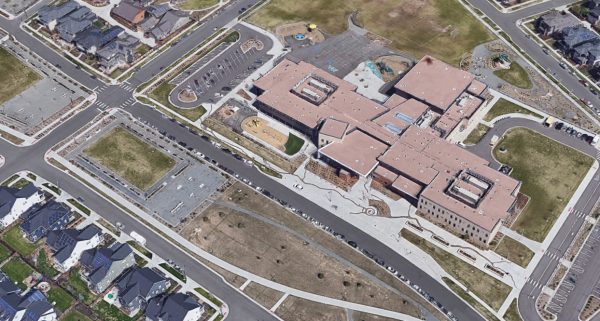 "I lay down and we put the dispatcher on speakerphone, who started giving delivery instructions to Natalie [the school principal] and Chris [the dean]," Agbalokwu told Yahoo.
"I was in so much pain, I didn't care that these people are my bosses, they are both parents," she said.
A fire truck arrived and the emergency workers took over after a few pushes.
"When she was ready, she just said, 'Boom. I'm coming out,'" Agbalokwu told the Denver Channel. "I think it will be indicative of her personality to come. That she will be a firecracker. She's going to do great things."
The baby has been named Zara, and weighed 8 pounds 6 ounces.
Agbalokwu expects to return to the classroom in December, and in the meantime her colleagues have set up a meal train to support her.
"Crazy story. My coworker delivered her baby IN THE SCHOOL PARKING LOT!" wrote her coworker, Vanessa Shantel, as she shared the meal train appeal via Facebook. "If you're able and willing to donate some money or send a meal of your choosing to be delivered to them that would be AWESOME."
"Lindsay you are a champ," she wrote.
The school principal, Natalie Lewis, told Chalk Beat the birth happened in "textbook" natural birth fashion.
"I was just telling her you're going to be OK, women have been doing this forever, giving her reassurance, telling her to breathe," she said.
"Everyone had tears running down their faces," Lewis said. "It was so beautiful."
According to Chalk Beat, students were oblivious to the whole incident, as no windows face onto the makeshift delivery suite.