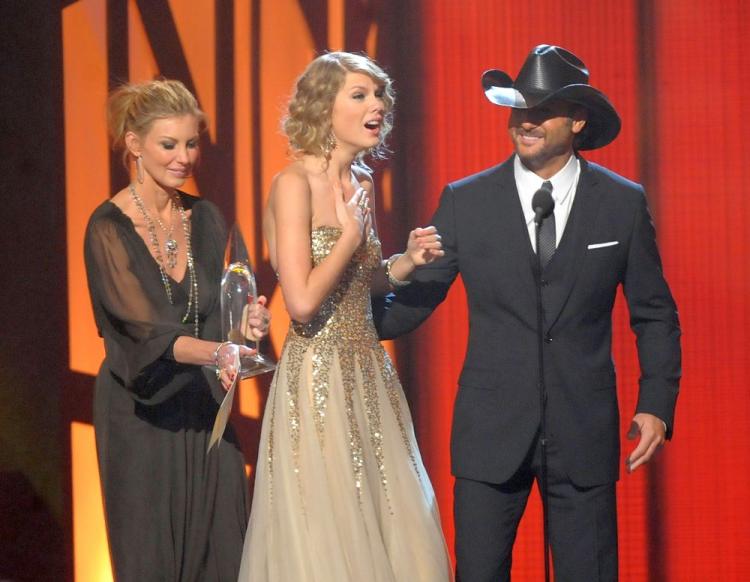 CMA Awards Held
The 43rd Annual Country Music Association Awards were held Wednesday in Nashville. The event was hosted by musicians Brad Paisley and Carrie Underwood. The biggest news of the night was the overwhelming success of newcomers. Crossover artist and former Hootie and the Blowfish front man Darius Rucker won for New Artist of the Year. Newbie Taylor Swift had her arms full, winning Album of the Year, Single of the Year, Female Vocalist of the Year, and Music Video of the Year.
In one acceptance speech, Swift said, "I will never forget this moment, because in this moment, everything that I have ever wanted has just happened to me. Thank you for this moment."
Lou Dobbs Exits CNN
CNN host Lou Dobbs announced on the air Wednesday his immediate departure from the network. After nearly three decades at CNN, Dobbs said, "Over the past six months it's become increasingly clear that strong winds of change have begun buffeting this country and affecting all of us, and some leaders in media, politics, and business have been urging me to go beyond the role here at CNN and to engage in constructive problem solving as well as to contribute positively to the great understanding of the issues of our day. And to continue to do so in the most honest and direct language possible." Dobbs has been deemed a controversial figure in recent years largely because of his stance against illegal immigration. He is still the host of his nationally syndicated radio show, "The Lou Dobbs Show," on which he promised to further elaborate on his CNN exit.
Harvey Fierstein to Tour with 'Fiddler'
Tony Award winning actor Harvey Fierstein will take over for injured actor Chaim Topol in the North American tour of "Fiddler on the Roof," beginning next month in Toronto. Topol, who was talking retirement at the close of this tour, will now undergo emergency treatment on his shoulder. Fierstein will take on the role of Tevye, the milkman, a role he played to great acclaim on Broadway.
People's Choice Award Nominees Announced
Nominations for the People's Choice Awards were announced on Tuesday. Fans who cast more than 18 million votes online chose the nominees. It will be online votes from the public that decide the winners as well. The popular vampire sagas "Twilight" and "True Blood" received a great number of nominations. Among the big-name stars who'll vie for a statue are Britney Spears, Beyonce, Oprah Winfrey, Tina Fey, Brad Pitt, Jennifer Aniston, Miley Cyrus, John Mayer, Taylor Swift, and many more. The People's Choice Awards will be hosted by Queen Latifah and air live on CBS January 6.
Kirk Douglas, Wife Give Thanksgiving Meal to Those in Need
Actor Kirk Douglas and his wife, Anne, will host the Los Angeles Mission's annual Thanksgiving meal for the homeless. This will mark the fifth time the couple have taken part in this event. Past meals have included the participation of many celebrities who prepare and bring warm meals to residents of Los Angeles' "Skid Row." The Los Angeles Mission has for over 50 years served the homeless on "Skid Row" by providing shelter, clothing, food, medial care, and rehabilitation services.
Compiled by Barbara Danza, Epoch Times Staff