Taxi Runs Down Nine Pedestrians, Driver Killed by Crowd
September 14, 2005 12:00 am Last Updated: August 21, 2015 5:43 pm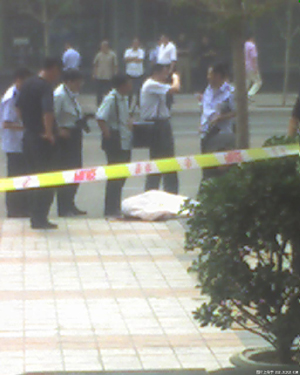 At 10:04 in the morning of September 11, a taxi knocked down nine pedestrians in a street south of Shidu shopping center in the Wangfujing area. Police said the suspect is a 32-year-old man, Ai Xuhuan, from Xinyang City, Henan Province. The man's motives are still unknown.
However, witnesses on the scene said there were two suspects. The two allegedly stabbed the taxi driver to death and threw his body on the street. The two suspects then drove off in the stolen taxi , hitting many pedestrians while trying to make their escape.
Bystanders said the police emergency squad took 30 minutes to arrive at the scene. Wang Qishan, the mayor of Beijing, made a special visit to the scene because Wang Fujing is a renowned Beijing shopping district. Police sealed off the street and forbade any photographs of the scene. There has been a recent spate of spectacular crimes in Beijing. Last month a man was killed in Beijing Xidan Market, another large shopping district.