South Korean healthy food has landed in the San Francisco Bay Area. On Oct. 20, a tasting event was held at 99 Ranch Market's Milpitas branch to attract people to try various foods and snacks. Children enjoyed the sweet and crunchy Korean pears, and elderly people liked the nutritious chicken ginseng soup.
Korea Agro-Fisheries & Food Trade Corp. (aT), which is dedicated to promoting Korean food, held its 2018 Korean Healthy Food Awards at five branches of the 99 Ranch Market in the Bay Area. The event included trying special products and entering prize drawings for free items.
On the same day, Milpitas Vice Mayor Marsha Grilli, Milpitas councilmember Bob Nunez, and Milpitas Chamber of Commerce director Victor San Vicente attended the opening ceremony. The Milpitas City Council awarded aT a commendation for its effort to enrich the community with Korean food culture and allow people to deepen their interest in Korean food.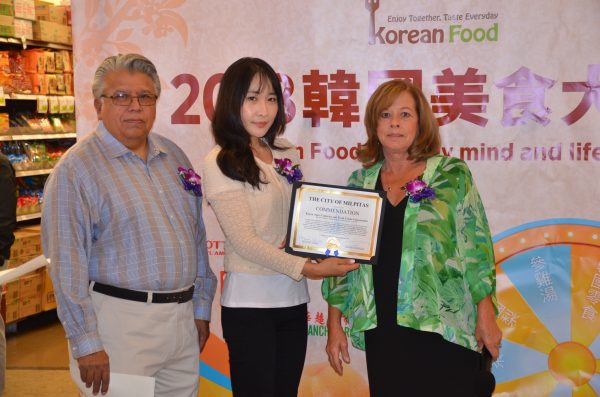 Fresh and Healthy
Grilli nodded appreciatively as she tried various Korean foods.
"After tasting Korean food and drink, I feel that Korean food is fresh and healthy," she said. "I like it very much! My husband and I often travel overseas. Every time we go to a new place, we like to taste local food."
She said it was a great experience to try Korean food in Milpitas, and she appreciated the event. She noted that the city of Milpitas has a large Asian population.
"I really like this kind of activity. Helping the community to understand different cultures and traditional cooking methods is very educational and inspiring, good for the community. It also obviously helps promote this," said Grilli.
"I like [Korean food] very much," said San Vicente. "I have many Korean friends, so I have liked Korean food for the past 20 or 30 years. It can be said I basically eat Korean food every day. Korean food is very healthy, and a healthy person is a happy person!"
He enjoyed the aT tasting event.
"This kind of activity makes more people notice Korean food. This is of course very good, so that more people can eat healthier food, and the price is also very good, so it will attract more people. More customers come," he said.
People sampled pear slices, grapefruit honey tea, and ginseng chicken soup.
Milpitas resident Situ said, "It's delicious; you don't have to cook it."
Another Milpitas resident, Cang Quach, said, "Yes, it's delicious; I can always see the advertisement of chicken ginseng soup on TV."
Park Ji-hui, manager of the Los Angeles branch of aT, said: "Korean food is delicious, and it is very healthy, such as chicken soup with Korean ginseng. It is easy to cook, and many of them are semi-finished products."
Park said the food is suitable for families with fast-paced lifestyles.
Jessie Park said: "Through this event, I hope that more consumers can taste Korean food, such as Korean pear, citron tea, and chicken soup, and have the opportunity to purchase more Korean food."
Jessie Park thanked The Epoch Times and New Tang Dynasty Television, which were co-organizers of the event.
Korean cuisine methods and ingredients are being used by more and more chefs internationally because of the cuisine's unique taste and healthy properties. According to 99 Ranch Market's statistics, the sales volume of Korean products has recently been increasing by 5 percent each year.
The organizers sent gifts of more than 5,000 Korean specialty foods for the event.
Korean Food at 99 Ranch Market
Aaron Zhou, VP of Store Operation at 99 Ranch Market, said: "I am very grateful to the organizers for organizing such an event here. We found that many new customers have been visiting the store today. I hope that such activities can continue in the future. … We are able to understand more about customer needs, which is very helpful for us to improve our services and develop online sales as well."
Zhou talked about the characteristics of Korean food.
"Korean food has three main advantages," he said. "The first is that the production and packaging are very delicate, a lot of snack brands and diverse taste, which is very popular with young people. The second is that the taste is heavy, and it tastes appetizing. Many people like it. The third is the health function."
He said that many foods are supplemented with Korean ginseng.
He believes that as the United States tightens its immigration policy, it will affect the Chinese family composition. There will be more young families, and they will be more inclined to buy Korean food that is easier to cook, such as chicken soup.
Zhou said: "99 Ranch Market's development objective is to provide customers with one-stop shopping. So in addition to traditional Chinese food, 99 Ranch Market has been increasing Japanese and Korean products year by year and constantly expanding the types of goods."