An attorney for Tara Reade, a former staff member for Joe Biden who has accused him of a 1993 sexual assault, has demanded the former vice president "immediately open up" his archives at the University of Delaware and hand over any documents that may contain records related to the case.
Reade's attorney Douglas Wigdor, in a letter (pdf) to Biden on Monday, requested he "immediately open up" his "archives at the University of Delaware and authorize a search to determine whether they contain any records related to Ms. Reade, including, but not limited to, Ms. Reade's request for counseling and/or documents related thereto."
"Given that you have repeatedly made a blanket denial of any knowledge of any complaint made by Ms. Reade against you, I am sure you would agree that we all deserve to know whether there are, in fact, any records that corroborate Ms. Reade's allegations in your archives, particularly in light of the secretary's present obstinacy," the letter continued.
"To be frank, we cannot see any legitimate basis to preclude a simple search of the archives for documents related to Ms. Reade, and see no reason why an efficient, diligent, and fair search of the archives cannot be completed in short order."
Reade filed a report with police on April 9, 2020 in which she said she was a victim of sexual assault, but did not name Biden. The court filing stated, "Subject-1 disclosed that she was the victim of a sexual assault which was committed by Subject-2 in 1993."
She told The Associated Press that the former vice president and presumptive 2020 Democratic presidential nominee pushed her against a wall in the basement of an office building on Capitol Hill in 1993 before sexually assaulting her. At the time of the incident, Reade was working for Biden while he was a U.S. senator representing Delaware, his home state.
Reade said she wrote and submitted accusations of workplace discrimination and harassment by Biden as part of a "request for counseling" form at the time, and believes her complaint is in Biden's Senate records, housed at the University of Delaware, The Hill reported.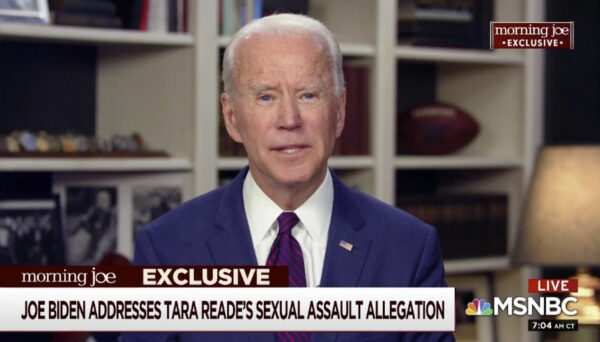 Biden said in an interview with MSNBC last week that he would not authorize the release of his Senate records or allow them to be searched for mentions of Reade's name as they could "be taken out of context." The university has also said that it will not release the records until two years after Biden has retired from public life.
In a separate letter (pdf) on Monday, Wigdor urged the Office of the Secretary of the U.S. Senate to reconsider its decision not to release personnel records due to confidentiality concerns after Reade previously asked.
"To put it simply, there is no basis, either in law, equity or common sense, for the secretary to refuse to reproduce a copy of Ms. Reade's Request for Counseling to her. As such, we respectfully renew Ms. Reade's request for the immediate production of a copy of her 1993 Request for Counseling filed with OSFEP," the attorney wrote.
Earlier this month, Biden himself asked the secretary of the Senate to "take or direct whatever steps are necessary to establish the location of the records of this office, and once they have been located, to direct a search for the alleged complaint and to make public the results of this search."
But as Wigdor noted in his letter on Monday, Biden's request was "disingenuous and sent knowing full well that the Senate (as it has) would defer to antiquated and vague rules procedures to keep the content of Ms. Reade's Request hidden from the public eye, and protects a former, over 30-year Senate member."
Reade is one of several women who came forward in early 2019 to accuse Biden of inappropriate touching, hugging, or kissing. In April last year, Biden collectively addressed the allegations from the seven women in a Twitter post in which he pledged to "be more respectful of people's personal space," but he has remained silent on Reade's claims.