Former Senate staffer Tara Reade said on May 3 that she has faced online harassment and threats after she publicly accused presumptive Democratic presidential candidate Joe Biden of sexual assault.
"I find it astounding—the hypocrisy that Democrats are talking about women being able to tell their story safely," Reade told Fox News. "I'm a Democrat, a lifelong Democrat, but yet here I am trying to talk about my history with Joe Biden and I'm just the target of online harassment."
Biden, a former vice president and longtime U.S. senator from Delaware, said on May 1 that the allegations aren't true.
"I want to address allegations by a former staffer that I engaged in misconduct 27 years ago. They aren't true. This never happened," Biden, 77, said.
Reade told the news outlet that false social media accounts were created to impersonate her. One of the accounts had uploaded personal photos of Reade and her family.
Meanwhile, she said that the home address of one of her family members was posted online, while that person received several "creepy" phone calls on May 1. One of the messages included a caller who said they were a journalist who wanted to speak with Reade.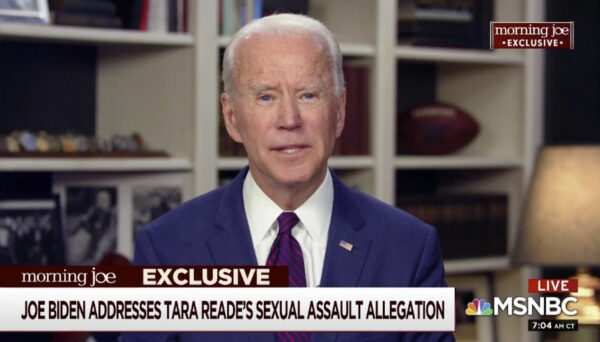 "Hi, Ms. Reade, this is Dave Johnson from the Observer, a small New York newspaper," the voice says before laughing, adding that "Jeffrey Epstein didn't kill himself."
Another voice message said, "Hey Tara, this is Dave Johnson with the Observer, and I would really love, I'd really appreciate a call back so we can discuss your new powerful allegation against Vice President Biden. I think you're setting a tone and underscoring a double standard put forth by the #MeToo movement, so I'd really appreciate it if you could just call me back, give me a couple of quick questions."
Reade told Fox that she received an email from a woman named "Linda Dubois," who cursed at her and accused her of fabricating her story.
"This is something that really has to stop, and I'm just wondering where this is coming from," Reade said in the interview. "Are these just fanatic supporters? And if so, what does that say about our Democratic voters? Why are they targeting me when the party line is supposed to be allowing people to be safe? Why are they targeting my family and myself and making my family frightened?
"It creates barriers for survivors to want to come forward and talk about difficult things that have happened. And in my case, talking about how Joe Biden sexually harassed and sexually assaulted me is very excruciating and enough by itself, but then to be targeted and harassed and have my whole family targeted and harassed online by people that call themselves his supporters is not only just upsetting, it's frightening."
Reade, meanwhile, told The Associated Press that she recalls filing a limited report with a congressional personnel office that didn't explicitly accuse the former vice president.
"I remember talking about him wanting me to serve drinks because he liked my legs and thought I was pretty, and it made me uncomfortable," Reade said in an interview May 1 with The Associated Press. "I know that I was too scared to write about the sexual assault."
The existence of the Senate report has become a key element of the accusations against Biden, which he has flatly denied. Reade says she doesn't have a copy of the report, and Biden said on May 1 that he isn't aware that any complaint against him exists.
He asked the Senate and the National Archives to search their records to try to locate a complaint from Reade.
The Associated Press contributed to this report.