Chinese Court Grants Compensation To Rape Victim's Mother
Unprecedented decision acknowledges wrongdoing by police who detained her
July 15, 2013 7:54 pm Last Updated: July 15, 2013 7:58 pm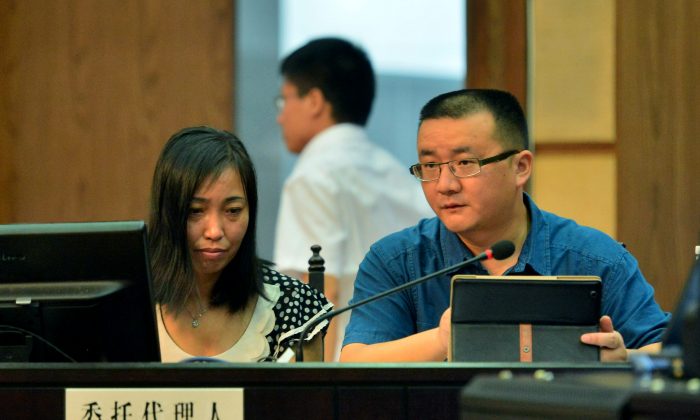 Tang Hui, mother of an 11-year-old rape victim, won a groundbreaking trial on Monday against authorities in southern China's Hunan Province, who had sentenced her to forced labor camp after she had successfully protested the court verdicts in her daughter's rape case.
In October 2006, Tang's daughter was kidnapped and forced into prostitution. After she was rescued three months later, Tang pushed local authorities to investigate the case. Five of the seven alleged perpetrators were subsequently convicted.
Unsatisfied with the sentences that her daughter's attackers received, Tang sought for harsher punishments by appealing to higher courts. In August 2012, shortly after the seven men received heavier sentences, Tang was sentenced without trial to 18 months of forced labor. This sparked public outrage on various social media sites, and Tang was released more than a week later.
Tang sued the Yongzhou City Labor Camp Committee in January for compensation and a written apology from the committee, but the lawsuit was rejected in April. She then appealed to the Hunan Provincial People's High Court. 
On Monday morning, Tang was awarded 2,941 yuan ($479 dollars) by the local labor camp committee and received an oral apology from Jiang Jianxiang, the Yongzhou police chief who detained her. 
Tang's initial demand for a written apology was not granted, but winning the case in itself was unprecedented. 
Tang's lawyers stated that the case was won on the grounds of loss of personal freedom and psychological damage. 
On Monday, many Chinese microblog users showed their disapproval of the low payout and lack of written apology. The court had ruled that Jiang's apology sufficed and that there was no legal basis for a written one.
The power of authorities to sentence people to re-education through labor camps without trial has been widely criticized over the years. Tang's case has triggered debates about reforming the detention procedures, but analysts remain skeptical of any real improvements to the treatment of the prisoners, who are often tortured and work long hours under harsh conditions.
Pu Zhiqiang, one of Tang's lawyers, believed that the lawsuit would have been more significant had the focus been on the legality of the labor camp sentence rather than receiving compensation. "The court ruling is a result of a compromise between the various forces that are exerting influence over the case. Of course it's not as though real justice or fairness has been achieved," Pu stated in an interview with the Associated Press.
"It's a mixed result," said Joshua Rosenzweig, a human rights researcher at Chinese University of Hong Kong, in an interview with South China Morning Post. "The damages for her were symbolic, what she was after was the apology. She wants the police to be responsible for their actions, not only her in own case but also in the criminal case involving her daughter."