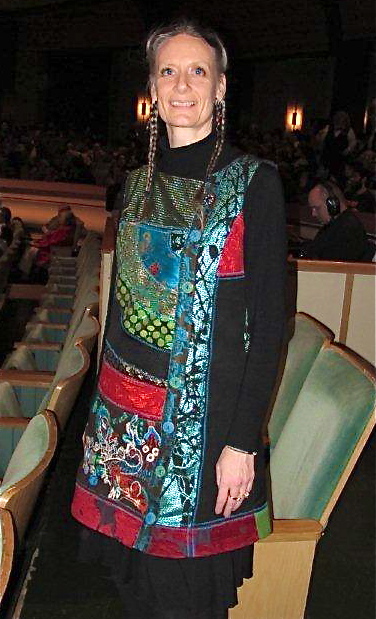 EUGENE, Ore.—Many in the audience were struck with emotion while watching an exquisite Shen Yun Performing Arts New York Company presentation of classical Chinese dance and music on Wednesday, Feb.1 at the Hult Center.
Among them was Angelique, who has been traveling the world teaching culture and dance with tambourine. She has been invited to many countries to share her skills, including China. She said she had traveled in China all the way from East to West by train, going to small townships, farms, and coming in contact with "regular" Chinese people, as she put it. "It was very moving," she said.
Angelique was deeply touched by the Shen Yun performance. "Chinese culture is very rich. The show is very happy, very powerful. It's not the show, it's from the heart, it's a show from the heart," she said.
"I love that they have taken stand to restore the culture. I love that they have been able to take what has been buried and that they have resurrected the true Chinese culture away from all the political situations, and restored the beauty of the people and of the culture."
Angelique was aware of what happened to the traditional Chinese culture after communists took power more than 60 years ago. Forcing atheism upon society, the Chinese Communist Party has for decades launched various campaigns—most notably the Cultural Revolution—to destroy not only cultural sites, temples, and relics, but also the Chinese people's belief in virtue and faith in the divine, says the company's website.
"To be able to see the resurrection of beauty is very, very touching. It's very, very touching," repeated the dancer.
Angelique expressed her hope "that many other cultures will take example from here tonight and take it and resurrect what has been lost and stolen from other cultures as well."
The dance teacher empathetically said: "I believe that every culture has so much to say, and so much to teach, and so much to share." She really appreciated "this opportunity being presented in a way of beauty, and exception, and perfection. It is very, very unique and very beautiful."
In conclusion, Angelique gave the reason why she came to see Shen Yun: "I want to support cultures that resurrect themselves from the ashes and say this is where we really are."
New York-based Shen Yun Performing Arts has three touring companies that perform simultaneously around the world.
For more information, visit ShenYunPerformingArts.org.